Chandini Jha (C'16), a recent graduate, will spend the next year researching ways to combat violence against women in India as one of 43 Georgetown student and alumni Fulbright Scholars.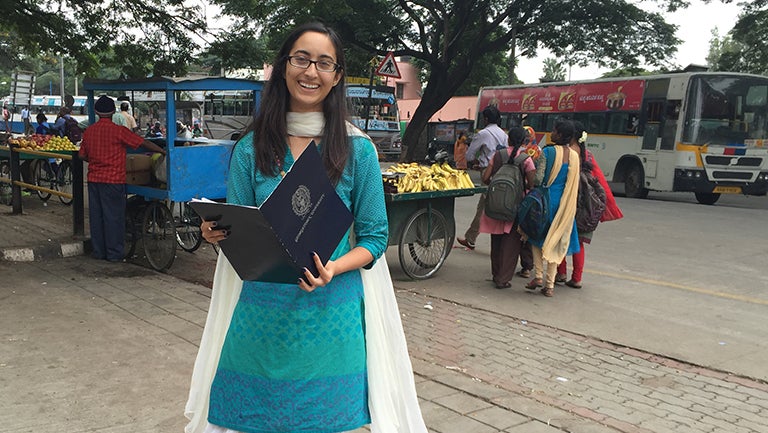 Aug. 31, 2016 – Chandini Jha (C'16) will spend the next year researching ways to combat violence against women in India as one of 43 Georgetown student and alumni Fulbright Scholars.
"India has recently passed legislation designed to combat violence against women," says Jha, who arrived in India earlier this month. "[But] in many cities, the rates of reported crime – sexual harassment and assault – have been going up."
A political science major at Georgetown,she wants to determine whether the numbers are going up because the problem is getting worse or because survivors now feel comfortable enough to formally report the crimes.
"You can't just find that answer by looking at data," says Jha, of Bethesda, Maryland. "It requires talking to people – experts and people who have watched the situation evolve."
The Fulbright experience will also provide her with intensive language training in Hindi, after which she will study at Azim Premji University and work closely with a number of NGOs.
"I will interview NGOS about the situation regarding violence against women in India – to answer the essential question of whether the legal changes have been effective in addressing gender violence," Jha explains. "But I am also trying to compile a list of best practices employed by these NGOs, which can help other women's rights groups engaged in this critical work in India."
Rampant Violence
Crime against women in India's capital, New Delhi, rose by 20 percent last year with a 27 percent increase in rape cases, according to government data.
There are also nearly 10,000 cases of dowry-related murders reported there within the past several years – and an unknown number of slayings of women and young girls falsely labeled '"suicides" or "accidents," according to the United Nations Entity for Gender Equality and the Empowerment of Women.
Before she left for India, Jha said she was looking forward to an experience "where you are incredibly fortunate to be a social ambassador between the U.S. and India."
"For someone who has kind of felt like they move between both worlds, but wasn't quite sure how they fit, this experience is going to be a really interesting process for me to not only understand my own heritage, but also to interact with people from India and share American values with them," says Jha, who is Indian American.
A Woman for Others
Jha, who has been accepted to Georgetown's law school, spent much of her undergraduate academic career focusing on women and gender studies at Georgetown.
She served as a sexual assault peer educator; as a research volunteer for the Georgetown Institute for Women, Peace and Security; as a Georgetown Women and Gender Equity fellow; and as a member of the university's Sexual Assault Working Group.
Jha took her work into the community by serving as a youth advisory board member for a local nonprofit that fights to end domestic violence and interning in the U.S. Department of Justice's Office on Violence Against Women.
"I wanted to learn what the issue is like not just on a college campus, but out beyond the gates," the alumna explains. "So I spent some time with domestic violence counselors."
"Once I learned what happens on the campus and local Washington, D.C., level," she adds, "I wanted to look at the issues from an international level or a comparative context in another country."
The Fulbright Scholar says her interest and activism for women's rights issues began at Georgetown.
Intellectually curious
Jha was originally wait-listed for Georgetown professor You-Me Park's Introduction to Women's and Gender Studies.
"I had to write her an explanation of why I wanted to take the class," Jha recalls. "I started looking back at all the papers that I had written and invariably they all were related to women's rights. I didn't even realize that I was going to be a women's studies major until I took that class, and I didn't really realize I wanted to take that class until I was on the wait list."
She went on to take two more classes from Park, a professor and director of the women's and gender studies program at Georgetown, including Labor/Sexuality/Globalization and Violence/Gender/Human Rights. Intellectual Curiosity
"Chandini's intellectual curiosity and energy caught my attention … I was truly amazed by the quality of her work, both in oral and written form," Park wrote in her Fulbright recommendation for Jha. "In my courses … offered mostly for seniors, Chandini was one of the younger students, yet she seemingly effortlessly assumed the position of leadership right away."
Jha has high praise for her education.
"Our professors were always there to continue the dialogue and help us even through our activism," she says. "I think the best thing about Georgetown is that all the students are so passionate about different things, and having that network of passionate people who you can bounce ideas off of and support each other has been really helpful for me."