A recent study in the Journal of Infectious Diseases shows that the human papillomavirus (HPV) vaccines that Georgetown's Dr. Richard Schlegel helped develop has reduced infection numbers among teenage girls nationwide.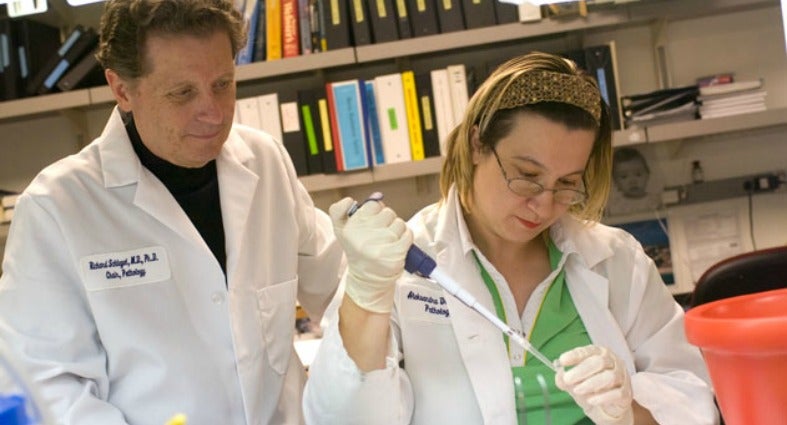 A recent study in the Journal of Infectious Diseases shows that the human papillomavirus (HPV) vaccines a Georgetown doctor helped develop has cut the number of infections in half among teenage girls nationwide.
Dr. Richard Schlegel of Georgetown University Medical Center (GUMC) is a co-inventor of the technology behind the vaccine, which was first approved and for use in preteen girls in 2006 and later recommended for boys as well.
The vaccine is designed to eliminate infection of two forms of the HPV virus, which is responsible for the vast majority of cervical cancer cases in addition to head and neck cancer, anal cancer and penile cancer.
Better Than Expected
"This is just fantastic news – better than expected," says Schlegel, chair of department of pathology and a professor of oncology at Georgetown Lombardi Comprehensive Cancer Center. "A reduction of half of HPV infections in girls shows that the vaccine is working well in the general population — just as we saw in the clinical trials. This is very good news."
According to the Centers for Disease Control and Prevention, about 79 million Americans are infected with the virus and about 14 million people become newly infected every year.
Magnificent Work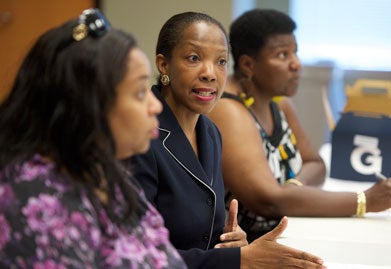 Oncology professor Sherrie Wallington, center, talks to Washington, D.C., residents about health issues impacting their communities – such as HPV. Much of her research has been conducted in Wards 6, 7 and 8.
Schlegel is also co-director of GUMC's Center for Cellular Reprogramming.
He praised the work of Sherrie Wallington, GUMC assistant professor of oncology and program director of the health disparities initiative at Georgetown Lombardi, for her work in the Washington, D.C. community.
"What good is a vaccine if our youth doesn't use it?" Schlegel asks. "Sherrie has done magnificent work in helping parents understand why vaccinating their children against HPV helps prevent the development of cancer."
Community Partnership
Wallington, whose work is funded by the National Institutes of Health, has conducted her research in three of the District's most medically underserved neighborhoods – Wards 6, 7 and 8, where GUMC already has established a community partnership to address such topics as physical activity, nutrition, environmental health and breast cancer.
The District of Columbia has one of the highest cervical cancer rates in the United States, prompting the local government to mandate that young girls receive the HPV vaccine before entering the sixth grade, unless parents go through a formal immunization exemption process.
But Lucile Adams-Campbell, associate director for minority health and health disparities research at Georgetown Lombardi, says the District of Columbia Department of Health and its public school system could only offer limited information on HPV vaccine information because of limitations in staff and funding.
Fantastic Inroads
"A stronger infrastructure for education and increasing HPV awareness is needed," says Adams-Campbell, also associate dean for community health and outreach at GUMC and co-chair of the Georgetown Initiative to Reduce Health Disparities. "And in a place where some parents think HPV and HIV — the virus that causes AIDS — are the same thing, we have a fundamental problem."
She says Wallington is making "fantastic inroads" in informing parents about the vaccine.
"The lack of access to clear, understandable and valid health information contributes to health disparities," Wallington says, "but once people have access to accurate information that they can understand, they feel empowered, and able to make an informed decision."