Title:

Undergraduate Will Study Infectious Disease With Churchill Scholarship
Date Published:
January 24, 2013
Eric Mooring (C'13) is one of 14 winners nationwide to win the Churchill Scholarship to study at the University of Cambridge next year.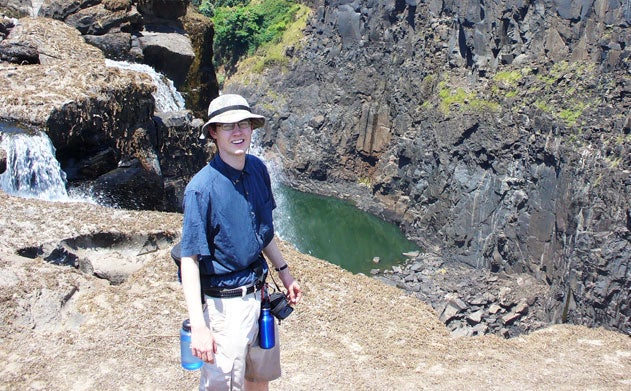 A Georgetown senior who hopes one day to help control infectious disease in animals and humans has won a prestigious Churchill Scholarship to study in England.
Eric Mooring (C'13), an environmental biology and government double major with a minor in mathematics, is one of only 14 winners nationwide to win the scholarship from the Winston Churchill Foundation of the United States.
Welcoming Challenge
Named after the World War II British prime minister, the Churchill Scholarship allows students to pursue graduate research programs in engineering, mathematics and biological and physical sciences for one year at the University of Cambridge. The scholarship covers tuition, living expenses and travel and is worth more than $60,000.
Mooring thanked Georgetown's Office of Fellowships and Awards for helping him with the scholarship process.
"The highest praise I can give them is that they have challenged me to be a better student and better communicator," he said.
Understanding Dynamics of Disease
Mooring, who plans on pursuing a master of philosophy degree in veterinary science, is Georgetown's third Churchill scholar. Iga Wegorzewska (C'04) won the award in 2004 and Cara Marie Manlandro (C'06) in 2006.
While at Cambridge, Mooring will work in the Disease Dynamics Unit led by professor James Wood whose laboratory studies the transmission and dynamics of viruses in the African straw-colored fruit bat. One of the illnesses – henipavirus – is found in Southeast Asia and Australia and can be lethal in humans.
"We need to understand disease dynamics in wildlife to better understand – and perhaps even prevent – the so-called 'spillover' of diseases from wildlife into human populations," he said.
No Better Place
Georgetown is a community. … I don't think I foresaw that the faculty I've gotten to know … would truly make Georgetown a home away from home for me."
—Eric Mooring (C'13), Churchill Scholarship Winner
The Lincoln, Neb., native said studying biology and government at a university with deep international ties drew him to Georgetown and Washington, D.C.
"There's no better place to be if you are interested in government and international affairs," he explained. "In terms of science … the Smithsonian and the NIH are great resources too."
While at Georgetown, Mooring worked with numerous faculty members on their research, including Shweta Bansal, assistant professor of biology, on understanding how flu vaccinations influence community immunity levels.
"Eric is both scientifically curious and dedicated," Bansal said. "[His] work on this topic is novel and important toward developing effective public health strategies to control the morbidity and mortality caused by influenza epidemics and pandemics."
He also worked with Gina Wimp, an assistant professor of biology, on the growth and decay of salt marsh grasses and with assistant professor of government Daniel Hopkins on literature reviews involving topics such as climate change.
Home Away from Home
"Georgetown is a community," he said. "… I don't think I foresaw that the faculty I've gotten to know … would truly make Georgetown a home away from home for me."
Mooring was a member of the university's Undergraduate Research Ambassadors group, which works to promote research to fellow undergraduates and university officials, and the Howard Hughes Research Scholars program.
He also tutored local middle- and high-school students in math and science with the Georgetown University Math and Science Hands-On Enrichment program (GUMSHOE).
"I have been fortunate to have the opportunity to work with young people in D.C. and share my enthusiasm for mathematics," he said.
Broadening Experience
Mooring studied abroad during his junior year at the University of Botswana, where he took a range of classes relating to African biology and international relations and volunteered with the Botswana-Harvard AIDS Institute Partnership.
The experience included living with a host family, which he says had a positive impact on his time abroad.
"That was an especially rewarding part of the experience," he said. "[It] afforded me the opportunity to meet a broader array of people than I probably would have if I had just lived at the University of Botswana."