Title:

Undergraduate Cultural Identity, Refugee Advocate Wins Marshall Scholarship
Date Published:
December 12, 2016
Culture and politics major Devika Ranjan (SFS'17) receives 2017 Marshall Scholarship to pursue master's degrees in refugee and forced migration at the University of Oxford.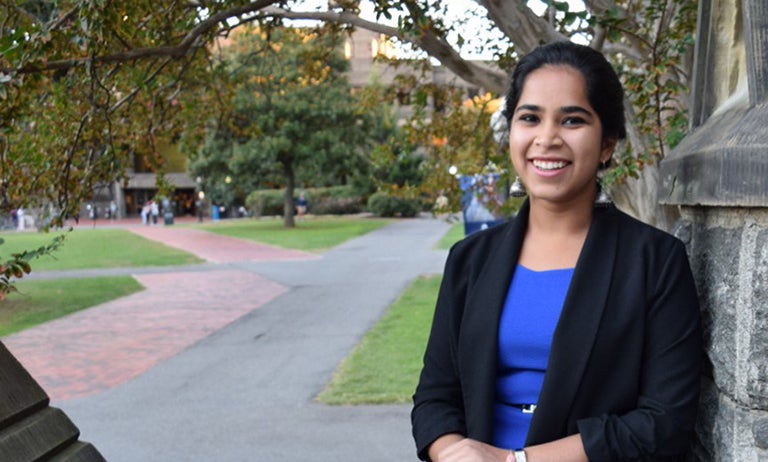 – Devika Ranjan (SFS'17), a culture and politics major at Georgetown, has won a 2017 Marshall Scholarship for graduate study in the United Kingdom.
Ranjan, 21, of Andover, Massachusetts, plans to study for a one-year master's degree in refugee and forced migration at the University of Oxford and pursue a second one-year master's degree in devised theater.
She is one of three members of the Georgetown community to receive this year's prestigious scholarship.
"Devika's extraordinary efforts to engage marginalized communities through performance reflect our University's most deeply-held values," says Georgetown President John. J. DeGioia. "We are so proud that Devika has won the Marshall."
Therapeutic Theater
Ranjan wants to develop a traveling theater that serves as a sanctuary for refugees and other displaced people. The theater would serve as "a therapeutic place where they can heal alongside others and affirm their humanity through storytelling and performance," she says.
"Theater is an essential tool for rebuilding lost empathy, identity and community," adds the Georgetown senior. "During my independent ethnographic research in South Asia, I apprenticed with theatre troupes that preserve cultural identity throughout the Kashmiri hills."
Ranjan also conducted research as an intern with Amnesty International and created and facilitated a theater workshop for children's trauma relief just after last year's earthquake in Nepal.
Combatting Islamophobia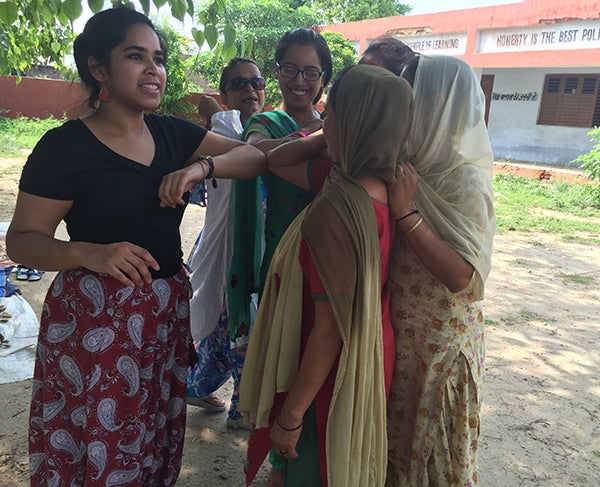 In Washington, D.C., she choreographed a political satire with a Pakistan-based theater and created a performance comprising interviews of young Muslims in an effort to combat American Islamophobia.
"All of these workshops and performances exemplify the diverse products of theatre-based work advocacy, reconstruction, language learning, empathy-building, strengthening confidence, having fun," she explains.
English professor John Glavin, university secretary in the Georgetown Office of Fellowships, Awards, and Resources, taught Ranjan as a first-year student.
In the university's recommendation, he notes Ranjan's "extraordinary resume of leadership and self-driven action on behalf of others," and stresses how her "mix of research and [nongovernmental organization] experience sets her apart from applicants who often have one or the other, but not both."
Extraordinary Vision
Derek Goldman, professor of theater and performance studies and co-founding director of Georgetown's Laboratory for Global Performance and Politics, says Ranjan's research and work exemplifies the intersection of theatrical performance and international politics.
"I have had the privilege of working closely with Devika since her arrival on Georgetown's campus as a first-year student," he says. "I have been a firsthand witness to her extraordinary vision, courage, innovation, ferocious curiosity and maturity and relentless work-ethic in pursuit of what Georgetown calls 'the greater good.' "
Ranjan was also among this year's finalists for the Rhodes scholarship.