Luke Frederick (G'22) researches the link among slave traders, law enforcement and the mass incarceration of African Americans from a 19th-century to present-day perspective.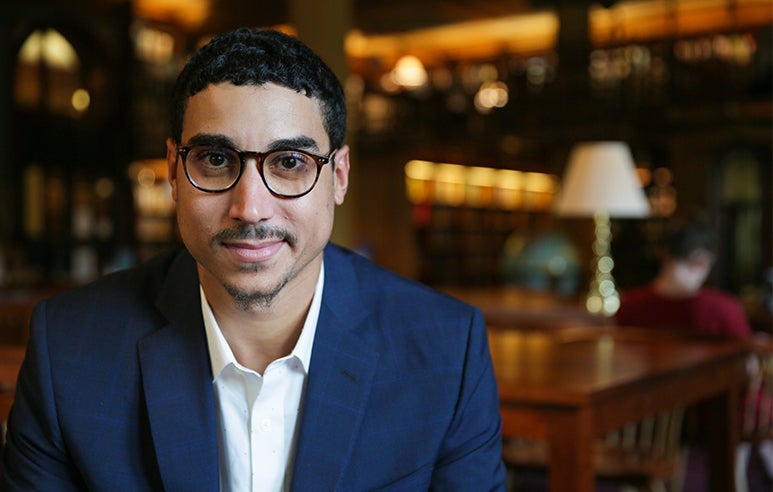 – Luke Frederick (G'22) is researching the link among slave traders, law enforcement and mass incarceration of African Americans from a 19th-century to present-day perspective. Frederick is one of eight Georgetown students recently awarded the Patrick Healy Graduate Fellowship. The fellowship is designed to recruit and retain students underrepresented in doctoral programs who want to pursue careers in academia.
Degree Pursuing: Ph.D. in history (second year)
Undergraduate and Master's Degrees: University of Cincinnati, 2014 and 2017
Hometown: Cincinnati, Ohio
His Research Explained: Frederick is combing through archives to examine the 19th-century roles of private jails for enslaved individuals, public jails, city penitentiaries, constables, police officers, justices of the peace, marshals and elected officials.
"I look at the combined efforts to create a profitable system of social control that could apply to both enslaved and free black people in the city," Frederick explains. "All of these different sites and roles of power interlocked to police the everyday lives of African Americans, and D.C. was one of only three cities with a larger free black population than the enslaved population prior to the Civil War."
The doctoral candidate says many people think newer forms of racial laws, criminal justice and social control began after slavery ended. But Frederick notes that Washington, D.C., began instituting Black Codes that allowed law enforcement to harass and restrict freedom for enslaved and free African Americans in the 1830s.
Black Codes not only resulted in African Americans being forced into a labor economy based on low wages, debt or prison labor, but also the free and enslaved lived under constant threat of being sold or kidnapped and then transported South to toil in the ever-expanding cotton fields of the South.
"This obviously segues into the larger, current conversation we're having today in America over mass incarceration and policing," Frederick says, referring to recent police shootings of unarmed black people, disproportionate numbers of people of color behind bars and the Black Lives Matter movement.
Why History?
"The book that really sparked this interest in history was a book called Slavery by Another Name by Douglas A. Blackmon," he says. "That was the first book that I came across that really made these connection between policing, slavery, labor and social control."
The Pulitzer Prize-winning book examined how government officials leased falsely imprisoned African Americans to small-town entrepreneurs, farmers and dozens of corporations looking for cheap and abundant labor.
A Professor's View: Frederick's advisor, Georgetown history professor Adam Rothman, is a scholar of Atlantic, 19th-century, Civil War and slave history in the United States.
"Luke has a great future as a historian," Rothman says. "He's smart, thoughtful and curious. He is interested in the 19th-century roots of America's prison system, which is intricately connected to the history of slavery and unfree labor."
Why Georgetown?The student says the campus culture, the desire to conduct research in D.C. and the university's excellent faculty attracted him to Georgetown.
"My research topic drew me to Georgetown, but it wasn't until I visited the university that I knew it was the place for me," he says. "When I heard about the university's Working Group on Slavery, Memory, and Reconciliation and saw that they were changing building names and trying to increase the number of black faculty on campus, it was just a great sign to me that I needed to be here."
History and the Contemporary World: The Ph.D. history student keeps a foot in modern times. The past two summers he has worked with a nonprofit in Ohio advocating to curb mass incarceration in the state and examining student loan debt, particularly for women of color.
He says racial discrimination and wage gaps not only force women of color to take on more student loans, but also results in their inability to avoid falling into default on their loans.
"Student loan debt is a huge issue nationwide for everyone. It's the second largest debt category in the United States after mortgages," Frederick says. "We're looking at what can be done on the state level to lessen the burden for everybody, but particularly the groups hardest hit."