A senior U. S. government leader for nearly two decades who performed top roles in two administrations and served as partner at a major Washington law firm will leave federal service to join Georgetown as its new vice president and general counsel.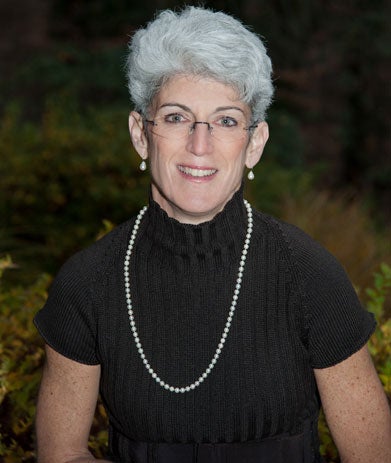 "I look forward to working collaboratively with the team at the university to hear the many perspectives involved on complex issues and working together to come to agreement and decisions," says Lisa Brown, who will become Georgetown's general counsel on March 1.
Lisa Brown, the federal government's acting chief performance officer, will become the university's general counsel on March 1, bringing to Georgetown a legal career rich with experience at the highest levels of both the private sector and public service.
Brown worked at the White House in senior roles during the administrations of presidents Bill Clinton (F'68) and Barack Obama, including four years serving as deputy counsel and counsel to then-Vice President Al Gore. She also brings substantive background as an attorney with the U.S. Department of Justice.
Transformative Time
Brown's extensive experience includes the private sector, as a partner at Shea & Gardner (now Goodwin Procter) in Washington, and the not-for-profit sector, as executive director of the American Constitution Society for Law and Policy.
"I'm incredibly excited about coming to Georgetown," Brown says. "Educating and preparing students to contribute in a global world and to actively work to make society better for those less fortunate is very appealing and is at the heart of Georgetown's mission."
"The mission of the university and the opportunities and challenges on the horizon are ones that I look forward to meeting during this exciting and transformative time in higher education," she adds.
Senior Leadership Roles
At the United States Office of Management and Budget, Brown was asked by President Obama to lead implementation of the recommendations of the President's Council on Jobs and Competitiveness and to manage a presidential initiative that reorganizes government functions and agencies to enhance efficiency and effectiveness.
In this role, Brown led inter-agency work on a variety of initiatives to spur job growth during a critical time in the American economy.
"Lisa Brown is a longtime public servant whose experience in the private sector and at the highest levels of the federal government will be an exceptional asset to our university," says Georgetown President John J. DeGioia. "Her commitment to public service reflects the values at the core of our Catholic and Jesuit tradition, and we look forward to welcoming her into our community in March."
Remarkable Contribution
From 2009 to 2011, Brown served in the White House as assistant to the president and staff secretary, working as a part of the senior leadership team to control all paper to and from President Obama, and serving as the last substantive control point before paper reached the Oval Office. She also oversaw the offices of the executive clerk, records management and presidential correspondence.
Brown's experience includes leading collaborative groups of senior colleagues.
During her tenure at OMB, Obama tapped her to lead a working group of bipartisan experts charged with making recommendations to streamline paperwork required for presidential nominations, the results of which are now being considered for implementation in the United States Senate.
"Lisa has served President Obama in a variety of transformational roles," says Jeff Zients, OMB deputy director for management. "From her position on the Presidential Transition Team, to her service as White House staff secretary, to her work at OMB – where she has managed the president's initiative to reorganize the government – Lisa has made a truly remarkable contribution to this administration and to the American people."
Strategic Leadership for Georgetown
At Georgetown, Brown will be a key part of the executive management team working on a variety of strategic issues, including work on the campus master plan with the District of Columbia, harnessing the power of globalization and engagement around the world, and effectively utilizing information technology in the digital age.
Brown says she sees similarities between the working environments at the White House and Georgetown.
"I love the fact that there is a tremendous variety of issues presented at Georgetown," she says. "I look forward to working collaboratively with the team at the university to hear the many perspectives involved on complex issues and working together to come to agreement and decisions."
Brown graduated with a bachelor's degree in political economy from Princeton University and received a law degree from the University of Chicago Law School.