Title:

School of Continuing Studies Expands 'Georgetown Downtown' Presence
Date Published:
August 19, 2013
Georgetown's School of Continuing Studies opens for the fall semester in the vibrant and growing Chinatown/Gallery Place neighborhood, further positioning Georgetown as an anchor in downtown Washington, D.C.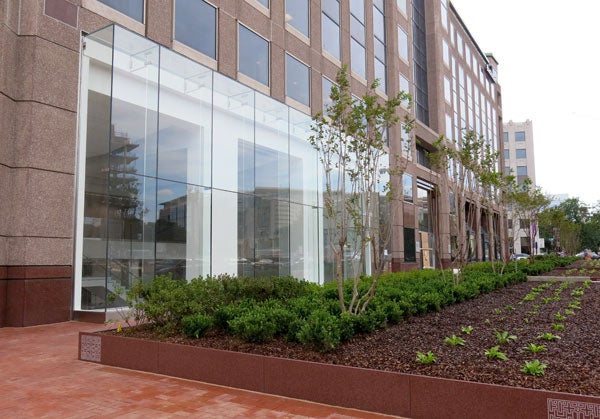 AUGUST 19, 2013STUDENTS IN THE SCHOOLof Continuing Studies (SCS) will return to their programs for the fall semester in the vibrant and growing Chinatown/Gallery Place neighborhood, further positioning Georgetown as an anchor in downtown Washington, D.C.
The new SCS location at 640 Massachusetts Ave., N.W., builds on the foundation set by Georgetown University Law Center, which is located just a few blocks away at 600 New Jersey Ave., N.W.
EXPANDED OPPORTUNITIES
Together with Georgetown Law, which has been located in the downtown area since 1971, SCS's move expands the university's "Georgetown Downtown" presence.
"SCS is bringing the excellence of a Georgetown education to another part of the city and is expanding opportunities for education and training to residents of the D.C. metropolitan area," says Georgetown Provost Robert Groves.
At their new location, SCS offers the Master of Professional Studies (MPS) degree in eight majors, more than 25 professional certificate programs, custom and corporate training and education and special programs as well as the university's only part-time bachelor's program.
More than 3,500 students, faculty, administrators and staff will be housed in the new location, where all five Metro rail lines are within a four-block radius.
"The new location not only allows Georgetown to contribute to the city's urban development, it allows the university to fulfill its campus plan commitment to relocate 1,000 graduate students from Main Campus a full semester ahead of schedule," Groves adds.
SERVING THE COMMUNITY
Walter Rankin, interim dean of SCS, says the move also gives Georgetown an opportunity to extend its Jesuit values and community service efforts.
"We've seen Georgetown Law invest in the local downtown community through volunteer and pro bono work," he says. "The move will give SCS a chance to explore, in partnership with the university's Office of Community Engagement, ways to further engage with the local community through learning, research and service."
Before classes begin, new students will join the dean and school staff to volunteer in the neighborhood at Central Union Mission, a faith-based nonprofit social service agency, and at the Asian and Pacific Islander Senior Center, which provides seniors from the Chinatown neighborhood with literacy classes, translation services and more.
INNOVATION AND SUSTAINABILITY
The new facility features more than 91,000 square feet of classroom, office and meeting space with integrated technology.
The space includes 30 classrooms, 14 group study rooms, a 130-person auditorium, digital media lab and broadcast studio, contemplative space, library, academic resource center, bookstore, café and multiple work, lounge and meeting spaces.
"Much thought was given to providing our students with an innovative, creative space with a focus on sustainability," says Rankin. "The facility was a former broadcast studio, and we were able to design it into a space that reimagines the learning environment for the 21st century."
Recycled, local and low volatile organic compound materials were used in the space's construction and its furnishings. SCS also plans to implement policies for students, faculty and staff to reduce waste and the university will purchase green power credits to offset energy consumption.
The university will seek Leadership in Energy & Environmental Design (LEED) Gold certification.
"Many of our students are working professionals in the city," says Rankin. "It's so exciting to share this new space with them in the heart of D.C."