Georgetown launches a new interdisciplinary initiative that brings together leading scholars, practitioners and students to examine the problems surrounding mass incarceration in the United States.
The Prisons and Justice Initiative (PJI) builds on the related work of faculty across Main Campus, the Law Center and Medical Center and already established programs that focus on prison education, outreach and reform.
"We hope to break down some barriers to talk about common ideas and hopefully find some solutions for this crisis of mass incarceration in our country," says PJI director Marc Howard. "We currently have 2.3 million Americans in prison. We have by far the highest number in the world – five to ten times higher than European countries with comparable democracies."
"And of course there are huge racial and ethnic disparities associated with those numbers."
Reversing the Tide
Howard moderated a panel discussion on "Reversing the Tide of Mass Incarceration: Prospects for Prison Reform" during the initiative's official launch on Feb. 9 that included Paul Butler, a Georgetown law professor who studies crime and served as once served as a prosecutor.
"There are more black people in the criminal justice system now than there were slaves in 1850," Butler said to an audience of more than 400 in Gaston Hall during the launch event.
The panel also included Georgetown professors Benjamin Harbert of the Department of Performing Arts, who has researched music in three Louisiana prisons; Judith Lichtenberg of the philosophy department whose interests include prison reform; and Allegra McLeod, also of Georgetown Law, who has worked with the American Civil Liberties Union's National Prisons Project.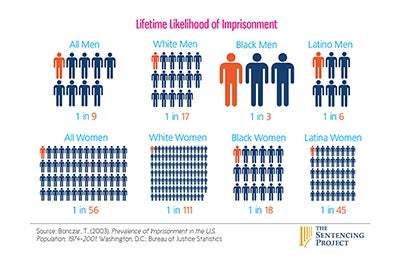 Ferguson Report
Butler also talked about recent events in Ferguson, Missouri, and the U.S. Justice Department's investigation of that city's law enforcement practices.
"I'm inspired by the Justice Department's Ferguson report, it just might be one of the defining cultural artifacts of our time because it's this amazing synthesis of data and stories," he said a day before the Justice Department decided to sue the city for failing to comply with the agreed upon. "Everybody agrees there is a race and crime problem. What we need to understand is that Ferguson is America."
A Focus Re-entry and Reform
Howard, a professor of government, says the new initiative builds upon the university's more than 30-year history of prison education programs in nearby facilities, its proximity to the federal government and lawmakers, and its guiding Jesuit mission of intellectual inquiry and service to others.
Those programs include:
Prison Reform Project,a course that brings together students from Georgetown and the Jessup Correctional Institution, a maximum security prison in Maryland, to develop concrete proposals for criminal justice and prison reform.
Strong Returns is an organization with a mission to make prison reform the millennial generation's issue for the 2016 election in partnership with PJI.
Returning Writers and Book Club Bridge are grassroots re-entry programs that aim to form community through writing workshops and a book club.
Georgetown-Jessup Debate Program, which brings the educational forum of competitive debate to incarcerated students at Jessup.
Matthew Kahn (C'17), a research assistant with PJI, leads the debate program with support from the initiative. He says he got involved with the initiative because of his interest in pursuing a career in law and policymaking.
The government major from Newington, Connecticut, says the optimism and exuberance of the 30 Jessup students participating in the debate program is gratifying.
"In debate classes I've taught in the past, students were hesitant to give speeches and needed to be coaxed, but my students at Jessup clamor to be the first to go up," Kahn says. "My hope is that this experience can provide them with the ability to use rational argumentation to facilitate peaceful conflict resolution."
Getting Involved
Queen Adesuyi (C'16), another PJI research assistant, says she wanted to get involved with PJI for personal and academic reasons.
"I have watched and been impacted by different aspects of [mass incarceration]," says Adesuyi, an American Studies major from the Bronx, New York City. "When I arrived at Georgetown and began taking classes on these issues, participating in protests and engaging with the unequivocal, raw learning opportunities that exist throughout social media, I wanted to get involved with this issue in any and every way."
Howard says he hopes the six student research assistants in the initiative gain the exposure needed to make serious reforms.
Setting a New Course
"In prison you put people in boxes and warehouse them and somehow expect them to know how to function once they leave," he says. "For a program like this, there is a lot of evidence and research that shows how education can set a new course for people who have been incarcerated."
Howard's interest in prisons and justice began after a childhood friend was wrongly convicted for the murder of his parents. The friend spent over 17 years in prison before he was exonerated with help from Howard and others. The effort not only exposed him to changes in needed in the criminal justice system but compelled him to pursue his J.D. at Georgetown.
After graduating, the government professor continued his work with prisons by volunteering to teach world politics at Jessup.
"I actually brought my Georgetown students to the class, and it was probably the best teaching experience I had ever had because I was able to show just how smart, determined and hard-working and prepared the Jessup students are," he recalls.