Students, faculty and staff can now download a new app with live video and audio that will help Georgetown's Department of Public Safety (DPS) protect the campus community.

August 18, 2013 – EmergenSee, a new safety app, will help Georgetown's Department of Public Safety (DPS) protect the campus community by allowing users to stream live video and audio and stay in contact with DPS officers witha tap of the finger.
The app, included in the latest update to Georgetown Mobile on iPhone and Android, is now available to download for students, faculty and staff returning to campus for the new academic year.
When activated, the app automatically sends an alert to the DPS command center.
"It's really [an emergency] blue light phone in your pocket," said Jay Gruber, Georgetown's chief of police.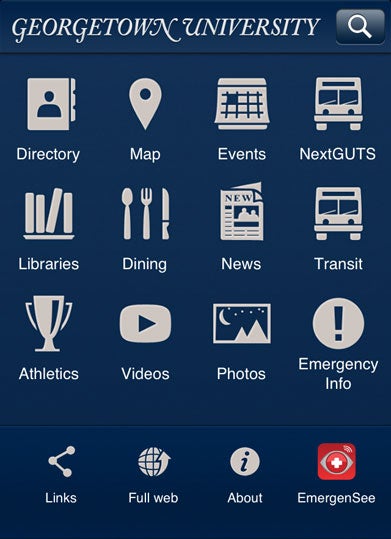 EmergenSee on the Georgetown Mobile app.
24-Hour Help
Officers monitor EmergenSee alerts 24 hours a day, seven days a week and can track the app users' GPS location and movements. DPS can also text users to make sure they are safe and determine whether an officer needs to be dispatched.
Operating the app is fairly simple, Gruber said.
"All you need to do is hold your camera toward the fire, the traffic crash, the fight, the suspicious person that's walking and do some texting back and forth [with a Georgetown officer]," he said.
GPS Radius
DPS officers will respond to EmergenSee alerts within a fixed GPS radius, called a "geo fence."
The perimeter includes the area bordered by Calvert Street to the north, Wisconsin Avenue to the east, Canal Road and M Street to the south and Foxhall Road to the west.
Even when students, faculty and staff are off campus and outside Georgetown's geo fence, they can still utilize EmergenSee home or abroad.
"If you live in Bethesda, and you hit the app, it's going to say 'push here to call 911," Gruber explained. "But if you're one of our study-abroad students … as long as you have access to broadband 4G, 3G, LTE or access to wireless, you will [get help]."
quicker than 911
Freshman and transfer students will download and learn about the new app during New Student Orientation (NSO) on Aug. 25.
Gruber said its important that all members of the Georgetown community download the app so there is a line of communication between DPS officers and the app user if and when an incident occurs.
Students can still dial 911, but the response time to the call may not be as quick, Gruber said.
Better than blue lights
"[911] may just dispatch a scout car," he explained, adding that DPS officers may not even receive notification of the call from the D.C. Metropolitan Police Department. "That's going to take a long time, and we want to get good situational awareness of what's happening when our students notify us [with EmergenSee]."
The blue emergency phones will remain scattered across campus and will be upgraded with enhancements, but new ones will not be installed on campus, Gruber said.
"They're very expensive, and they're rarely used because they're static," he explained. "We're looking at how students do business nowadays and how they communicate with smart phones and apps."