Title:

New Black Georgetown Remembered Book Celebrated With Community
Date Published:
February 25, 2016
The university celebrates the 25th anniversary edition of Black Georgetown Remembered with a celebration in Gaston Hall that included a panel discussion and memories of the rich black community that once surrounded the campus.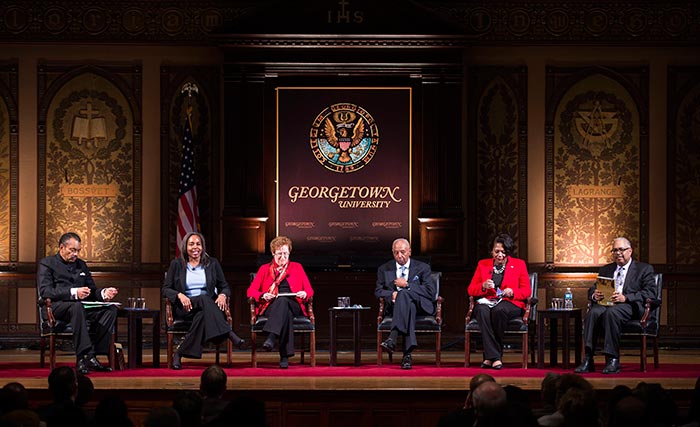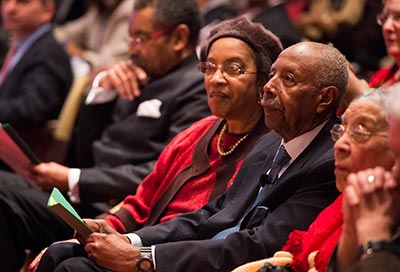 A rapt audience of Georgetown neighbors and former residents listen to the panel discussion.
The university celebrated the commemorative 25th anniversary edition of Black Georgetown Remembered last night with a celebration in Gaston Hall that evoked fond memories of a tight-knit black community that once thrived in neighborhoods surrounding the campus.
The book, first published in 1991 by Georgetown University Press, chronicles the rich but not well-known history of the black community in Georgetown, beginning in the colonial period into the present day.
Self-sustaining Neighborhood
"Georgetown was a family community," said Vernon Ricks Jr., a 77-year, third-generation resident of the Districtwho was part of a panel discussion at the event. "Washington, of course, was segregated and the black community in Georgetown was more or less a self-sustaining neighborhood."
While gentrification, which he called "deportation," resulted in his family moving to 18th Street, he said, "We never really left Georgetown." "Everything was there for our community," recalled Ricks, a lifelong member of Georgetown's Mount Zion United Methodist Church, the oldest black church in Washington, D.C.
He said the community had its own doctors, pharmacists, barber shops, beauty shops and other black-owned businesses.
Georgetown professor Maurice Jackson wrote in his foreword to the new edition that "Black Georgetown still lives and black Georgetown still matters."
Renewal and Removal
Maurice Jackson (G'95, G'01), the Georgetown associate professor of history who wrote the foreword to the new edition, moderated the panel discussion.
A longtime resident of the area, Jackson also serves as an associate professor African American studies, special advisor for Washington, D.C. affairs to Georgetown President John J. DeGioia, and he chairs the Washington, D.C. Commission for African American Affairs.
"Black Georgetown Remembered is the story of continuity and of change and of family renewal and of people and community removal," Jackson wrote in the foreword. "It is the story of hope, determination faith and goodwill. Black Georgetown must continue to be remembered, and this 25th anniversary assures us that it will be. Black Georgetown still lives and black Georgetown still matters."
Sharing Memories
The panelists also included Black Georgetown Remembered co-author Valerie Babb, a University of Georgia English professor and former Georgetown professor; co-author Kathleen Lesko, a research scholar at Huntington Library in San Marino, California and former Georgetown staff member; Monica Roaché, the first African American elected to Georgetown's Advisory Neighborhood Commission; and Neville Waters III (MBA'91), a fifth-generation Georgetown resident.
Babb said when she first came to the university she met a maintenance worker who told her about the rich history of the black community in the area.
"He was the one who actually spoke of the black Georgetown community, fondly, in detail, with memories," she said.
That led her to contact Washington, D.C., historian Carroll Gibbs, who introduced her to area pastors who knew the history of black Georgetown, who in turn connected Babb and co-author Lesko to individuals.
"I was always impressed with how honest people were, how truthful, how generous they were to share their memories," Babb said.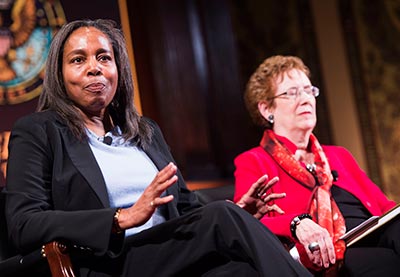 Valerie Babb, a former Georgetown University English professor and Kathleen Lesko, a former staff member, co-authored the original Black Georgetown Remembered in 1991.
Georgetown Roots
When the university was planning its bicentennial celebration for 1989, Babb said a group of faculty and administrators were coming up with "wonderful ideas for how to celebrate the 200th anniversary of Georgetown University. [But] nothing black came up."
She brought up the concept of a book to Rev. Charles Currie, S.J., who directed the celebration and still has an office on campus, and then-President Timothy Healy, who embraced the idea.
A packed Gaston Hall Wednesday night included the children, grandchildren and great-grandchildren of the black residents who were part of the community throughout the 20th century and whose ancestors stretch back to the days of slavery and segregation in Washington, D.C.
Hearing Their Story
One event attendee, Alice Walker, said her great-grandparents – John and Della Marshall – owned three houses and a store on O Street.
The store, a shoeshine parlor that doubled as a rug and hat cleaner, stayed in the family for more than 93 years until it was sold in 2013.
"It was great to see that the families in Georgetown and the lifestyle in Georgetown was being shared widely," Walker said after the event. "People got a chance to hear our story, because most people don't know the rich history of blacks in Georgetown."
Also attending was a descendant of Roumania Peters, whom the book notes was a successful tennis player with her sister, Margaret. The sisters played tennis in Rose Park Playground in Georgetown, on occasion with movie star Gene Kelly, and went on to attend what was then Tuskegee Institute on scholarships. They were doubles champions in the American Tennis Association for 14 years beginning in the 1940s.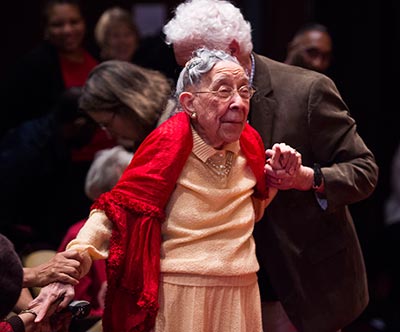 Daisy Pebbles Sewell, 95, stands with assistance from an audience member to cheers and applause.
Comfort Level
Likely the oldest attendee was Daisy Pebbles Sewell, 95, who stood up during the event to cheers and applause.
Waters talked about his long ties to the community at the event.
"I recently moved back into the house I grew up in, and my master bedroom is actually the room that my father was both born and died in," he said. "…It's wonderful to be back, and even though things have changed, there's an incredible comfort level and familiarity with being in Georgetown and being a part of the history of Black Georgetown Remembered."