Mo Elleithee, a 20-year veteran of national politics and a 1994 alumnus of the School of Foreign Service, will lead the McCourt School's newest institute.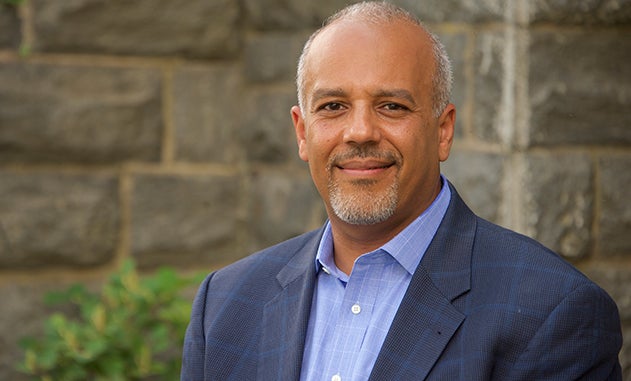 A new Georgetown Institute of Politics and Public Service will be launched this fall at the McCourt School of Public Policy, to be led by Mo Elleithee (SFS'94), a 20-year veteran of national politics.
The institute was created during the fall 2013 founding of the McCourt School, made possible by a $100 million gift – the largest in university history – from Georgetown alumnus Frank H. McCourt Jr. (C'75).
"From the beginning, Mr. McCourt's vision was to create a school that would allow students not only to study and develop better public policies, but to actively engage in the political process and public service as a means to implement sound policy," says McCourt School Dean Edward Montgomery. "The institute will foster public service and civic engagement broadly, and excite and inspire young people from across campus, both undergraduate and graduate students alike, toward active political participation in service to the common good."
With the creation of the institute and the appointment of Elleithee as executive director, Georgetown and the McCourt School take a major step toward realizing that vision.
Experience at All Levels
A veteran of four presidential campaigns, Elleithee is currently the Democratic National Committee's communications director.
Senior spokesperson for Hillary Clinton's 2008 presidential campaign, he also has served as a campaign strategist for four current or former United States senators, two former governors and countless other statewide and local races across the country.
"We are thrilled to have Mo head up the Institute of Politics and Public Service," Montgomery says. "His deep experience at all levels of politics makes him perfectly suited to lead Georgetown's effort to engage the next generation of public servants."
Two Passions: Georgetown and PoliticS
Elleithee is an alumnus of Georgetown's School of Foreign Service, and holds an M.A. in political management from The George Washington University.
Since 2011, he has served as an adjunct professor at the McCourt School, teaching a course in campaign management and strategy.
When he's not teaching or working on the political front lines, he is often found at the Verizon Center, cheering on his beloved Hoyas.
"Leading the institute will allow me to combine my two passions – politics and Georgetown, whose alumni can be found at every level of politics and government service," Elleithee says. "I envision the institute as an incubator of political thought, empowering Georgetown students to come up with new and innovative ideas to strengthen our political system, and encouraging them to pursue lives in public service."
Inspiring Programs, Opportunities
This fall, the institute will launch its flagship Fellows program, open to all undergraduate and graduate students at Georgetown.
The program will provide a unique opportunity for students and others on the campus to interact with a distinguished and politically diverse set of former elected officials, policymakers, business leaders, journalists and others who have been engaged in U.S. or international politics.
Eventually the institute will provide a wide range of opportunities for students to engage with political leaders – inviting presidential candidates to campus to share their visions for the future and creating a robust internship program. The institute also will, over time, create partnerships with new and digital media platforms and have a presence at both parties' national conventions.
Read more about Elleithee's vision for the institute and his passion for politics and Georgetown in this recent post on Medium.