Title:

Jewish Holiday to Include Architectural Wonder on Campus
Date Published:
September 10, 2013
A sukkah representing shelters ancient Israelites used as dwellings will be set up temporarily on Healy Lawn as part of the Jewish harvest festival of Sukkot.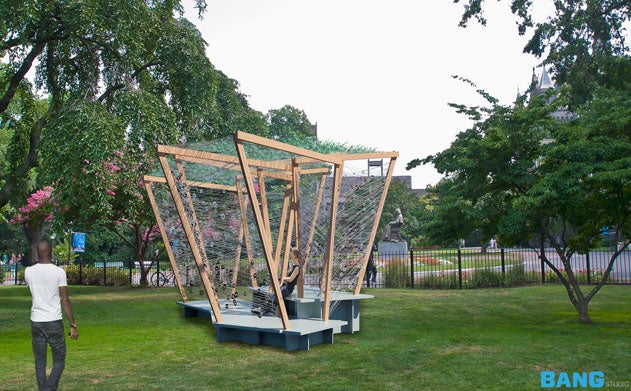 Two award-winning architects will arrive on campus next week before the Jewish holiday of Sukkot to set up a sukkah, a temporary dwelling representing the shelters ancient Israelites used in the desert wilderness.
Architects Henry Grosman and Babak Bryan of BanG studio in Brooklyn, N.Y., who won an international design competition to reimagine the sukkah in 2010, will begin setting up the modern, collapsible sukkah on Healy Lawn Sept. 17.
This year Sukkot, a harvest festival called "the season of joy," starts at sundown on Sept. 18 and ends at sundown on Sept. 25.
The structure will be open night and day for students and other members of the Georgetown community to explore and sit in the sukkah to enjoy a meal or reflect throughout the holiday.
Share and Teach
"This is about creating a space for the Jewish community on campus to observe Sukkot, one of our most celebratory holidays," says Georgetown's Rabbi Rachel Gartner. "We thought this would be a great way to do that, and also provide an opportunity to teach about Sukkot to people of other traditions."
During Sukkot, Jewish communities are meant to leave their homes and dwell in the sukkah, inviting ushpizin (guests) to join them. Some people sleep in the sukkah, while others just enjoy meals inside the structure.
"The sukkah is designed to force the inhabitant to reconsider the world in which he or she lives," says Grosman, who says the Georgetown sukkah will fit about 10 people at a time. "It is a temporary place where one goes to consciously remove one's self from daily life in order to reflect upon it and one's place in the world."
Various events are scheduled in and around the sukkah during the holiday, including an opening reception with the architects on Wed., Sept. 18 and a community-wide open house on Sept. 22 from 12 p.m. to 2 p.m.
A shabbat (the Jewish Sabbath) service with music will be observed in front of the sukkah on the lawn at 6 p.m. on Sept. 20.
Jewish Roots
"The sukkah provides an opportunity for those who are not Jewish to learn about this Abrahamic faith tradition," says Kevin O'Brien, vice president for mission and ministry. "For Christians in particular, visiting the sukkah and participating in some of the programming can help them understand more about Jesus' Jewish roots, and how the rituals and commitments of Judaism inform Christian worship and values."
Setting up the sukkah, whose walls comprise a series of seven portal frames made of cedar, will take about four to six hours, the architects say.
"The arms of the frames are connected by a series of strings woven through holes in the frame like a cat's cradle," Grosman explains. "The walls have been pre-woven in Brooklyn and rolled up for transport. At Georgetown, we will unroll the walls and bolt them into place."
The roof, also a separate pre-woven structure, will be covered in traditional organic material, in this case fresh eucalyptus, myrtle and blue huckleberry.
Spiritual Blueprint
Gartner notes that Sukkot comes right after Yom Kippur, the holiest day on the Jewish calendar.
"We spend Yom Kippur inside the synagogue, thinking about things from a very spiritual plane, making a spiritual blueprint for the coming year of how we want to live our lives," the rabbi explains. "The first thing we are meant to do at the end of Yom Kippur is to hammer the first nail into the sukkah. The lesson here is that we need to set our intentions and make plans, but then we need to act."
She says Judaism is at its core about putting spiritual ideals and ethical visions into action.
Universally Human
The sukkah also will be available to people attending the third annual President's Interfaith and Community Service Campus Challenge conference at Georgetown on Sept. 23.
When Sukkot is over, the sukkah will be disassembled and put away until next year.
"Judaism is alive, vibrant, and evolving," Gartner says. "It has a distinct voice of its own to contribute to interfaith dialog and interfaith searches for meaning. Judaism contributes to the conversation among traditions in ways that are both distinctly Jewish and universally human."