Title:

Georgetown Remembers Alumnus and U.S. Supreme Court Justice Antonin Scalia
Date Published:
February 16, 2016
Georgetown mourns the loss of a "giant" in the judicial world after U.S. Supreme Court Justice Antonin Scalia (C'57) dies at 79.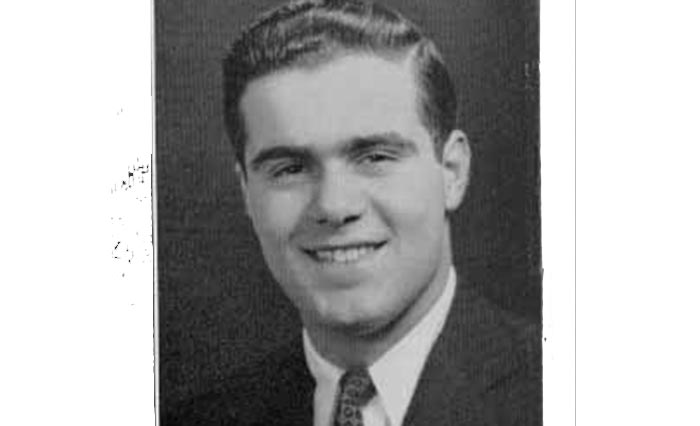 Georgetown is mourning the loss of a "giant" in the judicial world after U.S. Supreme Court Justice Antonin Scalia (C'57) died in Texas this past weekend. He was 79.
The justice, known for his originalist approach to interpreting the Constitution, and his humor and wit, received his bachelor's degree in history from Georgetown College as class valedictorian before going on to graduate from Harvard Law School in 1960.
A Devout Catholic
"Justice Scalia was an extraordinary man of devout faith, whose life and career bore witness to the intellectual excellence and commitment to justice central to the Catholic and Jesuit tradition of education, " said Georgetown President John J. DeGioia.
The justice visited his alma mater more than 25 times after graduating – speaking at the university's inaugural Toqueville Forum on the Roots of Democracy in October 2006 and during the 2002 Jesuit Heritage Week, where he talked about the importance of protecting Jesuit and Catholic identity at the university.
Hundreds of students filled Gaston Hall for the latter event to hear Scalia's address and the Q&A that followed.
"I would be a different person if not for my years here," The Hoya reported as the justice reflected on his experiences at Georgetown.
He described the Jesuit identity as having three focuses – intellectualism, scholarship and activism – during the address and said he considered the third goal to be defined by the ad majorem Dei gloriam, or "for the greater glory of God."
'Giant' in Law
"Scalia was a giant in the history of the law, a brilliant jurist whose opinions and scholarship profoundly transformed the law," said Law Center Dean William Treanor in a statement. "Like countless academics, I learned a great deal from his opinions and his scholarship."
"In the history of the Court, few justices have had such influence on the way in which the law is understood, Treanor added. "On a personal level, I am deeply grateful for his remarkably generous involvement with our community."
More recently, the High Court justice gave the inaugural Robert H. Bork Memorial lecture at Georgetown Law in fall 2013 and spoke this past November to first-year law students about legal education and how he wrote dissenting opinions with students in mind.
"The justice offered first-year students his insights and guidance, and he stayed with the students long after the lecture was over," Treanor said. "He cared passionately about the profession, about the law and about the future, and the students who were fortunate enough to hear him will never forget the experience. We will all miss him."
Dramatic Presence
Scalia not only graduated summa cum laude from Georgetown, he immersed himself in a variety of extracurricular activities that included serving as president of the Philodemic Debate Society, the Golden Key Society honors club and Students Council.
As a young college student, he also dabbled in the arts as a member of the Mask and Bauble drama club, and that love for the arts continued throughout his life.
Supreme Court Justice Ruth Bader Ginsburg recalls Scalia describing the "peak of his days" being when he joined two Washington National Opera tenors at the piano for a medley of songs during the organization's annual Opera Ball.
"He called it the famous Three Tenors performance," Ginsburg said in a statement about her late colleague's passing. "He was, indeed, a magnificent performer. It was my great good fortune to have known him as working colleague and treasured friend."
Brilliance and Service
Ginsburg said she and Scalia often fell on opposite sides of cases, but that there was a great deal of professional respect between them.
She and her late husband – Martin Ginsburg, who served on the faculty of Georgetown's Law Center until his death in 2010 – were good friends with Scalia and his wife, Maureen. They reportedly spent many New Year's Eves together.
"He was a jurist of captivating brilliance and wit, with a rare talent to make even the most sober judge laugh," Ginsburg said in her statement.
DeGioia noted the late justice's dedication to public service through the law.
"He will be deeply missed by so many here in our community and across our nation," he said. "We are proud to call him a son of Georgetown."