Title:

Georgetown Alumni Continue Strong Tradition of Peace Corps Service
Date Published:
March 18, 2016
Zoe Mowl (SFS'15) is one of 29 Georgetown graduates volunteering with the Peace Corps who contributed to the university's recent No. 7 ranking among medium-sized schools on the agency's 2016 Top Volunteer-Producing Colleges and Universities list.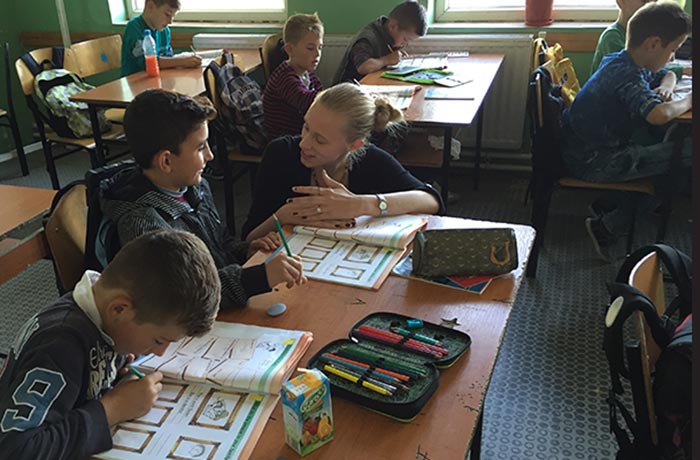 – Zoe Mowl (SFS'15), who is teaching English to children for the Peace Corps in Junik, Kosovo, says the agency is "telling the truth when they say that this is the hardest job you will ever love."
"There are the wonderful highs and extreme lows, but oftentimes the happiest moments come in the simple ways when you finally figure out a past tense in your new language or when you are mobbed with hugs from your community's children," says Mowl, who began her two-year stint with the Peace Corps in August 2015.
Mowl is one of 29 Georgetown graduates volunteering worldwide who have contributed to Georgetown's recent No. 7 ranking among medium-sized schools on the Peace Corps' 2016 Top Volunteer-Producing Colleges and Universities list.
A total of 935 alumni have served since the agency's founding in 1961.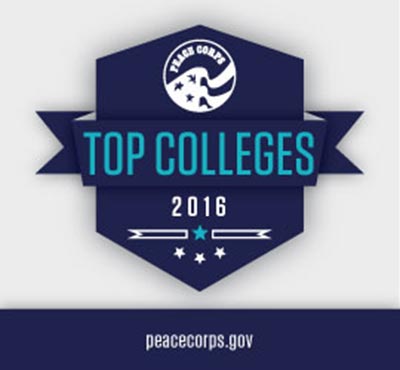 Helping Others
The regional and comparative studies major first heard about the Peace Corps experience from her high school guidance counselor who volunteered in South America. He thought Mowl would be interested in the Peace Corps because of her role as president of a community service club and her interest in international relations and foreign cultures.
"I already knew (then) that I wanted to study international relations in college and spent a lot of [time] abroad helping others, and that desire didn't change at Georgetown – if anything, it grew stronger," says Mowl, who at Georgetown studied Western European and Sub-Saharan African states and politics with a concentration in women's rights.
Mowl of Woodbury, New Jersey, now teaches English to first- to fifth-graders in Junik.
Beyond that position, she helped start a Model U.N. club at the local high school with another Peace Corps volunteer and helped organize national spelling bee and creative writing competitions. She also has helped plan two summer camps for middle school students and an English reading club.
"Georgetown seeks out and then sustains the idea in its student body that we are men and women for others and the importance of volunteerism," says Mowl of why the university produces so many volunteers for the agency. "These two parallel ideas are core tenants of what it means to be in the Peace Corps so it makes sense that if one already appreciated that and then went to Georgetown … one would consider the Peace Corps."
Sustainable Development
Elyssa Skeirik (SFS'15) will leave Georgetown this week to teach English to high school students in Indonesia as part of her two-year stint with the Peace Corps.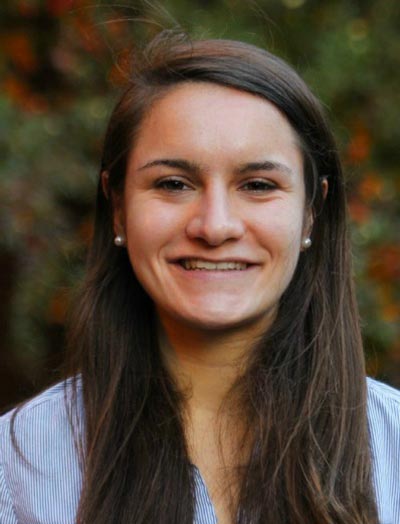 The culture and politics major, who worked as a program manager at Center for Contemporary Arab Studies after graduation, believes Georgetown "both attracts and creates students who are attracted to public service and civic engagement as men and women for others."
"I am particularly excited to be serving in the education sector because I believe education is the key to appropriate, sustainable development," says Skeirik, of Kennett
Square, Pennsylvania. "International development work gets get a lot of (mostly legitimate) criticism because it's inevitably entangled in politics, money and conflicting motivations. For me, education stands apart from other types of projects because it does not have to dictate or enforce the course of a community's development for it to be effective. An effective teacher is a facilitator who guides and empowers her students to choose and follow their own path."
Absolutely Do It
Jonathan Coumes (SFS'13) just finished a two-year stint with the Peace Corps and advises Georgetown students interested in volunteering to "absolutely do it."
"The [Peace Corps] application now lets you apply to specific programs at specific posts, so there's almost no doubt left in the process anymore," says Coumes, who served as an environmental education volunteer in Jalpan, Mexico. "Find the Washington, D.C. recruiters and talk to them – they're almost all returned volunteers, and they're dying to share with you."
Coumes, of Franklin, Tennessee, worked with environmentalists in Mexican national parks. He worked at an office in Jalpan, which is about four hours northeast of Querétaro city.
"We were … promoting sustainable living, both in terms of ecotecias or eco-technologies, like solar heaters and efficient stoves and water catchment and recycling systems," the Georgetown graduate explained, "and … closed-cycle non-GMO farming … and beekeeping and all kinds of composting."
He and his Mexican counterpart also ran a weekly radio show and administered what he calls an "eco-scouting" movement with about 500 high school students.
Unique Opportunity
"While we're seeing a little extreme weather here at home, the rest of the world isalready suffering serious climatic shifts,and it is devastating," says Coumes, who notes that on sunny days in December Jalpan could reach 80 degrees. "So putting two years and a bit into developing the way of life that we absolutely have to transition to?That feels rewarding to me."
Georgetown rose to the No. 7 spot from its No. 10 ranking last year and has ranked in the top 10 among medium-sized schools for the past 10 years.
"The Peace Corps is a unique opportunity for college graduates to put their education into practice and become agents of change in communities around the world," Peace Corps Director Carrie Hessler-Radelet said in announcing the rankings this past February. "Today's graduates understand the importance of intercultural understanding and are raising their hands in record numbers to take on the challenge of international service."
The Washington, D.C., Metro area is home to the second-highest number of Peace Corps volunteers, with 310 area residents currently serving overseas. Additionally, the District of Columbia ranks as the No. 2 state per capita for Peace Corps volunteers with 43 District residents abroad.