Title:

From Brown to Georgetown: Meet the New Dean of the Library
Date Published:
June 19, 2018
Harriette Hemmasi, who has held library leadership positions at three universities, including Brown University, will become Georgetown's new Dean of the Library on Aug. 1.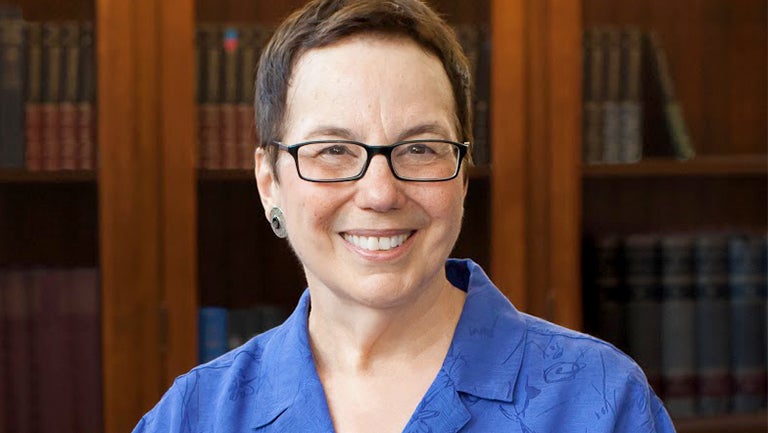 Harriette Hemmasi, who has held library leadership positions at three universities – including as the Joukowsky Family University Librarian at Brown, will become Georgetown's new dean of the library on Aug. 1.
Hemmasi holds a master's degree in library and information science from the University of California at Berkeley as well as a master's degree in music from Indiana University, Bloomington, and a bachelor's degree in music from Baylor University.
At Brown, she pioneered work in digital scholarship services and spaces, helped raise $50 million for the library and ensured the library's continued support of the academic needs of faculty and staff.
Transformative Work
"Harriette Hemmasi has a breadth and depth of experience that will be crucial in guiding our Georgetown library as it redefines what it is to be a hub of learning and information in the digital age," says Provost Robert Groves. "This is an exciting time at Georgetown and Dean Hemmasi's transformative work at Brown will be especially helpful to our library system as it renews its role as an intellectual and social center for students and faculty scholars on campus."
Reporting to the provost, the dean of the library is the chief administrative officer for Georgetown University Library, which includes the main campus' Lauinger Library. The dean of the library also provides oversight or direction for the Blommer Science Library, the School of Continuing Studies Downtown Campus Library, the historic Riggs Memorial Library and the Woodstock Theological Library, which holds the collections of the former Woodstock Theological Seminary.
The Georgetown University Library holds 3.5 million volumes and extensive collections of manuscripts and rare books, audio visual materials, microforms, graphics, and government documents. Annual expenditures of the library are approximately $15 million, with approximately 100 staff and librarians working in the library.
"I'm looking forward to being a part of a community that intertwines academic excellence with a higher mission of enriching the lives of students and faculty who want to make significant contributions to the world," Hemmasi says.
Historical Ties to Slavery
Brown President Ruth Simmons commissioned a Steering Committee on Slavery and Justice in 2003 to create a public report on Brown's historical relationship to slavery and the transatlantic slave trade.
As a result of collaborating with the steering committee, the Brown library led a statewide project that secured funding from the National Endowment for the Humanities (NEH) to create a web-based gateway to more than 300 dispersed collections about the history of Rhode Island, including the topics of slavery, the Civil War, church history, and politics. The project was designated by the NEH as a "We the People Project" for "promoting knowledge and understanding of American history and culture."
This initiative bears similarities to that of Georgetown's Working Group on Slavery, Memory, and Reconciliation's collaboration with Georgetown's library and the group's report, released in 2016.
Georgetown's library also collaborated with working group members to create the Georgetown Slavery Archive.
"The steering committee's work had almost been completed once I arrived at Brown," Hemmasi recalls. "But we have been able to support the ongoing teaching and research projects as well as special events hosted across campus that address the wide range of ways in which slavery and justice continue to affect our academic and personal lives on a daily basis."
Librarian Legacies
Prior to her position at Brown, Hemmasi served as executive dean of libraries at Indiana University, Bloomington and as acting associate university librarian for technical and automated services at Rutgers University.
Hemmasi succeeds Artemis Kirk, who retired last year after 16 years as Georgetown's university librarian.
During Kirk's tenure, the library launched Digital Georgetown, the university's institutional repository and open access content provider of scholarship and resources. She also led the fundraising initiative and planning of the Booth Family Center for Special Collections and helped the university raise almost $24 million for Georgetown's "For Generations to Come" campaign.
An Inspiring Process
"I find the university's desire to see changes in the library very compelling," Hemmasi says. "I look forward to working with library staff and others across campus to establish the most effective ways in which the library can support the academic success of students and faculty."
She adds that Georgetown's Jesuit tradition also is an attractive feature.
"The strong commitment that Georgetown has toward educating the whole person, really resonates with me," she explains, "and the opportunity to be part of that process is inspiring."
Intellectual and Social Center
She adds that one of the major issues faced today by university libraries is how the best traditions of scholarship and teaching may be adapted for today's faculty and students.
"Now is the time for the library to renew its role as an intellectual and social center on campus. I am eager for us to find ways to support Georgetown's interdisciplinary and collaborative culture and also contribute to the advancement of scholarship around the world," Hemmasi says.