Title:

Four Graduates Win Prestigious Pickering Foreign Affairs Fellowships
Date Published:
May 8, 2018
Georgetown alumnae Anastasia Burnett (C'15), Stephanie Arzate (SFS'15), Yassitoungou Tamdji (SFS'11) and Anna Jozwik (G'17) are among 30 graduates nationwide selected for the highly competitive Thomas R. Pickering Foreign Affairs Fellowship.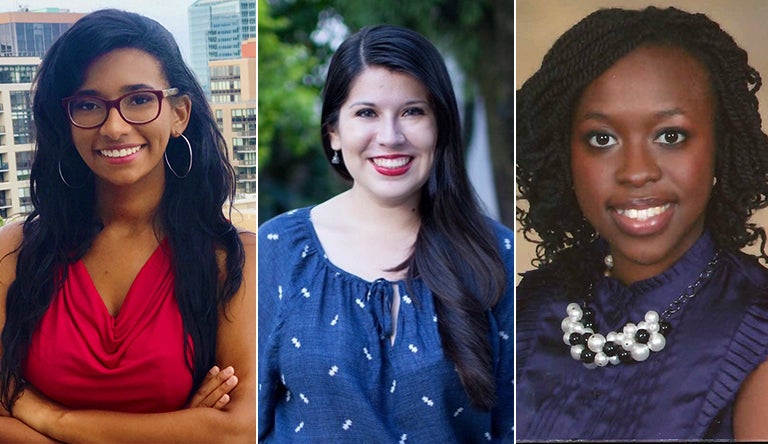 Four Georgetown alumnae are among 30 graduates nationwide selected for the highly competitive Thomas R. Pickering Foreign Affairs Fellowship.
Anastasia Burnett (C'15), Stephanie Arzate (SFS'15), Yassitoungou Tamdji (SFS'11) and Anna Jozwik (G'17) will use the fellowship, funded by the U.S. State Department, to pursue master's degrees and join the the Foreign Service after graduation.
Burnett, a child protective services investigator in Charlottesville, Virginia, plans to return to Georgetown in the fall to use her fellowship toward a Master of Science in Foreign Service with a focus on global politics and security.
'Hoyas for Others'
The daughter of a disabled Gulf War veteran, the alumna also has worked with Stop Soldier Suicide and the U.S. Committee for Refugees and Immigrants in Raleigh, North Carolina.
"I love our school's motto of living as Hoyas for others," says Burnett. "It's one of the main reasons I went on to study social work. I need to feel as if my job is providing me with opportunities to concretely help people."
Growing up in a Muslim community in Raleigh, North Carolina, she says her background influenced her interest in diplomacy.
"My experiences and those of my community led me to dedicate my career to mitigating the negative effects of armed conflict and, when possible, reducing its existence entirely," says Burnett, who majored in history at Georgetown.
"It is wonderful to see a College alumna, whose liberal arts education allowed her to develop a deep and well-rounded approach to life, pursue such a meaningful career path. We are truly proud of Anastasia's achievements," said Christopher Celenza, dean of Georgetown College.
'Global Citizen'
Arzate plans to use the Pickering Fellowship to attend Johns Hopkins University's School of Advanced International Studies, where she was accepted into the International Development Program.
She currently works as the director of advocacy and strategic communications at Women LEAD Nepal, an organization devoted to women's leadership and professional development based in Kathmandu, Nepal.
A first-generation college student, Arzate was born in Chicago to immigrant parents.
"Growing up as an American of Mexican descent, my life oscillated between two different cultures," says Arzate, a culture and politics major, "but Georgetown exposed me to a much bigger world and instilled in me a deep sense of what it means to be a global citizen."
While at Women LEAD Nepal, founded by two Georgetown alumni, Claire Naylor (SFS '11) and Claire Charamnac (SFS '11), the alumna learned from passionate local leaders.
"I want to change the idea of what it means to be American," says Arzate. "As the daughter of two Mexican immigrants, I hope I can show the world that the diversity of the United States is what makes it so strong as a country."
Instilling Passion
While at Georgetown, Arzate had several internships centered around women's rights and a research fellowship at Georgetown's Institute for the Study of Diplomacy.
"I do not think I would have applied to Pickering if it had not been for Georgetown," Arzate says. "My time at Georgetown instilled in me a passion for public service and taught me the importance of being women and men for others."
She and other Pickering Fellows, past and present, have received support from the Georgetown Office of Fellowships, Awards and Resources.
The office provides guidance and support to students and alumni pursuing a broad range of merit-based fellowships, scholarships and awards for domestic and international study, research and professional development.
Over the past decade, more than 25 Georgetown alumni have received the Pickering Fellowship.
Foreign Service Diversity
Tamdji, a project manager for leadership and professional development at a nonprofit management consulting firm in New York, plans to use her Pickering Fellowship to attend Tufts University's Fletcher School of Law and Diplomacy.
"Georgetown influenced me and shaped my focus through exposing me and preparing me for careers in international affairs," says Tamdji, an international politics and African studies major at Georgetown. "I learned how to look at the world and global politics with a critical eye, and the School of Foreign Service gave me the tools to begin to craft concrete solutions to complex problems in the world."
The alumna studied abroad during her junior year at the University of Cape Town in South Africa, where she volunteered with a debate league for South African township youth.
Tamdji returned to South Africa after graduation through the Princeton in Africa Fellowship, which allowed her to work with a Johannesburg nonprofit that helps academically talented, low-income students gain access to high quality public and private high schools.
"I'm honored to contribute to the diversity of the Foreign Service and hope to recruit and encourage others from underrepresented backgrounds to join," Tamdji says.
Focus on Conflict Zones
Jozwik received her Master of Science in Foreign Service from Georgetown last spring. She plans to use her fellowship to obtain another master's degree – this time in Middle East studies with a focus on U.S. foreign policy at The George Washington University.
"My interest and background in foreign service is what attracted me to Georgetown," Jozwik says. "I appreciated the chance to meet professors and classmates who are internationally aware and understand that we are part of an increasingly global society."
Jozwik, who was born in Poland and grew up near Chicago, says she became interested in international affairs while studying political science and languages as an undergraduate at Northwestern University.
Before she began her graduate studies, she went back to Poland using a Fulbright Fellowship to study the country's democratic transitions as an intern with the Polish Constitutional Tribunal.
"Foreign service interests me because I value the opportunities I have enjoyed as an American," she says. "I would like to share that good fortune by empowering those who have not had the same advantages. I am especially passionate about improving educational opportunities for survivors of conflicts."
Ambassador Career Goal
Jozwik has studied in the United Arab Emirates as a Rotary Foundation Ambassadorial Scholar and interned with the U.N. High Commissioner for Refugees in Syria. The Georgetown alumna later extended her time in Syria to work as a local magazine editor and English language teacher and translator before the outbreak of civil war.
She moved to Lebanon at the end of 2012 to work as a protection officer with the International Rescue Committee's women's protection and empowerment program.
"I look forward to starting a career as a public diplomacy foreign service officer to engage with civil society in Arab countries to foster peaceful, democratic transitions and help repair the rifts between the U.S. and the Arab World," she explains. "My long-term career goal is to become an ambassador."
Continuing the Tradition
Last year, Hermila Yifter (SFS'15) received the Pickering Graduate Fellowship and Khadija Mohamud (SFS'17) received the Pickering Undergraduate Fellowship.
"The Pickering Fellowship is essential to attract the brightest students to Foreign Service and to ensure that our global representatives reflect the fabulous diversity of our nation," said SFS Dean Joel Hellman. "We are proud that Georgetown and SFS students continue the tradition of being women and men for others."