Title:

Former Army Chaplain Now Heads Hindu Ministry at Georgetown
Date Published:
October 6, 2014
Pratima Dharm joins Georgetown as the university's first Hindu chaplain after her service as a Hindu chaplain in the U.S. Army.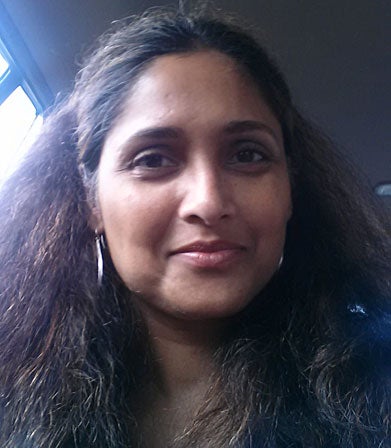 "Army ministry has touched me so deeply and it has made me a better chaplain and a better human being," says Pratima Dharm, Georgetown's first Hindu chaplain.
OCTOBER 6, 2014GEORGETOWN HAS HIRED ITSfirst Hindu chaplain, Pratima Dharm, who recently retired as the first Hindu chaplain in the U.S. Army.
Dharm, who began her role at Georgetown Oct. 1 in the university's Office of Campus Ministry, has served on Army bases and hospitals around the world, including a yearlong deployment in Iraq.
While serving as a captain in the Army, she was awarded the Bronze Star Medal for organizing and leading numerous humanitarian aid missions for Kurdish Iraqis.
DEEPLY TOUCHED
"War can dehumanize you and I was watching the dehumanization of my soldiers, so I was fighting to give them a sense of family," says Dharm, who began her stint with the Army in 2006. "Army ministry has touched me so deeply and it has made me a better chaplain and a better human being."
A native of Mumbai, she came to the United States in March 2001, only months before the 9/11 terrorist attacks.
"I told myself if I ever got the opportunity to serve this country, I would love to," Dharm says. "Coming to America was a big dream for me."
STRENGTHENING FAITH
Dharm is trained in the Vaishnav Hindu tradition in India and is endorsed by Chinmaya Mission West, Palo Alto, California.
At Georgetown, Dharm says she will lead the weekly Hindupujasor prayer services, now attended by about 100 students, look at programs that could better Hindu education on campus and work closely with other religious groups on campus.
"For these students, it means a lot to be able to practice their faith away from home, and many of them have traveled from far away to attend this great university," she says. "Hindu students could also take part in some of the other religious programs already in place at Georgetown, which helps them gain a better understanding of their own faith."
Dharm, who is committed to serving people of all religious traditions, says most people don't realize that Hinduism is the most ancient religion in the world and that its four Vedas make up the most ancient scripture.
"The Vedas very clearly talk about God as being one," she explains, "Hindus worship and find everything around them sacred and themselves sacred because God and his essence is present in all of us and in everything."
STRONG HINDU COMMUNITY
Smiti Mohan (B'15), president of the university's Hindu Students Association (HSA), says she's grateful to have Dharm serve as a Hindu leader on campus.
"The addition of Chaplain Dharm to the Campus Ministry staff is a big achievement for Georgetown," she says, "and it will truly aid the university in fulfilling its mission ofcura personalisby providing an outlet for students to deepen their understanding of Hinduism and to explore their personal faith connection."
Mohan says the association is more than just a place for Georgetown students to come together and worship each week.
"It is a community, a family and a home away from home for many students," she says. "While this community has been extremely close and tight-knight through student-led efforts over the last few years, a chaplain is exactly what the HSA needs to take its offerings to the next level."
WALTER REED CONNECTION
The new Hindu chaplain is a graduate of Catholic primary and secondary schools in India, and earned her bachelor's degree in psychology from Shreemati Nathibai Damodar Thackersey University in Mumbai.
She also holds a master's degree in psychology from Annamalai University in Tamil Nadu, and a master's degree in theology from Ashland Seminary, a Christian seminary in Ohio and Michigan.
Dharm most recently served as the lead Conflict Resolution/Resiliency and Suicide Prevention Chaplain specialist at Walter Reed National Military Medical Center in Bethesda, Maryland.
She says she learned of the need for Hindu leadership at Georgetown from students who volunteered at Walter Reed. Dharm approached Rev. Kevin O'Brien, S.J., the vice president of mission and ministry and others at the university about filling that need.
EVERY RELIGIOUS TRADITION
"From its foundation in 1789, Georgetown, the nation's oldest Catholic and Jesuit university, has been open to students of every religious tradition," notes O'Brien. "Our campus ministry has expanded over recent decades to include chaplaincies in the Protestant, Jewish, Muslim and Orthodox Christian traditions. The creation of a Hindu chaplaincy is another significant moment in this history."
Georgetown was the first Catholic university to hire a rabbi to serve as a chaplain in 1968. Three decades later, it became the first American university to hire an imam to serve as a full-time chaplain.
Also a student and practitioner of yoga and Yoga Nidra, she teaches mind-body skills and yoga to wounded warriors, veterans, family members and staff at Walter Reed.
Married to a software engineer who works for the government in Washington, D.C., the couple have two children.