Rebecca Kuang (SFS'18), a 2018 Marshall Scholar, has published the first novel of her three-book deal with HarperCollins Publishing.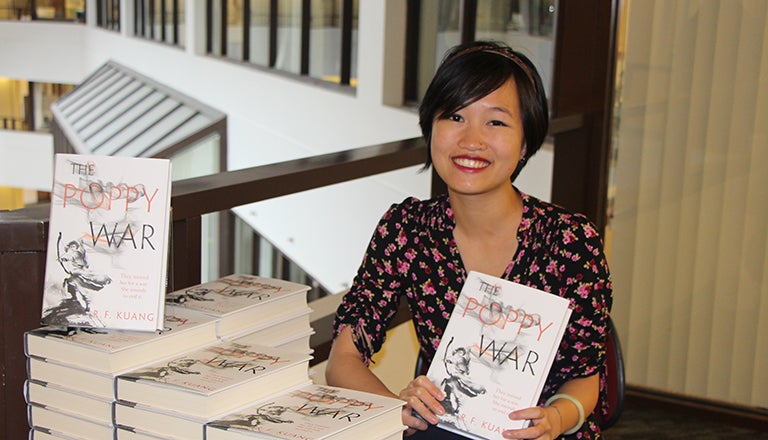 School of Foreign Service alumna Rebecca Kuang (SFS'18) draws on themes from Asian history and mythology in the first novel of her three-book deal with HarperCollins Publishing.
The main character of Kuang's novel, The Poppy War, is Rin, a dark-skinned peasant girl from the south of the fictional Nikara Empire.
Despite growing up as a war orphan, Rin tests her way into the most prestigious military academy. But once there, she faces ridicule from her classmates because of her economic background, color and gender.
Writing as R.F. Kuang, the Georgetown alumna tackles issues of gender, intergenerational trauma and dehumanization in her debut novel.
Complexities and Lived Experiences
"While women are systematically excluded from a lot of positions of power in the real world, I made the choice to have that patriarchal structure present in the book," she said. "I also wanted to have every important leadership position be occupied by a woman. Just because there is inequality of representation in the world doesn't mean there should be inequality of representation in fiction."
Kuang, who graduated this past May, studied military strategy, collective trauma and war memorials in Chinese history as an international history major at Georgetown.
Her novel is based on the Nanjing Massacre of 1937, when Japanese soldiers captured Nanjing – then the capital of China – during the Second Sino-Japanese War. Soldiers disarmed combatants and killed and raped Chinese civilians.
"I want to transmit the complexities and lived experiences of China to people who otherwise might never have cared," Kuang said.
As a 2018 Marshall Scholar, she intends to pursue a master's of philosophy in Chinese studies at the University of Cambridge with the hope of melding her academic work with her writing pursuits.
Campus Book Talk
This past spring, Kuang read a chapter of her book to students, professors and friends during the history department's Asia in Depth Series.
James Millward, professor intersocietal history in the School of Foreign Service and the College, led a short question-and-answer session with the young author, noting the gender dynamics in the fictional world Kuang created.
Though the novel has a strong female lead, the main character's experience is based, in part, on the childhood of Kuang's father.
"Rin's experience studying for the exam came straight from my father's childhood," she told the audience. "He did take the Gaokao [China's national college entrance exam] and scored first in his province and got a scholarship to go to Peking University and, from there, got a scholarship to come to the United States."
Kuang, who was born in Guangzhou, China, immigrated to the United States with her parents in 2000.
Early Flourishing Novelist
She wrote The Poppy War during a gap year in China while she worked part time as a debate coach.
"Since I had six-plus hours of free time in a day, I decided to write 2,000 words every day," she said. "I had a novel in three months."
Kuang has begun the editing process for the second book, and already has written160,000 words for the third volume in the trilogy.
English professor John Glavin, director of the Georgetown Office of Fellowships, Awards and Resources, said he was impressed by Kuang's "early flourishing as a professional novelist and her commitment to work in China on behalf of the rural poor."
He and his office worked with Kuang through her application as a Marshall Scholar and a finalist for the Rhodes Scholarship.
"Rebecca has breathtakingly blazed her own path but always with an eye toward making a difference with and for others," Glavin said.