Georgetown's new science building receives LEED Gold certification for its green spaces and sustainable features.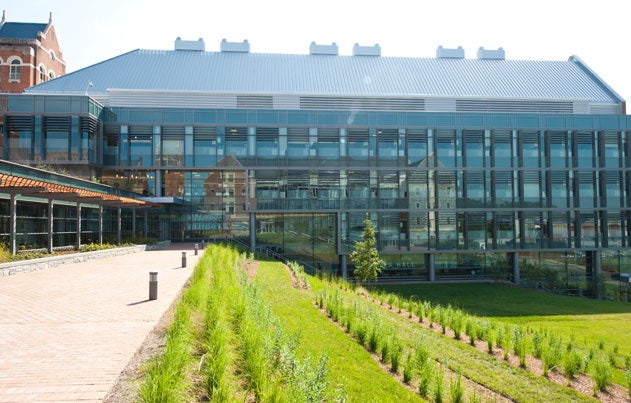 Georgetown's new Regents Hall science building received LEED Gold Certification for its design, construction and operations from the U.S. Green Building Council this month, just in time for Earth Day.
Regents Hall, which houses the biology, chemistry and physics departments and opened this past fall, received one of the top LEED (Leadership in Energy and Environmental Design) certifications. The status is awarded in silver, gold and platinum to individual buildings, homes or even entire neighborhoods and communities.
"Receiving the LEED Gold status for Regents Hall speaks to Georgetown's commitment to being socially and environmentally responsible leaders in sustainability," says Robin Morey, vice president for planning and facilities management.
Regents Hall becomes the second building at Georgetown to receive the certification. The McDonough School of Business' Hariri Building received LEED Silver status in 2010.
Sustainability Features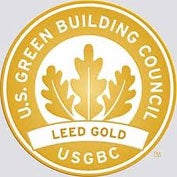 Audrey Stewart, program coordinator for Georgetown's sustainability initiative, says much thought went into building Regents Hall with a minimal carbon footprint.
The building sits on a large green space and also features a small green space on the rooftop. Both provide watershed benefits by reducing the amount of runoff after rainstorms, she says.
"One of the most exciting sustainability features of the building is the integrated water management system," Stewart says.
Energy Efficient
The 20,000-gallon rainwater cistern under the building captures rainwater that falls on the site and reuses it for irrigation and flushing.
"The combination of water reclamation and water efficiency strategies allows the building to reduce water consumption by 87 percent, compared to a typical standard building," Stewart says.
Energy-efficient chilled beams provide heating and cooling throughout the building, and slats on the building's windows offer lighting during the day, reflect glare and reduce electricity needs.
Most of the furniture, doors, cabinets and lab benches are constructed from renewable materials, and building materials mostly originate from recycled materials secured from local distributors.
Green Standards
Morey says efforts toward green standards will continue as the university prepares to break ground for the new student center in its New South residence hall and makes future plans.
"We actively implement LEED standards in our facilities and work tirelessly to ensure our operations and planning activities are integrated to support a culture of sustainability," says Morey. "Our specific goals and commitments are developed toalignwith the College and University Sustainability Pledge supporting the sustainable outcomes desired by the District of Columbia,"Morey says.
Georgetown entered D.C.'s pledge in the spring of 2012 to pursue sustainability measures related to energy use and buildings, green education, transportation, waste reduction and grounds maintenance.
Since 2006, Georgetown has reduced its carbon footprint by more than 20 percent per square foot and is on track to meet its climate goal of cutting emissions 50 percent by 2020. Other green milestones include:
Becoming the fourth-largest campus user of green power in the country with 100 percent of its electricity coming from renewable sources.
Composting more than 300 tons per year.
Installing 10 new water bottle fill stations across campus to help increase the university community's access to tap water while decreasing plastic bottle waste.
"Every little bit counts when it comes to maintaining a sustainable campus," Morey says. "We have a community that values the importance of being good environmental stewards."