Uwe Brandes is faculty director of the university's Urban and Regional Planning Program and the Georgetown Global Cities Initiative. He serves as chair of the Washington, DC Commission on Climate Change and Resiliency. Below, Brandes answers questions about the health of cities during the current pandemic.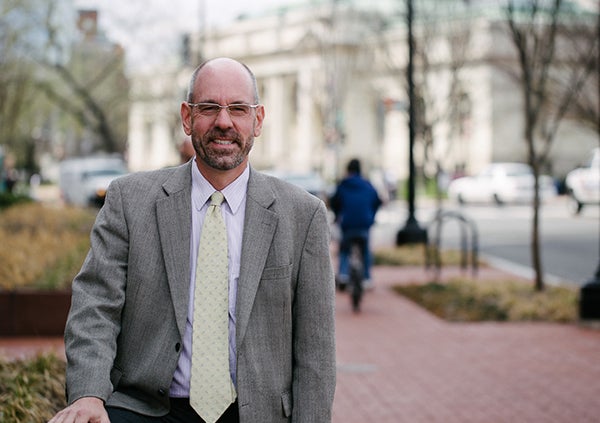 The media is full of stories talking about people leaving cities because of COVID-19. Do we have a handle on what's happening around the country?

We certainly have a lot of speculation. But right now, we don't know the rate of people leaving cities, because there really is no reliable data. There have been a series of attempts to find proxies, and the most convincing ones involve tracking cell phone use data. We have much better traffic data and are beginning to see the resumption of pre-COVID-19 levels of traffic in many U.S. cities. I don't envision an exodus from cities in the U.S., primarily because metro regions in the United States are already decentralized. Will individual households move from central city locations to the suburbs? Maybe a few at the margins, but I don't think the pandemic is reversing the longer-term trends of urbanization.
Are there other reasons why you don't see cities disappearing?
We have a centuries-long track record of successfully mitigating public health issues in cities. Over the past months we have seen stark examples of how well-managed cities have successfully handled COVID-19 and we see others that have been challenged. Beyond good management, cities have always been the locus of our most important institutions,, and those institutions – whether they be health care, education, financial or cultural – are very much anchored in the core of our cities. Living in proximity to a high-performing hospital or university carries great value.
How about the economies of cities?
That's a different story. We have seen the devastating impact on small businesses, tremendous erosion in municipal budgets and loss of employment. We all see the conspicuous absence of an urban economy that was until recently all too familiar to us. My sense is that it will be a long period of time before urban populations are fully employed again.

Can you elaborate on that?
If you look at what is described as the experience economy – often small businesses in urban places that include restaurants, boutiques and other retail – these businesses give cities their vitality. When you take into account the time it will take to file bankruptcies, work out real estate leases, form new businesses, lease-up empty storefronts and generate new patterns of consumption, I think you are looking at a long time. Lively urban places will return, but not with the same businesses and the same customers.
Is there any circumstance in which people would abandon cities?
Historically, you need a structural shift in the local economy to force people to look for work elsewhere. Think Pittsburgh or Buffalo in the 1980s. Alternatively, a disruption of social frameworks motivated white flight to the suburbs in the 1970s. But if you look to the recent past, we endured a major terrorist strike in the middle of Manhattan and that was not enough to lead people to leave New York City. The financial crisis actually brought people into cities, especially young people. And look at Hurricane Katrina. The impact on New Orleans was severe, but most people who were displaced just moved to another city.
Which cities in the world are best managing the pandemic?
I think of Hong Kong, because it is so counterintuitive. Hong Kong has developed high levels of awareness and management capacity through its SARS experience. However, their success transcends the common concern of urban densities. Hong Kong is one of the most densely populated cities in the world. We are now seeing small towns severely impacted by the virus that are much less densely populated – so it's not really about the densities of cities, but rather about communications, behaviors and social life of communities.

Are you hopeful about the future of cities?
We are lucky to live in an unprecedented age of urbanization, where cities around the world are growing and transforming in different ways. It's remarkable to me how engaged the public now is in thinking about the future of their own communities and the future of their own lifestyle choices. We are all speculating on how life in our communities will change over the next month, next season, next year or a decade from now.
I'm heartened to see a broader discourse on social inclusion, affordable housing, micromobility, food systems, public space and so many other daily aspects of urban life. As an urban planner, it is a sign that we might have new opportunities to innovate that we may not have had prior to the pandemic.