The late Vera Rubin (G'54), who discovered the first evidence of dark matter, blazed new trails for women and astronomy.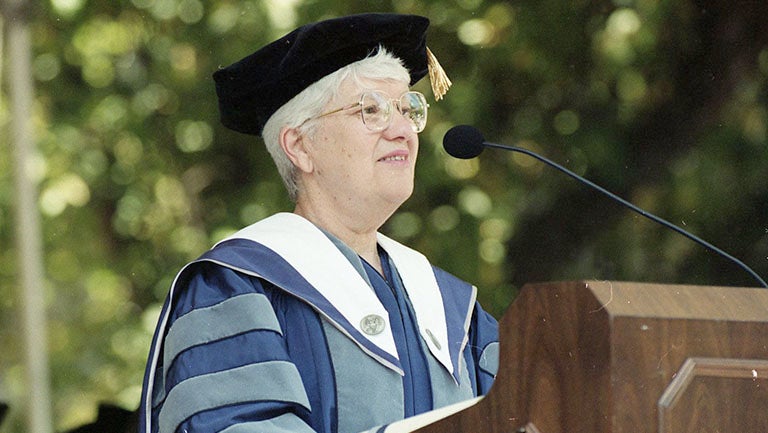 Georgetown physics professor Amy Liu gives undergraduates in her introductory course a homework assignment she calls the "Vera Rubin problem."
Vera Cooper Rubin, who discovered compelling evidence for the existence of dark matter, received her Ph.D. from Georgetown in 1954 and subsequently worked at the university as a researcher and professor.
She passed away this past December.
"Even at the introductory level, students are able to show that Vera Rubin's careful measurements of the velocity of stars in galaxies do not match expectations based on the amount and distribution of visible matter, leading to the conclusion that there must be other matter in the galaxies," Liu explains. "While we can't see this dark matter, we see its impact on the motion of the stars. A simple yet compelling argument, it provides a wonderful lesson about how science advances."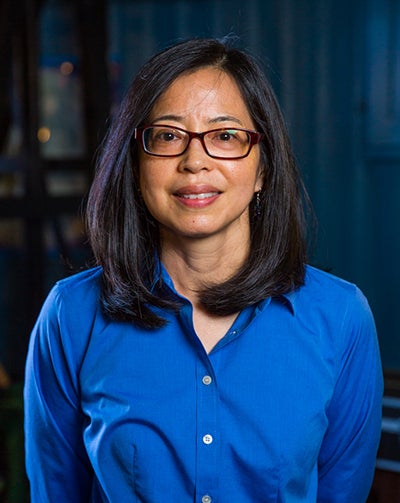 Amy Liu
A Strong Record
Liu says her students are delighted to learn that Rubin was a Georgetown alumna.
"Georgetown admitted Vera Rubin to the astronomy graduate program and later appointed her as a tenure-track faculty member at a time when some other astronomy departments around the country were not even open to women," says Liu. "I'm proud that now, through the Clare Boothe Luce program and other initiatives, Georgetown continues to build a strong record of supporting women in science."
Rubin made her famous discovery while at the Department of Terrestrial Magnetism at the Carnegie Institution after leaving Georgetown in 1965.
Major Breakthrough
It was considered a major breakthrough in how astronomers think about the universe.
Rubin, who raised four children while completing her studies and working in her field, was a leader in supporting and enhancing the role of women in the sciences throughout her career.
According to the Jewish Women's Archive, all four of her children (three boys and a girl) obtained Ph.D.s in the sciences including her daughter, the late Judith Rubin Young, who was a nationally recognized astronomer known for her work on star formation. Young passed away in 2014.
Ground-Breaking Contributions
"Vera Rubin's ground-breaking contributions to science, her boundless curiosity about the natural world and her leadership in enhancing the role of women in science are truly inspiring," Liu says.
The physics professor introduced the pioneering scientist before Rubin gave the 1997 commencement speech for Georgetown College.
"Today we honor one of the most prominent scientists of our time, astronomer Vera Rubin. …Vera Rubin's boundless curiosity about the natural world and her important contributions to our understanding of it inspire us all." – Honorary Degree Citation
The university also presented Rubin with an honorary Doctor of Humane Letters that day.
"She gave a terrific speech conveying her excitement about studying the mysteries of the universe and emphasizing the role of science in all of our lives," Liu recalls. "A faculty colleague who is not a scientist told me she was spellbound by the address."
Deserves More Credit
Awarded the National Medal of Science by President Clinton in 1993, Rubin was a member of the National Academy of Sciences and took an active role in improving science education for children in inner-city schools.
In a1989 oral history interview with physicist and author Alan Lightman for the American Institute of Physics, she said Georgetown "was an interesting place, and it probably deserves more credit than it's gotten. Because it was in Washington, there really were a lot of interesting people around who taught there."
Rubin noted in the interview that she studied radio astronomy and spectroscopy with professors at Georgetown who were associated with the Naval Research Laboratory and the U.S. Bureau of Standards.
She also studied with Father Francis Heyden, after whom Georgetown's observatory is named. And she met with the late astronaut John Glenn when he came to visit the university in 1963.
Forging New Paths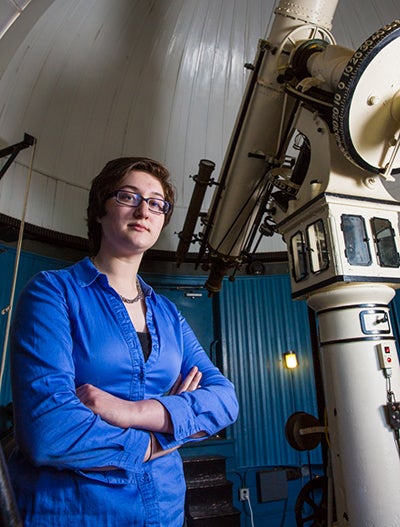 Grace Maglieri (C'19)
Before coming to Georgetown, she studied quantum physics with well-known theoretical physicist Richard Feynman at Cornell University, where she received her master's degree in 1951.
After graduating from Cornell, Rubin moved with her husband, Robert Rubin, and her young son back to Washington, D.C., where she had grown up and where her husband had taken a job with the Johns Hopkins Applied Physics Lab.
Her husband shared an office with someone who knew Big Bang theorist George Gamow, who had heard about Vera Rubin's master's work.
Gamow encouraged Rubin to come to Georgetown to pursue her doctorate and the rest is history.
"Vera Rubin forged new paths for science and for women, undeterred by adversity of any form," says Grace Maglieri (C'19) who serves as head of the Georgetown University Astronomical Society. "She is an inspiration as a scientist and as a human being, and, while her passing has been a great loss, she has made an indelible impact on the world community. I am awed by her dedication and proud to be at the institution where she earned her Ph.D."