Title:

Champion Diversity and Be Brave, Alumna Tells Graduating Seniors
Date Published:
May 21, 2018
Pamela Nwaoko (C'10) seeks to inspire graduating seniors to believe in and work to advance diversity during her address at Senior Convocation.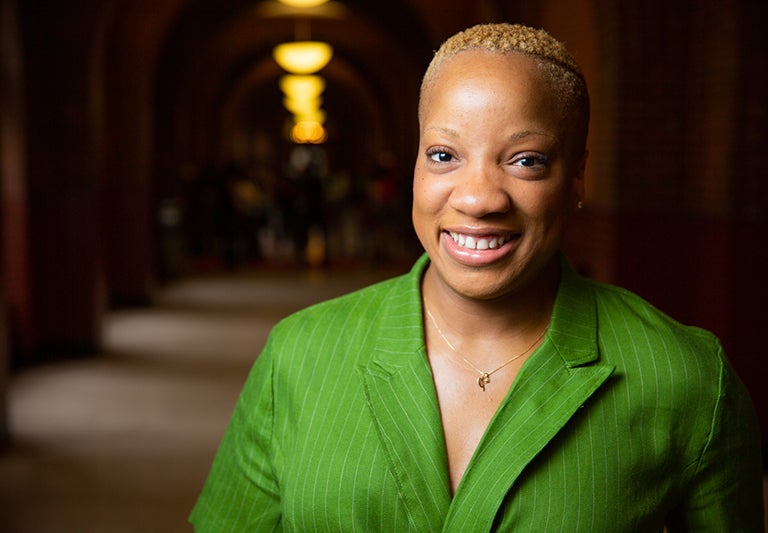 Pamela Nwaoko (C'10) sought to inspire graduating seniors to believe in and work to advance diversity in herMay 17 address as this year's Senior Convocation alumni speaker.
Nwaoko, now a lawyer, says her own industryas well as other spaces in Americahave a lot of room for improvement.
"It will take great bravery on the part of individuals to say they are no longer willing to accommodate a lukewarm stance toward diversity," Nwaoko, an associate with Skadden, Arps, Slate, Meagher & Flom LLP in Washington, D.C., said before the ceremony this past Thursday. "There needs to be a more robust conversation and more robust action not only to increase diversity at private and public institutions but to appreciate and develop diversity once it is present."
She says the "individual power" among Georgetown's Class of 2018 can "move the mountains" in terms of making that kind of change.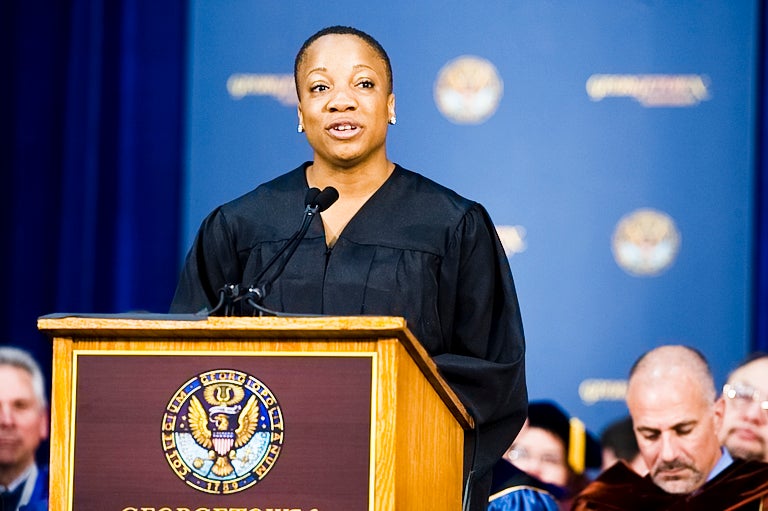 Pamela Nwaoko (C'10) speaks to her graduating class of students at the 2010 Senior Convocation in McDonough Arena.
True Value
Nwaoko returned to McDonough Arena, where she was one of the student speakers for her own Senior Convocation in 2010. Cristine Pedersen (SFS'18) and Daniel Wassim (SFS'18) were this year's student speakers.
"Though your Georgetown degree is great, you are even better," Nwaoko told the audience. "Your true value is not in your degree.It is in you– your difference, your experiences, your perspective. Who you are has made you hustle differently; you see the world differently; you bring to the table ideas people cannot even make up. Do not shy away from that. live the life you are meant to live. You are worthy to sit at the table."
After receiving her Georgetown bachelor's degree in government, Nwaoko earned a master's degree in African studies in 2013 from the University of Oxford and a J.D. from Harvard Law School in 2017.
Connection to Africa
At Oxford, she learned from some of the most influential scholars of African studies, but felt like something was lacking.
"I was missing that voice from the continent, there's so much importance in that," says Nwaoko, who was raised in Irvington, New Jersey, by Nigerian parents.
So she studied culture and gender, constitutional law and the slave trade and Africa at the University of Ghana during her third year in law school.
"It was vital to get this melody of knowledge from African professors about Africa," she says. "It was just what I needed."
Reading Adichie
Nwaoko grew interested in traveling to Africa after reading the works of renowned Nigerian author Chimamanda Ngozi Adichie, whom she now considers a mentor.
Adichie, a MacArthur "Genius" Fellow, has won awards for her books, Purple Hibiscus, Half of a Yellow Sun and Americanah. The author spoke at Georgetown in March 2017 as part of the university's Faith and Culture Lecture Series.
The Georgetown alumna met Adichie during a book reading in New York, where Adichie greeted her with a hug and encouraged Nwaoko to remain in touch.
"I think she is incredible and brilliant," Nwaoko says. "She brought truth to my life as I read her books. When I was applying to law school, she supported me through that process."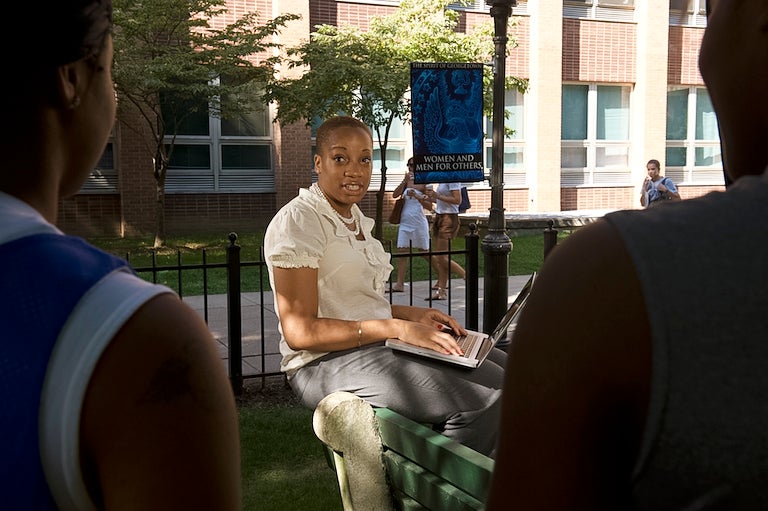 Pamela Nwaoko (C'10) talks to students on campus in this photo from 2009, the same year she was recognized as one of Glamour magazine's Top Ten College Women for mentorship on and off campus.
Helping Others
While at Georgetown, Nwaoko did her own mentoring.
She was named among Glamour magazine's 2009 Top 10 College Women for her mentorship in the New Jersey SEEDS program, a nonprofit that prepares high-achieving, low-income students for admission to private schools and colleges across the country.
Nwaoko also co-directed Girl Talk, a peer-to-peer mentoring program in D.C.
Mentorship Heartbeat
"If I didn't mentor, I don't think I could live anymore. It makes my heart beat," she explains. "Mentorship is what has brought me to this point. Since I was little, mentors have been guiding me."
In addition to her Glamour honor, Nwaoko was named a Goldman Sachs Scholar in 2008. Also a Patrick Healy Fellow, she joined Georgetown's Young Leaders in Education About Diversity (YLEAD), a weeklong leadership program for first-year and transfer students interested in diversity and social justice.
"The different opportunities that I was exposed to came through YLEAD," she says. "YLEAD was my door to understanding and appreciating the expanse of the Center for Multicultural Equity and Access' work. I was able to develop close and lasting relationships with administrators and faculty members."