Title:

Biology of Global Health Senior Researches Ways to Combat Parasite
Date Published:
March 8, 2017
Biology of global health senior Breanna Walsh (C'17) conducts research biology professor Heidi Elmendorf's lab that may one day help identify drugs to combat a common intestinal parasite.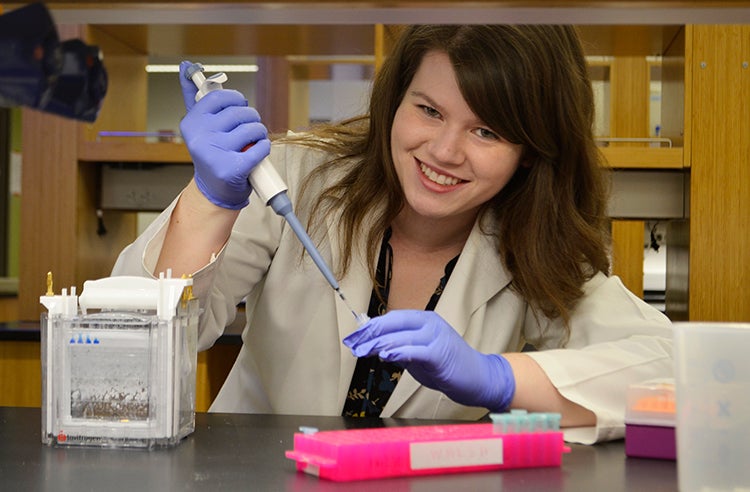 – The research Breanna Walsh (C'17) conducts with biology professor Heidi Elmendorf may one day help identify drugs to combat a common intestinal parasite.
Walsh began her research as a first-year undergraduate investigating the parasitic organism Giardia lamblia.
The parasite, which causes diarrhea, affected more than 30,000 Americans between 2011-2012, according to the Centers for Disease Control and Prevention's last report.
But the problem is far more extreme in developing countries, where roughly 33 percent of people are affected, mainly due to unsanitary water.
Walsh, who is in the Georgetown biology of global health program, is now examining a class of proteins in the parasite that potentially may be targeted to eliminate the tiny freeloader.
Tropical Diseases and Poverty Link
"When we look at a parasite like Giardia, I think it's clear that the health impacts are severe," says Walsh of Rohnert Park, California. "More importantly, neglected tropical diseases such as giardiasis – have numerous impacts on society. Many of the efforts aimed at alleviating abject poverty focus on the elimination of neglected tropical diseases because the two are inextricably tied."
The World Health Organization, United Nations Children's Fund, United Nations Development Programme and the World Bank work together to helpfacilitate, support and influence efforts to combat what they refer to as diseases of poverty, she notes.
Undergraduate Research Opportunities
"Georgetown is an absolutely wonderful place to do research because there is such importance and focus on undergraduate research," says Walsh.
A recent Class of 2016 senior survey indicated that 43 percent of those students had participated in undergraduate research while studying at Georgetown.
The seniors rated their opportunities to participate in research with a faculty member 3.6 on a 4.0 scale, compared with Ivy League schools' average of about 3.5.
The exposure is mostly due in part to programs such as the Georgetown Undergraduate Research Opportunities Program (GUROP) in which students spend a minimum of 60 hours per semester/summer working on a faculty member's research.
GUROP is just one of many opportunities students have to conduct research, as others – such as Walsh – may opt to serve as teaching assistants or research with faculty not involved in the program.
The Essence of Science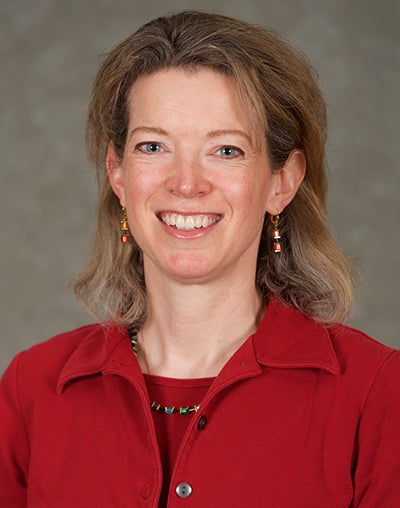 Elmendorf, professor of biology, uses molecular, biochemical, cellular and biophysical approaches in her lab to understand how
Elmendorf, professor of biology, uses molecular, biochemical, cellular and biophysical approaches in her lab to understand how Giardia regulates gene expression and establishes infection in the host.
Walsh, a first-generation college student,is among a group of graduate and undergraduate students in Elmendorf's lab.
"The essence of science is the joy – and frustration – of discovery," Elmendorf says. "To be able to experience research from the conception of a question to design and execution of an experiment to sharing one's findings is essential for a true science education."
Through the biology of global health major, Walsh has been able to explore current public health issues at the local, national and international levels.
The major is designed to combine strengths from across the campus in health and disease research with interdisciplinary work in policy, economics, ethics, law and sociology.
Outsmarting the Parasite
Walsh says her research involves outsmarting the parasite.
"We always take a combative view to pathogens," she says.
In the face of drug pressure, pathogens frequently adapt and become stronger, requiring novel methods of treatment.
"Parasites tend to develop resistance and the addition of more drugs can lead to an arms race," she says. "Going back upstream and asking smart questions about basic biological function brings far more insight."
She says it's important to "get inside a parasite's head" and figure out why it acts or responds in certain ways.
Intellectual Development
Walsh credits mentors such as Elmendorf for helping her develop intellectual curiosity, providing her with academic opportunities and inspiring her to help others.
"Professor Elmendorf cares about intellectual development and also personal development, and she teaches both through her pedagogy and also by example," Walsh explains. "I've had wonderful mentors who were instrumental in shaping my research, how I think about science, and how I tackle problems, but also in the ability to be a teacher."
In addition to her experience as a mentee in the lab, the Georgetown senior serves as a teaching assistant and mentor in the GU Women in Science, Technology, Engineering and Math (STEMME) collective.
Teaching and Mentoring
"Without a doubt, being a teaching assistant has been one of the most formative and joy-filled experiences of my time at Georgetown," Walsh says. "Beyond exploring questions about science, I also talk with students about their experiences and goals … and I have also gained even more respect for my professors. Teaching is not easy."
She also has tutored physics and biology students in the Georgetown Scholarship Program (GSP), which provides students with an alumni network, career and academic help, mentorship programs and campus support to students who, like Walsh, are often the first in their families to attend college.
She says her parents endowed her with a "questioning spirit."
"Growing up, the way they taught me to live my life was to question, to ask why, to be aware of the world around me," Walsh explains.