Title:

Bioethics Founder, Georgetown Professor Pellegrino Passes Away
Date Published:
June 18, 2013
Dr. Edmund D. Pellegrino, a pioneer in the field of bioethics who authored more than 600 scholarly articles, authored or co-authored 23 books and mentored countless students, passes away at 92.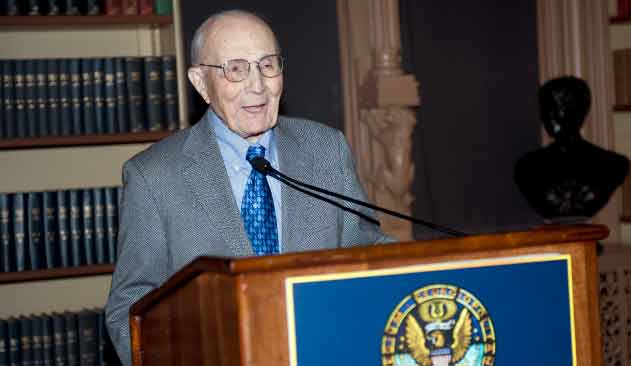 JUNE 18, 2013ONE OF THE MOSTprominent founders of the field of bioethics and a longtime professor and professor emeritus at Georgetown has passed away at the age of 92.
Dr. Edmund D. Pellegrino, who would have been 93 on June 22, was Professor Emeritus of Medicine and Medical Ethics and senior scholar at Georgetown'sKennedy Institute of Ethics.
He died on June 13 and will be laid to rest tomorrow during a Mass of Christian Burial at Church of the Little Flower in Bethesda, Md., at noon. A private interment will follow.
Considered one of the founders of bioethics and an early pioneer in teaching humanities in medical schools, he was the author of more than 600 published articles in medical science, philosophy and ethics and author or co-author of 23 books.
ICON OF BIOETHICS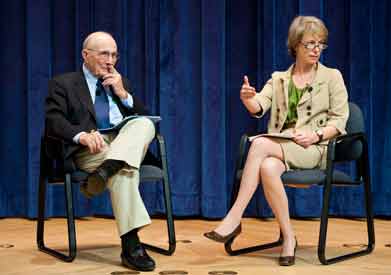 Dr. Edmund D. Pellegrino and Maggie Little, director of the Kennedy Institute of Ethics, discuss bioethics during a 2009 event at Georgetown.
"We offer our thoughts and prayers to Ed's family and loved ones," Georgetown University President John J. DeGioia says. "We feel this loss deeply, and will always be grateful for Ed's countless contributions and his caring for our community, its members, and his profession. We will also carry with us his example — of his remarkable capacity for both passion and gentleness, deep reflection and decisive action, intellect and heart."
"Those who know his work know he was an icon of bioethics," says Maggie Little, the current director of the Kennedy Institute. "Those who had a chance to talk with him will know he was also one of the most humble and kindest of men."
At Georgetown he served as founding director for the Center for the Advanced Study of Ethics as well as the Center for Clinical Bioethics, and as interim chair of the university's Division of Internal Medicine at Georgetown University Medical Center.He also was a former director of the Kennedy Institute.
Just last week Pellegrino participated in the university'sIntensive Bioethics Course(IBC), run by the Kennedy Institute.
Little says Pellegrino taught at IBC every year.
"For this year's course, held last week, he was there every day leading a small discussion group and giving his final master class on virtue ethics in the caretaking professions," she notes.
AN EARLY MEDICAL ETHICIST
When he was appointed the John Carroll Professor of Medicine and Medical Ethics at Georgetown in 1982, Pellegrino had already served as chair and medical director at the Hunterdon Medical Center in New Jersey.
We will also carry with us his example — of his remarkable capacity for both passion and gentleness, deep reflection and decisive action, intellect and heart."
—John J. DeGioia, President
He also had served as founding chair of the Department of Medicine at the University of Kentucky, chancellor and vice president for the health sciences at the University of Tennessee, president of the Yale-New Haven Medical Center, and president of The Catholic University of America.
"I began to teach medical ethics to my residents just as part of the ordinary teaching idea," he toldGeorgetown Magazinein 1996. "We called it the Morning Report, where I would go over the cases that came in over the last 24 hours with the residents. I don't want to claim to be the first, but I didn't know of anyone doing that, certainly not a chairman of the department of medicine."
The year he started doing that was 1959, when he began teaching at the University of Kentucky.
DISTINGUISHED AUTHOR, ACADEMIC
Pellegrino was also the founding editor of theJournal of Medicine and Philosophy, a master of the American College of Physicians, a fellow of the American Association for the Advancement of Science, and a member of the prestigious Institute of Medicine of the National Academy of Sciences.
In the course of his lifetime, he was the recipient of 54 honorary doctorates, including one from Georgetown in 1979.
"The loss to medicine of Dr. Pellegrino is incalculable, but so is his contribution to the practice of medicine," says Dr. G. Kevin Donovan, director, Edmund D. Pellegrino Center for Clinical Bioethics and pediatrics professor at GUMC. "As a founding father of modern bioethics, he has had an immense effect on students, residents and practicing physicians. He taught virtue ethics and personified it in his actions. He always recalled our attention to the bedrock of medical practice, the primacy of the doctor-patient relationship."
NEVER LOOKING BACK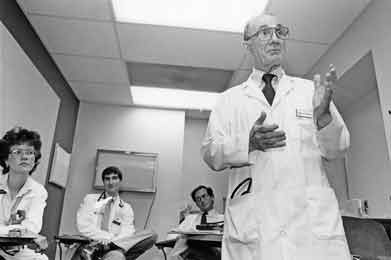 During the 1980s, Dr. Edmund D. Pellegrino taught as the John Carroll Professor of Medicine and Medical Ethics and directed the Kennedy Institute of Ethics at Georgetown.
Pellegrino also had a practice of founding prestigious centers or institutes at Georgetown and then moving on to create more.
"I never look back, and I've always changed jobs because I've achieved what I set out to achieve," he told Georgetown Magazinein 1996. "I don't feel possession, though I've started more than three different institutions from scratch, I don't feel they belong to me. I love to get things started and hand it over to somebody else."
At the time he was 76 and getting up every morning at 4 a.m. to write about medical ethics conundrums.
"He is a small, trim man with a curriculum vitae the size of a doctoral thesis," the magazine noted at the time.
RENAISSANCE MAN
In 2004, Pellegrino was named to the International Bioethics Committee of UNESCO, and he served as chair of the President's Council on Bioethics from 2005-2009. In his 90s, he was still mentoring students, attending rounds in MedStar Georgetown University Hospital, writing articles and speaking nationally and internationally.
The doctor's research interests included cardio-renal physiology and electrolyte metabolism, with his research in the last 20 years focusing on the moral philosophy and ethics of medicine.
Pellegrino was also a quintessential Renaissance man, reading from his 6,000-book library, playing piano and creating Italian and French cuisine. A student once noted that he had learned as much about Mozart as he did about medicine from the distinguished medical ethicist.
A MORAL ENTERPRISE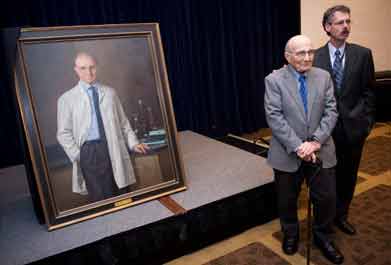 Dr. Edmund Pellegrino and Dr. Howard Federoff, executive vice president for health sciences and executive dean for the School of Medicine at Georgetown, stand in front of a portrait of the bioethics pioneer.
Pellegrino's wife, Clementine, passed away in June of last year. He is survived by five children, two of whom are Georgetown graduates – Alice (L'92) and Andrea (C'80) Pellegrino. His son, Stephen, died in 1980 and his son, Thomas, passed away in 2011. He also leaves two grandchildren and one great-grandchild.
Born June 22, 1920, he received his bachelor's of science degree from St. John's University and his M.D. from New York University. He served residencies in medicine at Bellevue, Goldwater Memorial, and Homer Folks Tuberculosis Hospitals, after which he was a research fellow in renal medicine and physiology at New York University.
"Medicine is a moral enterprise," he toldGeorgetown Magazine17 years ago, "and if you take away the ethical and the moral dimensions, you end up with a technique. The reason it's a profession is that it's dedicated to something other than its own self-interests."
In lieu of flowers, the family requests donations be made in Pellegrino's name to the Archdiocesan Health Care Network (which he helped found) of Catholic Charities of the Archdiocese of Washington and Catholic Relief Services.
EDMUND D. PELLEGRINO: CAREER HIGHLIGHTS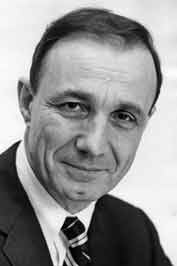 Dr. Edmund D. Pellegrino
1953:Becomes founding chair of medicine, Hunterdon Medical Center in New Jersey.
1959:Becomes founding chair of the University of Kentucky's department of medicine.
1966: Takes position as founding vice president for the health sciences at the State University of New York at Stony Brook.
1973:Appointed chancellor and vice president for health affairs at the University of Texas.
1975: Elected first president and chair of the board of directors for the Yale-New Haven Medical Center
1978:Becomes president of The Catholic University of America and professor of clinical medicine and community medicine at Georgetown.
1982:Appointed John Carroll Professor of Medicine and Medical Ethics at Georgetown.
1983: Directs Georgetown's Kennedy Institute of Ethics
1989-94:Founds and directs the Center for the Advanced Study of Ethics at Georgetown
1991-1996:Founds and directs the Center for Clinical Bioethics at Georgetown.
1993-1994:Serves as acting chief, Division of General Internal Medicine, Georgetown University Medical Center
2000-2013:Professor Emeritus of Medicine and Medical Ethics.
2013:Georgetown renames the Center for Clinical Bioethics the Edmund D. Pellegrino Center for Clinical Bioethics.
2005:Chairs President's Council on Bioethics