Acclaimed actress and playwright Anna Deavere Smith and cellist Joshua Roman culminate their residencies at Georgetown with a theatrical presentation and the launch of a laboratory on performance and politics.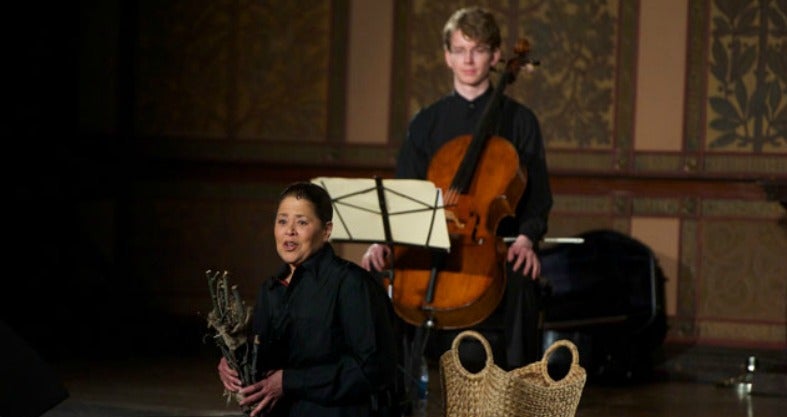 Acclaimed actress and playwright Anna Deavere Smith and cellist Joshua Roman gave a Georgetown audience of more than 300 a sneak peek of her ever-developing work-in-progress, On Grace, last night in Gaston Hall.
The project is based on "this whole idea of what … is it that helps people get through and also the idea of kindness, " said the actress, best known for her roles on Nurse Jackie, The West Wing and Let Me Down Easy.
The evening performance was a culmination of Smith and Roman's residencies, which began March 12, and included the launch of Georgetown's new Laboratory for Global Performance and Politics.
Joint Initiative
The new lab is a joint initiative between the Theater and Performance Studies Program and the School of Foreign Service (SFS) to develop interdisciplinary approaches to the power of performing arts in advancing peace social justice and politics.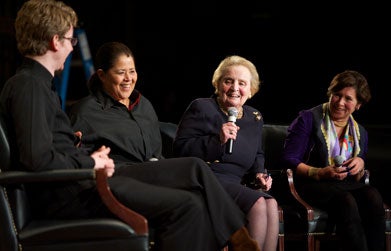 From left, cellist Joshua Roman and Anna Deavere Smith talk about grace as it relates to politics with former Secretary of State and Madeleine Albright and former U.S. Ambassador to the Netherlands Cynthia Schneider. Albright and Schneider are professors at Georgetown's School of Foreign Service.
Former Secretary of State and Madeleine Albright and former U.S. Ambassador to the Netherlands Cynthia Schneider weighed about grace in politics with Smith and Roman after the performance.
Albright is the Mortara Distinguished Professor of Diplomacy and Schneider is Distinguished Professor in the Practice of Diplomacy at SFS.
Facets of Grace
During her performance, Smith delved into the many facets of what grace means by acting out, verbatim, the interviews she conducted with renowned scholars, theologians and politicians, including the late Rev. Peter Gomes, Imam Feisal Abdul Rauf, former U.S. Supreme Court Justice Sandra Day O'Connor and Rep. John Lewis (D-Ga.).
Rauf, the imam who led plans for an Islamic center near the site of the Sept. 11 attacks in New York City, described to Smith the beauty he found in the call to prayer.
The Jews blow the shofar and the Christians ring the bells, Smith explained, as she portrayed Rauf describing what grace sounds like. The Muslims are called to prayer by the reciting Allahu Akbar, which means "God is greater."
Religion and spirituality are often associated with grace, the actress explained. She also depicted her interview with opera singer Jessye Norman dissecting the meaning of the Christian hymn "Amazing Grace."
She also interviewed a Tutsi survivor of the Rwandan genocide who forgave her Hutu captors and a mother seeking redemption after her role in the death of her daughter.
Musical Performance
Roman used his original work mixed in with some of Bach's cello suites throughout On Grace.
"When we started this project it was not my intention to write or improvise anything, but rather to use Bach for the entire production," he said after the performance. "There's a certain amount of grace that we find in every single one of his works."
Roman said Smith's tone with each character inspired him.
Admired Leaders
When it comes to grace and leadership, Albright said the three leaders she admires most are former South African President Nelson Mandela, first Czech Republic President Václav Havel and Burmese opposition leader Aung San Suu Kyi.
All were imprisoned as dissidents and moved forward after being persecuted for their political beliefs.
"[They are] three very special people who have the same quality, and that is the quality of forgiveness," Albright said.
Acts of Grace
Albright and Schneider both said grace can often be the catalyst for progressive policy, but it's not always something visible on the surface.
"I think we often see these little acts of grace in our lives, and I think we're grateful for them, but … they don't add up to a greater whole here in Washington," Schneider said. "… We [should] remember that goodness is still an option."