Two organizations recognize Georgetown for being a military-friendly institution that provides numerous services and opportunities for its student and alumni veterans.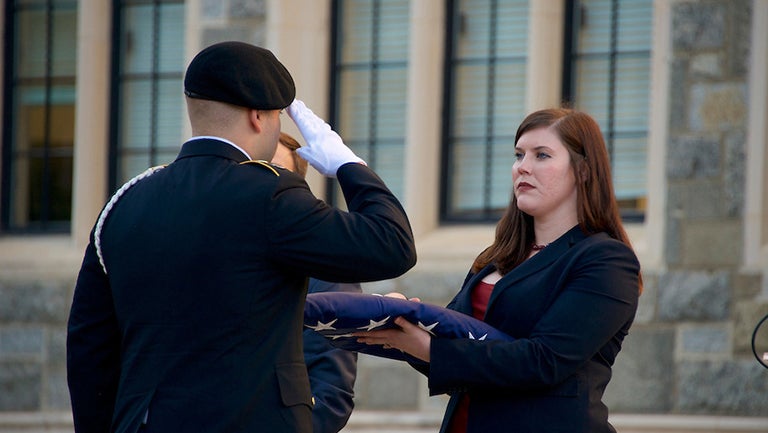 Georgetown has been recognized by two organizations for being a military-friendly institution that provides numerous services and opportunities for its student and alumni veterans.
The Academy of United States Veterans' Vettys committee chose Georgetown to receive its Navy SEAL, LT Michael P. Murphy Education Award, which will be officially awarded during the Vettys Presidential Inaugural Ball and Awards ceremony on January 20 at the Hay-Adams Hotel in Washington D.C.
Georgetown also earned an award for being a Top 10 Tier One Research Institution for outstanding commitment and programs for our nation's veterans and their families from Victory Media.
Tremendous Honor
"It is a tremendous honor to learn of Georgetown University's selection for the Navy Seal, LT Michael P. Murphy Education Award and to be designated as a leading institution for military students in the Victory Media Military Friendly School category," says LeNaya Hezel, director of the university's Veterans Office.
She notes that the university has been home to military-connected students for centuries, dating back to before the Civil War. After the Post-9/11 GI Bill went into effect, she says, faculty, administrators, students and neighboring organizations came together to streamline resources and support services to the military-connected community on campus.
"In line with the Jesuit values of cura personalis and women and men for others, the campus community collaborates to foster a military-friendly environment to prospective students, current students and alumni," Hezel explains. "I am grateful to the Academy of the United States Veterans and Victory Media for evaluating all of the services and resources our campus provides and for celebrating the work Georgetown University is taking to raise awareness and give service to the men and women connected to the military."
Outstanding Service
Every year, the Vettys committee chooses an educational platform that demonstrates leadership in veterans' education. Lt. Michael P. Murphy was a decorated United States Navy SEAL.
He was awarded the United States military's highest decoration, the Medal of Honor, for his valiant actions during the war in Afghanistan, where he was killed in 2005 by Taliban forces.
"Each recipient must exemplify consistency, extraordinary quality of public service, exemplary advocacy efforts, demonstrate exceptional contribution and outstanding service to the Veterans' community," wrote Assal Ravandi, President and CEO of the Academy, in a letter to Georgetown President John J. DeGioia. "The community of United States Veterans requires a special kind of unity in order to continue on its path to progress and prosperity. Georgetown University has met and surpasses these criteria and demonstrates the outstanding qualities our committee members look for in recipients of the Navy SEAL, LT Michael P. Murphy Education Award."
Professor of Spanish Barbara Mujica, GUSVA's faculty adviser, will accept the award when it is presented in January.
Connecting Military Students
Georgetown's Veterans Officeserves military-connected students as they apply to, attend and advance beyond Georgetown.
The office connects military students with the resources they need to successfully transition from combat to classroom to career.
It also helps ensure that prospective and current military students receive accurate and comprehensive information around admissions, finances, academic support, career networking and support services.
Student Veterans Association
The university also supports a number of student military organizations, including the Georgetown University Student Veterans Association (GUSVA).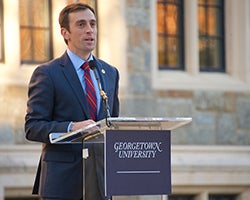 A highlight of the year was Daniel Feehan (SFS'05), Principal Deputy Assistant Secretary of Defense (Readiness), participating and speaking at a Veteran's Day ceremony at Georgetown.
This year the association hosted its first-ever Veteran Alumni event, according to Cristine Starke, association president.
And GUSVA also led the first discussion on campus on veterans' mental health and post-traumatic stress with a screening of the documentary, Almost Sunrise, about two Iraq war veterans.
The screening concluded with a panel comprising documentary director Michael Collins; Rachel Gartner, Georgetown's director of Jewish chaplaincy and Georgetown staff psychologist Michael Tartaglia to talk about the moral, spiritual and mental aspects of trauma and answer questions from the audience to help process the film.
Civilian-Military Bridge
"I felt that was one of our greatest accomplishments this year as many of the attendees were non-veteran students and the program did a lot to bridge the civilian-military divide through a better understanding of our experiences prior to coming to Georgetown," Starke says.
GUSVA also advocated for and led the first-ever, veteran-specific orientation group for Main Campus undergraduate veterans during New Student Orientation.
"New Student Orientation was also particularly important as veterans coming to campus often feel marginalized or, quite frankly, overwhelmed by the weeklong NSO, "Starke says. "By grouping the veterans together, they came in with a community and a foundation from which to branch out to explore everything Georgetown has to offer."