Title:

Students on Diversity Committee Train to Lead Talks Among Peers
Date Published:
May 2, 2017
Students on the Provost's Committee for Diversity complete training to facilitate discussions on diversity and inclusion with first-year students who enter Georgetown.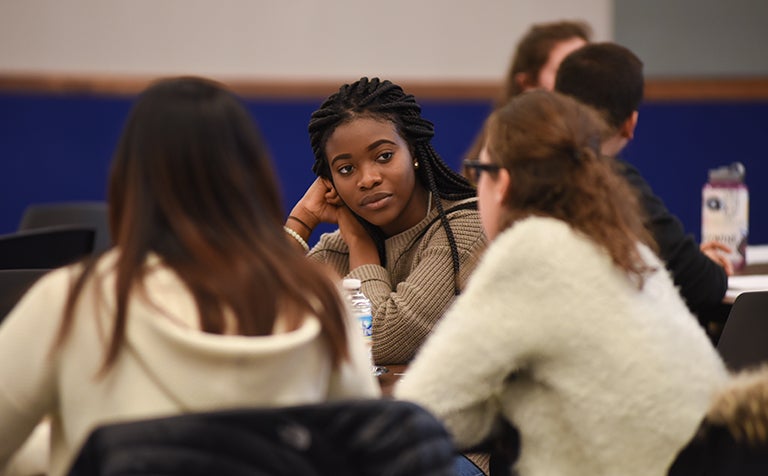 – Danielle Maduka (NHS'19), Luis Gonzalez (C'19) and four other students on the Provost's Committee for Diversity have completed training to facilitate discussions on diversity and inclusion with first-year students who enter Georgetown.
Maduka and Gonzalez, who are part of the 21-member diversity committee created in 2015, led a dialogue session earlier this semester for 35 first-year undergraduates in partnership with the Georgetown University Student Association's (GUSA) What's a Hoya program.
"It was really great training," says Maduka, a health care management and policy major from Baltimore. "It helped me develop skills that I honestly wouldn't have received elsewhere."
A Never-Ending Obligation
Those training the sophomores included DavireeVelázquez of the Center for Multicultural Equity and Access (CMEA) and Michelle Ohnona and Joselyn Schultz Lewis of Inclusive Teaching and Learning Initiatives at the Center for New Designs in Teaching and Learning (CNDLS).
"Talking to others as a way of understanding is a never-ending obligation of a member of a diverse society," says Georgetown Provost Robert Groves. "We're hopeful that our students can assemble these skills while at Georgetown, and the members of the Provost's Committee for Diversity should be congratulated for taking the lead in helping us see the way forward."
The committee has explored faculty diversity, academic programs and​ alumni engagement and has participated in outreach events that focus on ways to engage difference and inclusion efforts.
Its members also worked in support of the recently approved new major in African American studies, met with key faculty members on the implementation of the new universitywide diversity course requirement and acted as a resource for the CNDLS Teaching, Learning, and Innovation Summer Institute's (TLISI) focus on inclusive pedagogy.
Fruitful Conversations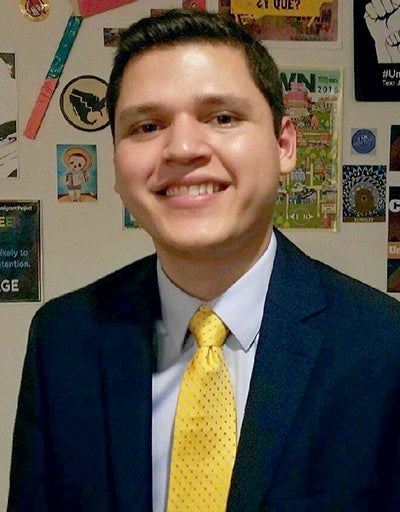 Luis Gonzalez
The six student facilitators in the spring semester dialogue session guided the 35 participants through activities and discussions in which the group was asked to respond to a series of statements related to their social identities including age, race, class, gender, sex, ethnicity, ability, religion and sexual orientation.
The first-year students later broke into groups to talk more about their personal lives and their campus experiences and how they might shape their next three years at Georgetown.
"Going through the training provided me with tools to facilitate fruitful conversations with my peers," says Gonzalez, an American studies and government major from Santa Ana, California. "I learned of ways to spark conversation through stimulus activitiesand became familiar with using open-ended questions for conversation."
Addressing Diversity
Gonzalez says the diversity committee "allows students, faculty and administrators to come together and address matters of diversity, which are at the center of the spirit of Georgetown."
"As our student body becomes more diverse, so must the ways the university functions in all aspects – including curriculum and instruction, support systems, student affairs and residential living," he adds.
Each year the diversity committee, which comprises undergraduate and graduate students, faculty and staff, takes on projects or conducts series of dialogues on campus about race and engaging differences.
Supporting Communities
"We thought this year would be good for our diversity committee students to be trained in facilitating dialogue and then actually leading the dialogues themselves," says Catherine Armour, director of education and academic affairs in the Office of the Provost.
Both Maduka and Gonzalez continue their commitment to diversity by working with Hoya Saxa Weekend, a CMEA program in partnership with the Office of Undergraduate Admissions that provides admitted students from underrepresented communities a chance to experience campus life, meet current students and ask questions before making their decision on where to attend college.
Gonzalez advocates for under-resourced populations and also serves as a peer mentor in the Georgetown College Peer Advisor Program and the Georgetown Scholarship Program.
"I have developed a more nuanced view of the ways in which the university can support the different communities present on campus," says Gonzalez. "Each faces different experiences – but Georgetown still has the responsibility to not only listen to the experiences of the different communities but to also ensure students are thriving."