Georgetown senior Matthew Hinson (SFS'17), an international history major in the School of Foreign Service, becomes one of 30 recipients of this year's highly competitive Charles B. Rangel International Affairs Fellowships.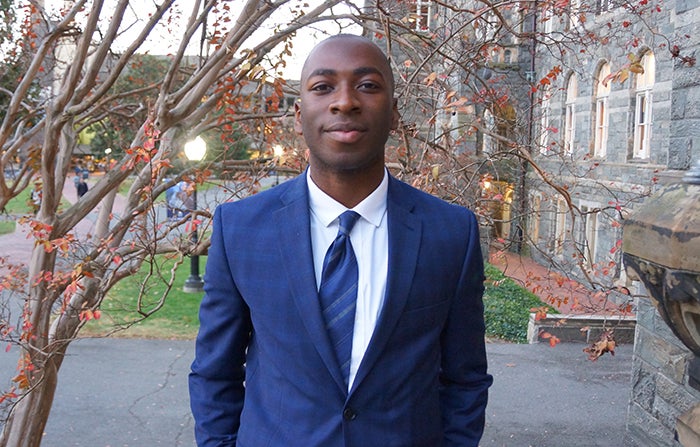 Georgetown senior Matthew Hinson (SFS'17), who hopes to one day work on global crises in foreign policy, is one step closer to his goal as one of 30 recipients of this year's highly competitive Charles B. Rangel International Affairs Fellowships.
The Rangel Fellowship, funded by the U.S. Department of State and managed by Howard University, awards about $95,000 in benefits over a two-year period to outstanding individuals pursuing careers as officers in the State Department.
"We are thrilled to have Matthew join our program," says Patricia Scroggs, director of the Rangel program. "Our selection panel was very impressed by his intelligence, achievements and commitment to service."
Global Peace, Prosperity
"His experiences at Georgetown have provided an outstanding foundation for him in these areas," she adds. "I am confident that he will excel in graduate school and will contribute to global peace and prosperity as a U.S. diplomat."
Hinson plans to use the fellowship for a two-year master's degree program in security studies or international affairs before becoming a Foreign Service officer.
"I've always wanted to work in government and have always been concerned with foreign policy," says the international history major from Princeton, New Jersey.
Addressing Crises
Hinson, who will graduate from the School of Foreign Service in the spring, has focused his undergraduate research on global conflicts. As a Figge Fellow, he explored indigenous religions in central Africa and their role in major conflicts in the Democratic Republic of Congo.
The Figge Fellowship, housed in Georgetown's Catholic studies department, allowed Hinson the opportunity to reflect on a pressing problem of the day through a theological lens.
"Whenever I read about the destruction caused by civil wars, natural disasters and terrorism, I think about how to address each crisis," he says. "To me, that's the fundamental question the State Department answers, and being a Foreign Service officer would put me at the front lines of working towards that goal."
No Obstacle
The history honors student currently is writing a senior thesis on the destruction and construction of memorials during the Lebanese Civil War – 1975-1990.
In addition to his work as a sophomore Figge Fellow, Hinson has spent seven semesters of his academic career as a Carroll Fellow learning about leadership and mentoring other students.
John Glavin, director of the Office of Fellowships, Awards and Research, describes the Carroll Fellows Initiative as a laboratory in leadership.
"Matthew Hinson identifies himself as a thinker who does, and there's no obstacle out there over which he does not sail," Glavin says.
Numerous Internships
The Georgetown senior has amassed experience over the years as an intern with the Clinton Foundation in New York; Cultural Heritage Imaging, a nonprofit in San Francisco; and the Library of Congress in Washington, D.C.
He's also studied abroad in Rabat, Morocco, and participated in the Oxford Consortium for Human Rights as one of two students chosen to attend the Ethics, Law, and Armed Conflict Center's training program at Oxford University.
"I'm glad and fortunate that the State Department gives young people a chance to dedicate themselves to our work abroad," Hinson says. "I hope that I'll be able to make a difference in the future with this opportunity."
Extraordinarily Grateful
Hinson will spend the summer working for a member of Congress on international issues before starting graduate school. In summer 2008, the State Department will send him overseas to work in a U.S. Embassy to get hands-on experience with U.S. foreign policy and the work of the Foreign Service.
He will become a U.S. diplomat after receiving his master's degree.
"I really am extraordinarily grateful to my friends and family for supporting me as well as to Georgetown and the School of Foreign Service," Hinson says. "I don't believe I would have been able to achieve the fellowship if it were not for what I learned at Georgetown."