Samantha Pinto, an associate professor of African American studies and English, uses a grant from the National Endowment of the Humanities to examine the rise of black women celebrities and their political legacies in the Atlantic World during the 18th and 19th centuries.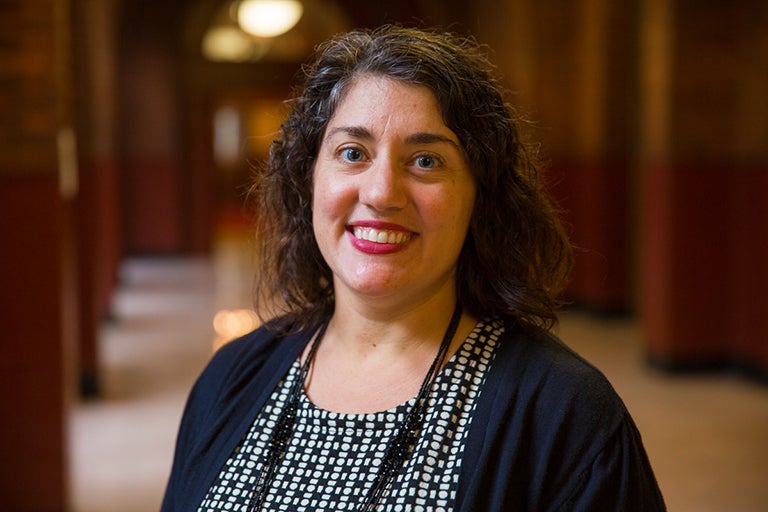 The story of a 19th-century black woman known as the Venus Hottentot is a tragic one, but a trial in 1810 London casts her as a central figure in the debate over black freedom, says Georgetown professor Samantha Pinto.
Saartjie Baartman was put on display as an "exotic" specimen of black African women's bodies.
Pinto, an associate professor of African American studies and English, is using a National Endowment of the Humanities (NEH) grant to research the rise of black women celebrities such as Baartman and their political legacies in the Atlantic World during the 18th and 19th century.
Her work is expected to culminate in a book titled, Infamous Bodies: Early Black Women's Celebrity and the Cultures of Rights that she anticipates being released in 2019.
"The late 18th and early 19th centuries were a time when modern democracy and ideals of freedom and human rights were formed," Pinto explains. "My book insists on the centrality of black women to the history of human rights, and it also suggests that by drawing this history through these celebrity bodies, we might better understand the struggles for racial and sexual rights that so often continue to exclude black women today."
Essential to the Conversation
The NEH grant focuses on her research for the chapter on Baartman, the subject of Pinto's presentation at Georgetown's Gender and Justice Initiative Colloquium on Oct. 13.
"Baartman is usually depicted as a tragic figure," Pinto says, "but in the book I show how she also is essential to conversations about free labor, namely through her role in an intriguing trial in 1810 after she gets to England from Cape Town."
Before Baartman's death in 1815, a group of abolitionists brought her "managers/captors/enslavers" to trial with a writ of habeas corpus, or false imprisonment.
An Important Trial
"The abolitionists claimed she was being coerced to perform in her exhibition in London," Pinto says. "So she is at the center of a really phenomenal trial that tries to parse out, not just whether or not enslavement is legal, but whether or not free labor was really 'free' or if she was forced to sign an employment contract. "
At the time of the trial, slavery was allowed in British colonies but not on the British mainland.
The trial resulted in anamended contract that allegedly entitled her to "better conditions," greater profit share and warm clothes, but in reality she was sold to a zookeeper not long afterward.
Pinto also featured Baartman in her first book, Difficult Diasporas: The Transnational Feminist Aesthetic of the Black Atlantic (NYU Press, 2013).
"Saartjie Baartman was not a slave when she left for London, technically," Pinto explains, "but she also was not a citizen of England. This left her in a legal gray area where only her labor contract ensured her supposed freedom."
Race and Gender Constructs
In addition to Baartman, Pinto is researching the legacies of other black women of the time, including Phillis Wheatley and Sally Hemings.
Wheatley, an enslaved woman, became the first African American woman to publish a book of poetry in 1773, garnering fame in the American colonies as well as abroad.
Hemings is best known for her relationship to former President Thomas Jefferson. She was enslaved by him, and was the mother to six of his children.
Monticello
Using an earlier NEH grant, Pinto and African studies and SFS professor Lahra Smith developed a course called "Question of Equality" that compared notions of equality in Africa and the West.
The professors took students in the course to visit Jefferson's Monticello estate and touched upon Hemings' legacy.
"It's a fascinating, gripping, disturbing experience to go to Monticello, and it changes every time I go," Pinto says, referring to the estate's attempt to reckon with its historical relationship to slavery.
The professor says one of the biggest myths about Hemings is that no one knew about her relationship with Jefferson until recently, but Pinto says that had been exposed in 1802 during his second bid for the presidency.
"The first African American novel, Clotel, was written about Jefferson's progeny with Hemings in 1853," says Pinto. "Madison Hemings, one of Jefferson's sons, spoke to an Ohio reporter about his parents in 1873. But African American sources were discounted in historical work and a public culture that was upheld by white supremacy and the idea of respectability."
Rich Period
The 18th and early 19th centuries are a rich period to study both the rise of democracy and the emergence of celebrity culture, she says, noting that Hemings began her relationship with Jefferson in Paris at the dawn of the French Revolution and was identified as the mother of his children in salacious news stories.
Wheatley wrote and published during the brewing American Revolution and Baartman was at the center of post-emancipation debates about the promise of labor contracts to bring freedom to formerly enslaved peoples.
"Even though, as black women, these figures were not allowed any role in the formal political sphere," Pinto adds, "their cultural presence galvanized political thought around the very foundations of Western democratic values."