From the Podium to the Pentagon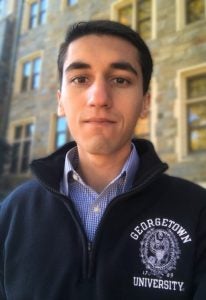 The son of Pakistani immigrants, Haq spent summers in Lahore visiting his grandparents, who experience electricity blackouts multiple times a day. He remembers a particularly formative moment at age 10 when he and his family toured a Pakistani Navy vessel to escape the heat of staying indoors. The officer on deck told him they had a special "bunduq" (gun) that could bring about "qayamat" (armageddon), Haq says.
"I was perplexed by this. Pakistani's army could start the end of the world, but my Pakistani grandmother couldn't start the gas stove in her kitchen," he says. "I wondered what could drive such destitute nations to invest so heavily in destructive power."
He continued to explore these international security questions on his high school debate and speech team in Los Angeles, California.
His senior year, he ranked as a national finalist in congressional debate at the 2017 National Speech and Debate Tournament, and, despite moving across the country to American University for college, he continued to coach high school competitors during his undergraduate studies, which he believes was integral to his academic success.
"My experience competing in, and coaching, debate over the past nine years has taught me that organized argumentation is perhaps the best way to learn about issues while developing an understanding of the perspectives of others," Haq says.
At American University, Haq became involved in local politics. He volunteered as a field intern for Let America Vote, which involved phone banking and canvassing homes in Northern Virginia in support of voter registration efforts. In the summer of 2018, Haq worked as a legislative intern at the Los Angeles City Hall, focusing on public safety and transportation policy.
Impacting Foreign Policy on the Hilltop
In 2019, Haq transferred to Georgetown, where he was eager to join foreign policy discourse on campus. And, he says, he became increasingly interested in the global nuclear landscape.
He served as a head editor for the Conflict and Security section of the Georgetown Journal of International Affairs and rekindled his love for debate by joining Georgetown's Parliamentary Debate Team.
He was one of two undergraduates to work as an assistant editor at the Georgetown Journal of Asian Affairs, a publication traditionally limited to graduate students.
And as a research assistant at Georgetown, Haq translated literature in Urdu published by a Pakistani terrorist group, including analyzing the documents and offering analysis on reinsurgency recruitment practices.
"What makes Mr. Haq stand out from his peers is a steadfast commitment to addressing a simple yet profound question in international affairs: how to make a more secure world, one in which military aggression and existential threats among states are lessened?" says Assistant Professor Diana Kim, who advised Haq's senior thesis. "I believe he has extraordinary promise to become a leading scholar in security studies and international relations, capable of making theoretical innovations that bridge into real world policy change."