Georgetown program blossoms into the Center for Jewish Civilization with an official launch celebration slated for Feb. 29.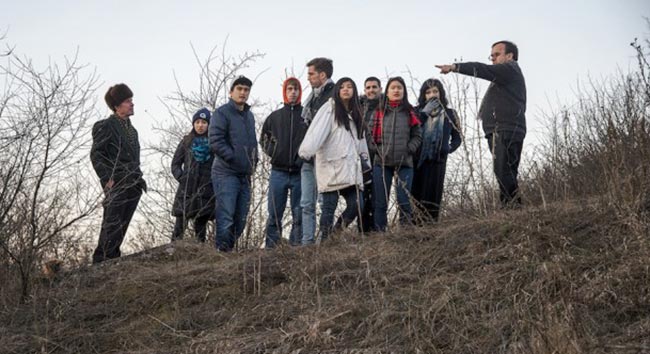 The School of Foreign Service's (SFS) Program for Jewish Civilization (PJC), which began as a dream of the late Rabbi Harold White and a few faculty members more than a dozen years ago, will blossom into a center later this month.
Having raised more than $10 million to fund its programs, the PJC will officially become the Center for Jewish Civilization (CJC) at a celebration on Feb. 29.
The program, established in 2003, has since experienced substantial growth and in recent years more than doubled the number of students pursuing either minors or certificates in Jewish civilization.
Ambassadors and other prominent scholars have been hired to its faculty, and the program has sponsored hundreds of scholarly lectures, created new research opportunities for its students on the Holocaust and other topics, sponsored seven international conferences and educated high school teachers on the teaching of the Holocaust.
Full-Fledged Center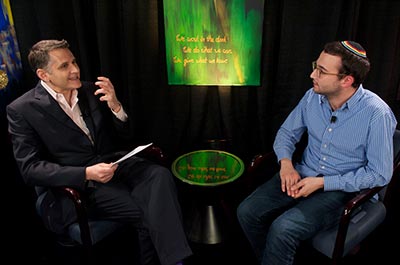 Jacques Berlinerblau, director of the Center for Jewish Civilization, interviews a guest during his Faith Complex show about the collision of religion, politics and art.
Directed by prolific scholar Jacques Berlinerblau since 2006, the program has focused its fundraising efforts on generating a permanent endowment and program support associated with establishing a full-fledged center within the university.
Late last year, commitments from more than 500 donors –ranging from a few hundred dollars from new graduates to million dollar gifts from alumni and parents of students – crested the $10 million mark, and White's dream of creating a permanent center for Jewish civilization at Georgetown came true.
"I want to express thanks for all the many hundreds of gifts the new center has received," Berlinerblau says, "including the very generous giving of longtime donors including Matthew (F'82) and Andrea Lustig, Keith Stoltz, a Georgetown parent,and the late Max (L'32) and Josephine Ammerman and their family, whose association with Georgetown dates to Max's matriculation at Georgetown Law almost 90 years ago."
"In an especially poignant way, it was the bequest from Josephine Ammerman which, when received last fall, completed the funding for the chair honoring the family's longtime dear friend, Harold White," he adds.
New $10 Million Gift
A gift of $10 million from Miami-basedNorman Braman and his wife, Irma,also announced today, will endow a program – housed at the center – on the forensic study of the Holocaust.
The Bramans are dedicated volunteer leaders and prolific philanthropists who have supported faculty and research at several universities, and they have been especially committed to the commemoration of the Holocaust through Yad Vashem, the national Holocaust memorial in Israel;the United States Holocaust Memorial Museum; and the Holocaust Memorial Miami Beach.
With the Bramans' gift, more than $20 million in philanthropy now supports the center and its associated programs.
Invaluable Expertise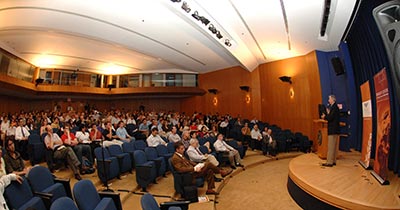 Former Ambassador Dennis Ross, distinguished professor in the practice of diplomacy at Georgetown, speaks during an event on "Restoring America's Standing in the Middle East."
"Our program has been able to both attract some of the foremost experts to teach in a wide range of fields related to Jewish civilization, as well as provide forums for some of the most pressing Jewish concerns of our time," says Berlinerblau, who holds Ph.D.s in Ancient Near Eastern Languages and Literatures and sociology and has authored six books. "We have invaluable expertise on Middle East politics as well as on Jewish literature, Holocaust and genocide studies, Jewish fiction, poetry and popular culture and more."
"From a pedagogical perspective, what has defined the program, and will define the Center for Jewish Civilization, is our commitment to our students and their intellectual and professional needs," he adds.
A Major Minor
Offering both a minor through Georgetown College and a certificate through SFS, the program is home to the study of the global dimensions of Judaism throughout the ages and especially in the current era, with an emphasis on the ethical aspects of Jewish civilization and its interrelationship with other peoples and polities.
This innovative approach examines Judaism as a religion as well as a civilization, and as a community of people in dialogue with others, expanding the understanding of Jewish history to include cultural, religious, political, philosophical, literary and scientific accomplishments.
First offered in 2006, the minor and certificate comprise six courses and a senior research paper under the supervision of a faculty member.
The broad scope of the center's teaching, research and programs, Berlinerblau notes, is evidenced by itsdistinguished faculty in contemporary Middle Eastern politics, including several ambassadors, and ongoing programs in Jewish life and letters, including a series that hosts well-known Jewish intellectuals such as Cynthia Ozick and Gary Shteyngart.
Abe Foxman, the well-known former Anti-Defamation League director, spoke to students during a Feb. 23 visit, and the program recently hosted a poetry series with readings from several Jewish poets under the direction of David Ebenbach, a PJC adjunct professor.
Conference, Papers and Internships
The CJC launch on Feb. 29 will take place in conjunction with a major Georgetown conference on anti-Semitism in Europe with scholars from France, Poland, Holland and Scandinavia, as well as U.S. experts on the topic.
The conference also will feature Deborah Lipstadt, a professor of modern Jewish history and Holocaust studies at Emory University and author of Denying the Holocaust: The Growing Assault on Truth and Memory, and Daniel Jonah Goldhagen, a former government and social studies professor at Harvard who authored Hitler's Willing Executioners.
In addition, a panel discussion will take place with Ira Forman, the State Department's special envoyto monitor and combat anti-Semitism; David Saperstein, State's international religious ffreedom ambassador; and Rabbi Andrew Baker, director of International Jewish Affairs for the American Jewish Committee.
Such conferences and other events give students the chance to interact with a wide variety of experts who inform their academic pursuits. For their required senior symposiums, undergraduateshave written on everything from American Jews and the Holocaust toHebrew language curriculum in area schools to the literature of Philip Roth.
The program also has placed students for internships with the FBI, the State Department, the Anti-Defamation League, USAID, Human Rights Watch, the Israeli Embassy, the Treasury Department and more.
1960s Roots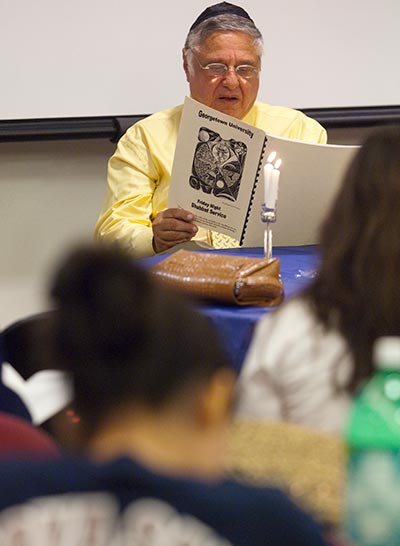 The late Rabbi Harold White, who was the first full-time Jewish chaplain at aU.S. Catholic university and helped develop Georgetown's Jewish civilization program, leads a traditional Shabbat service on campus.
Rev. Dennis McManus, the consultant on Catholic-Jewish relations for the United States Conference of Catholic Bishops, serves as associate director of the program.
McManus says the roots of PJCgo back to the mid-1960s. In 1965, the Second Vatican Council issued Nostra Aetate,a seminal document that condemned centuries of biased practices by the Church against Jews and Judaism.
Responding to the Church's new call foropenness and fellowship with people of other faiths, especially Jews, in 1967 Georgetown President Rev. Gerard Campbell, S.J., becamedetermined to create a dedicated Jewish chaplaincy at the university.
When he was hired the following year, White became the first full-time Jewish chaplain to serve at a U.S. Catholic University, and it was understood that his role was meant both to teach and counsel Jewish students as well as to instruct Catholic students about Judaism so that they might become better Catholics.
"Nostra Aetate was a real turning point in Catholic-Jewish relations," notes McManus. "After nearly 2,000 years of Catholics thinking of Jews as 'Christ killers'– as if God didn't love them and they deserved whatever punishment that they got in the world, the Church finally made clear that Jews are our brothers and sisters.
"So as the Church changed, Georgetown responded in characteristic Jesuit fashion, not begrudgingly but enthusiastically. And we hired a gem – Rabbi Harold White," McManus explains.
Constructing Common Good
Another milestone took place in 1979, when, under then-Georgetown President Timothy Healy, S.J., faculty member and alumnus Aaron Goldman and his wife, Cecile, established the Aaron and Cecile Goldman Visiting Israeli Professorship at Georgetown, believed to be the first of what are now many endowed visiting professorships for Israeli academics at prominent American universities.
Georgetown President John J. DeGioia later placed a distinct emphasis on interreligious dialogue at the university.
"The heart of the university is dialogue," DeGioia told participants at an Israeli Visiting Scholars Reception at the Israeli Embassy in 2013, "the one place where dialogue is truly honored is the university. This is the resource we bring as we accept the responsibilities of pursuing knowledge, of critique, and of constructing the common good. Let us prove worthy of these responsibilities, and, in our work together in this coming academic year, build communities that will sustain this commitment to dialogue."
"Having a Center for Jewish Civilization at Georgetown speaks volumes about the importance of Jews and Judaism as a civilization and the university's comfort with that status. Being in the center of scholarly, political, intellectual, diplomatic and religious activites here – it amplifies what we do in ways that a terrific university someplace else could never do."
—Robert Lieber, professor fo government and foreign service at georgetown
"As the nation's oldest Catholic and Jesuit university, and an institution animated by the study and practice of religion, the Center for Jewish Civilization is integral to the character of our university, and is poised to make an ever greater impact on the studies of Judaism and Jewish civilization," says DeGioia.
Capturing a Vision
The next milestone occurred when White brought the idea of a program for Jewish civilization to DeGioia and then-SFS Dean Robert Gallucci some 15 years ago, and both heartily supported the idea.
In 2006, DeGioia hired Robert Burkett as a senior advisor to further Catholic-Jewish relations within Georgetown and its surrounding communities.
"Without Bob we wouldn't have a center today," says government and SFS professor Robert Lieber, one of the faculty members who created the program 13 years ago and who chairs the program's 47-member executive committee. "He was able to capture the vision we have for the center and to share that with people in a position to really make it happen."
Speaking Volumes
Lieber calls the center an "extraordinary development."
"Georgetown is the most important university in Washington," Lieber says. "Having a Center for Jewish Civilization at Georgetown speaks volumes about the importance of Jews and Judaism as a civilization and the university's comfort with that status. Being in the center of scholarly, political, intellectual, diplomatic and religious activities here – it amplifies what we do in ways that a terrific university someplace else could never do."
McManus notes that the center is not a place just for religious studies or for the study of Israel and Middle East politics.
"The center studies secular Jewish culture, Israeland Jews throughout the world," he adds. "This center represents Jews as they choose to define themselves. And that includes Jewish religious experience as well as music, art, philosophy, history, political scienceand Israel."
Ambassadors and Award Winners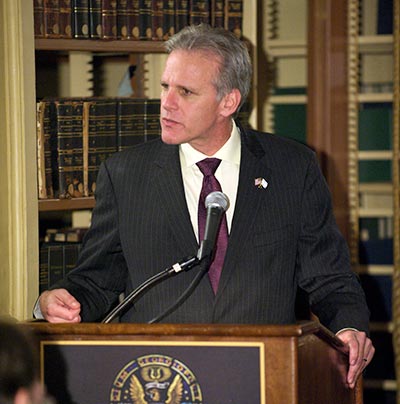 Former Israeli Ambassador to the United States Michael Oren is a former member of PJC.
That variety is reflected in the courses offered by the program, which include Jewish American Literature, the History of Peacemaking in the Middle East, Science in Nazi Germany and beginning to advanced Hebrew, to name a few.
Lauded by area Jewish organizations and synagogues, the program's faculty has included two ambassadors – DennisRoss, who was specialMiddle Eastcoordinator under President Bill Clinton, and former Israeli Ambassador to the United States Michael Oren. Also on staff is Elliot Abrams, who served asdeputy assistant and deputy national security adviser to President George W. Bush, supervising U.S. policy in the Middle East.
Ross and fellow program faculty member Bruce Hoffman recently won National Jewish Book Awards.
Points of Intersection
"The PJC has been invaluable to my studies and goals," says Madeline Budman, a sophomore English major who is considering becoming a rabbi one day. "It's helped me think critically about religion, Jewish history, Jewish culture, Jewish literature, Israel, and more, in a way that I haven't had the opportunity to previously."
"I've also learned to speak, read and write modern Hebrew in the PJC – which is a requirement for rabbinic school," adds Budman, 20, of Norfolk, Virginia. "Broadly, the PJC has helped me find the points of intersections in all of my interest and has taught me to view the world through a Jewish lens."
Learning About 'Jewishness'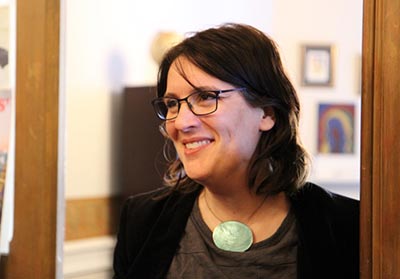 Rabbi Rachel Gartner took over as director for Jewish Life in the Office of Campus Ministry after Rabbi Harold White retired from Georgetown.
Rabbi Rachel Gartner took over as director for Jewish Life in the Office of Campus Ministry after White retired.
"Jewish Life at Georgetown, our version of a Hillel, and the new center will build on its existing excellent offerings in Judaism to provide a truly robust academic and experiential Jewish program that engages students' intellectual, creative, professional and spiritual aspirations," Gartner says.
"Georgetown is a great place to be Jewish and to learn about Judaism," she adds."We have seen a tremendous surge in student interest in both Jewish living and the study of Judaism over the last few years. The upgrade from a great program to an unparalleled center heralds an exciting opportunity for students to take their knowledge and experience of Jewish life to the next level."
Ghazi bin Hamed (SFS'15), 22, of Amman, Jordan, pursued the certificate in Jewish civilization because of his interest in Middle East politics.
"I can confidently say that I now know more on Jews, Zionism, Israel and just plain old Jewishness than when I first stepped onto campus in 2011," says bin Hamed, who is now pursuing a master's degree in Arab studies at Georgetown. "But … the program has done more than just broaden my horizons and expand my existing knowledge apparatus. I can't … express my point without referencing the Jesuit concept of cura personalis – I think the PJC essentially embodies these values and practices we Hoyas associate with 'care of the whole person.' "
Important Message to the World
McManus says the center will change engagement and dialogue between Jews and Catholics.
"The center brings Jewish identity, Jewish concerns, Jewish issues as Jews define themselves, and not as the Catholic Church had defined Jews for centuries," McManus says. "Rabbi White's use of the word 'civilization,' which he borrowed from the great Jewish educator Rabbi Mordecai M. Kaplan, was appropriate, because that means a study of Jews and Jewish issues in all of their humanity."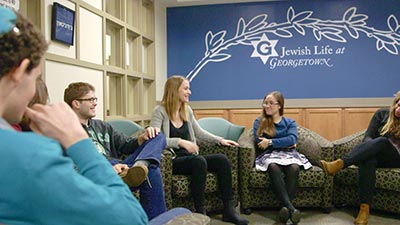 "Jewish Life at Georgetown, our version of a Hillel, and the new center will build on its existing excellent offerings in Judaism to provide a truly robust academic and experiential Jewish program that engages students' intellectual, creative, professional and spiritual aspirations," says Rabbi Rachel Gartner.
He also says the creation of the program and its expansion as a center sends an important message to the world.
"We're here in this place, at this time, in this hour doing what we do because the Jesuits in the early Catholic community of Washington, D.C., sought to have a place at the table in the national conversation," he says. "For a Catholic university to include within itself a center for Jewish Civilization is a powerful message to the rest of the world of what it means to be Christian."
Berlinerblau also believes launching the center in Washington, D.C., is a competitive advantage.
"One of our areas of specialization, of course, is American Middle Eastern foreign policy as it pertains to Israel," Berlinerblau notes. "We have so many options here because there are more experts and resources about this subject concentrated in Washington D.C., than in any other place in the world."
On-site Holocaust Research
This past March, students in the program traveled to Moldova and Romania with an internationally known researcher and priest – PJC professor Rev. Patrick Desbois – and McManus to interview witnesses and uncover and document previously unknown mass graves left behind by the Nazis during the Holocaust.
The students are from the priests' Holocaust by Bullets course.
About half of the 6 million Jews murdered in the Holocaust died not in concentration camps, but were shot, drowned or otherwise killed in fields and neighborhoods in the former Soviet Union and Eastern Europe. Most of the witnesses the students interviewed had never before spoken about what happened.
Quiet Memories
"…the Jesuits in the early Catholic community of Washington D.C., sought to have a place at the table in the national conversation. For a Catholic university to include within itself a enter for Jewish civilization is a powerful message to the rest of the world of what it means to be Christian."
—Rev. Dennis McManus, Georgetown professor and consultant for Jewish affairs at the United States Conference of Catholic Bishops
Desbois, an advisor to the Vatican on Judaism who has devoted his life to such work, arranged the trip through his organization Yahad – In Unum. The French priest was the subject of a 60 Minutes episode this past October. In recent years, he also has been called upon to take a forensic look at the genocidal actions of ISIS.
"The process of interviewing has a sort of Soviet double-speak to it," one of the students, Scott Goldstein (SFS'16), wrote in a blog about the experience. "Civility reigns as visitors are offered seats; the talking does not begin until everyone is comfortable. Of course, we are discussing genocide, but that is beside the point. At the end of the interview, when the witnesses are asked whether their testimony can be used for educational purposes, most answer, 'Of course, I have nothing to hide,' though they have kept their memories quiet for the better part of 70 years."
Still in Shock
Rachel Morota (SFS'17)also traveled with the group.
"It has been an emotional trip," she wrote in her blog, "but the interviews are so much like police investigations and the brutality of the locals, Romanian troops, and Nazis was so extreme that it has been difficult for me to digest most of what I've heard. I'm still in a bit of shock at how the witnesses we have spoken to were able to speak so casually about the executions."
More students are expected to accompany the two priests on a trip slated for this March.
Both Berlinerblau and McManus acknowledge the unusual nature of two priests teaching the course and coordinating the overseas research.
McManus says he was standing in the procession at Commencement last year when a faculty member introduced himself and assumed the priest taught in the theology department.
"I said, 'no, I'm in the Program for Jewish Civilization," McManus recalls. "He said, 'You're kidding. What are you doing in PJC?'"
Inclusive Dialogue
McManus says that vigorous interreligious dialogue is an important contribution of the university to liberal education.
"Jews are inclusive at Georgetown, inviting everyone to be a part of everything that they do," he explains. "One of the unique aspects of the center for Jewish studies is that it hosts two priests who look deeply into the Holocaust and its roots, including the religious biases that brought it about."
In addition to serving as a consultant for Jewish affairs at the United States Conference of Catholic Bishops, where McManus staffs official dialogues between the Jewish community and the Catholic Church, he is part of the Church Relations Committee of the United States Memorial Holocaust Museum.
Holocaust Education for Teachers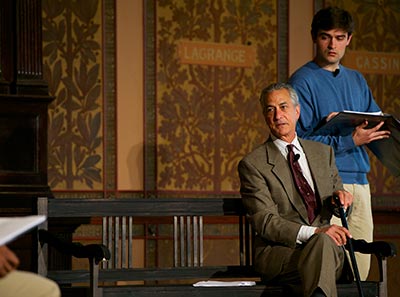 Actor David Strathairn performs a reading as Jan Karski along with an ensemble of Georgetown students and alumni to celebrate the late scholar's 100th birthday.
McManus also directs the Jan Karski Institute for Holocaust Education within the program, which offers a Certificate in Holocaust and Genocide Studies designed for high school teachers.
Karski is the late Georgetown professor who brought back to the United States and England some of the first reports of the Holocaust during World War II. In 2014, on what would have been Karski's 100th birthday, Georgetown honored him with a staged reading of a play about Karski featuring Academy Award-nominated actor DavidStrathairn.
A Bright Future
CJC Director Berlinerblau says the Center for Jewish Civilization has a bright future.
"I think growth is the one word for the future of the center," Berlinerblau says. "We hope to become bigger and better and broader at everything we do. We'll be exploring, for example, African-American and Jewish-American relationships, beginning with a course I've been invited to co-teach with Terrence Johnson of the theology department in the fall called Blacks and Jews in America."
"With faculty, students, alumni and friends of the university all equally committed to our vision, we feel the possibilities are boundless."