Title:

Chemistry Professors Lauded for Career, Distinguished Research Achievements
Date Published:
October 24, 2016
Georgetown honors two professors – Christian Wolf and Jong-In Hahm – for their research achievements in chemistry.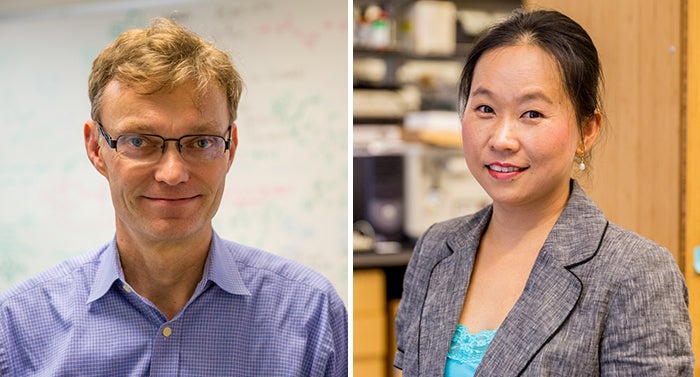 The university will honor two chemistry professors – Christian Wolf and Jong-In Hahm – for their research achievements next month.
The professors will receive their awards in a special ceremony, open only to the Georgetown community, on Nov. 1 from 5 p.m. to 6:45 p.m. in the Bioethics Research Library (Healy 102).
"It is rare for the awards committee to select two scholars in the same department for the Distinguished Achievement in Research and Career Achievement awards in the same year, but Dr. Hahm's and Dr. Wolf's records were both most impressive to the Faculty Awards Committee," says Janet Mann, vice provost for research at Georgetown.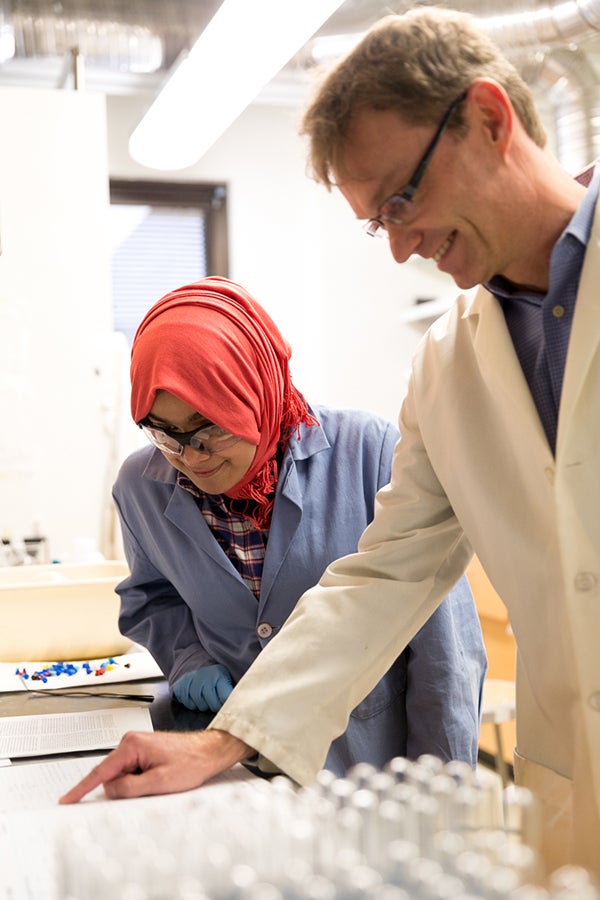 Three-Dimensional Work
Wolf will receive Georgetown's Career Research Achievement Award for research in stereochemistry and excellence in teaching the next generation of chemists.
His novel approach to reducing the time required for sensing the composition of chiral compounds has been highlighted by Chemistry World, an online publication of London's Royal Society of Chemistry, and by Chemical and Engineering News, a weekly publication of the American Chemical Society. He is the recipient of a National Science Foundation Career Award.
"Our lab's research is about the stereochemistry of organic compounds," says Wolf, who also received Georgetown's 2015 President's Award for Distinguished Scholar-Teachers. "Stereochemistry is concerned with the three-dimensional structure of compounds. We are developing synthetic chemistry to make these compounds selectively. It has very high significance to drug development and discovery programs."
One-Dimensional Breakdown
Hahm will receive the university's Distinguished Achievement in Research Award for her work with one-dimensional nanomaterials such as nanotubes, nanowires and nanorods.
"I try to discover interesting properties that make nanomaterials unique," she explains. "They can be optical, electrical or chemical properties. Once I find out what unique dimensions are there, I try to design sensors and probes predominately for biological testing."
Hahm, who joined the chemistry department in 2010, has authored 25 scholarly articles in "high-impact" journals and delivered over 60 invited talks on her research at U.S. and international universities, government and industrial research laboratories and national and international meetings.
"Professor Hahm's contributions to the science professions also expand to the leadership roles and professional services she has provided to many scientific journals published by the American Chemical Society, American Institute of Physics as well as to federal funding agencies such as National Science Foundation (NSF) and National Institutes of Health (NIH)," chemistry department chair YuYe Tong wrote in his nomination letter for Hahm.
She also serves as the executive editor of Journal of Analytical & Bioanalytical Techniques, regularly serves on NSF grant review panels and on the NIH study sections of Biomaterials and Biointerfaces as well as Enabling Bioanalytical and Imaging Technologies.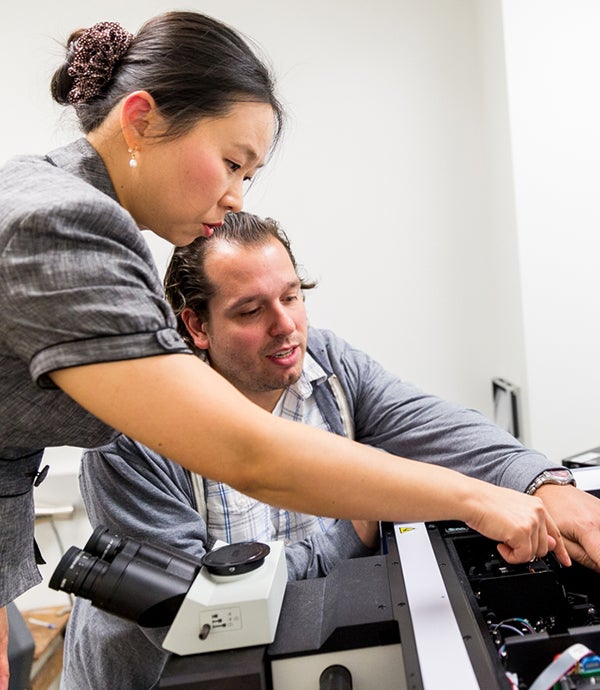 Impact on Medical World
Hahm received a 2013 American Chemical Society (ACS) Rising Star Award for excellence in the advancement of nanoscience and developing next-generation, enhanced DNA and protein sensors beneficial to the life sciences.
"A portion of our work includes examining patients with acute kidney disease," Hahm says. "There are trace levels of protein biomarkers that are expressed at such low levels that make it difficult for doctors to screen for those patients to diagnose them.We have a technique where we use special optical properties of nanorods, and they can be exploited to detect the protein signal much better."
Wolf's research also impacts the medical world.
He has an ongoing collaboration with pharmaceutical giant Merck's research and development division to further develop sensing technologies to aid in the development of new medications. He serves on the editorial board of the international journal Chirality, has published about 130 articles in high-impact journals and authored a well-reviewed book – Dynamic Stereochemistry of Chiral Compounds – Principles and Applications (Royal Society of Chemistry, 2008) – and holds four U.S. patents.
"We are interested in developing synthetic methodology that is aimed at the synthesis of very important chiral compounds that are breeding grounds for current and future pharmaceuticals," says Wolf. "At the same time, we are developing analytical tools to investigate the properties and structures of these chiral compounds."
Wolf, who joined Georgetown in 2000, also has been the recipient of grants from the National Science Foundation (NSF), the National Institutes of Health and the Petroleum Research Fund.
Team Effort in the Labs
Both Wolf and Hahm say they wouldn't have been able to advance their research without the contributions of undergraduate and graduate students and others who work in their labs.
"Christian has also impacted the scientific community by the extremely high performing graduate students that shine a bright and very favorable light on Georgetown," Timothy Warren, Georgetown's Richard D. Vorisek Professor of Chemistry wrote in his nomination letter for Wolf. "To date, 10 graduate students from Dr. Wolf's group have completed their dissertations, co-authored an average of nine publications in prestigious, peer-reviewed journals and typically presented several posters and talks at national meetings."
Hahm says her most recent award is a testament to the work of her lab team.
"It's truly an honor, but I think it needs to be shared with many other people who have actually contributed to the work," she says. "I'd like to thank my students past and current, doctoral and graduate as well as undergraduate students and others who have worked in the lab. It's really all of them who are working hard in the lab to test the different ideas I have and collecting the data."