Title:

Alumnus With History Passion Returns as Chief Operating Officer
Date Published:
March 22, 2018
Geoffrey Chatas (C'85), Georgetown's new senior vice president and chief operating officer, says it was a class with history professor Kathryn Olesko that set him on his academic and career path.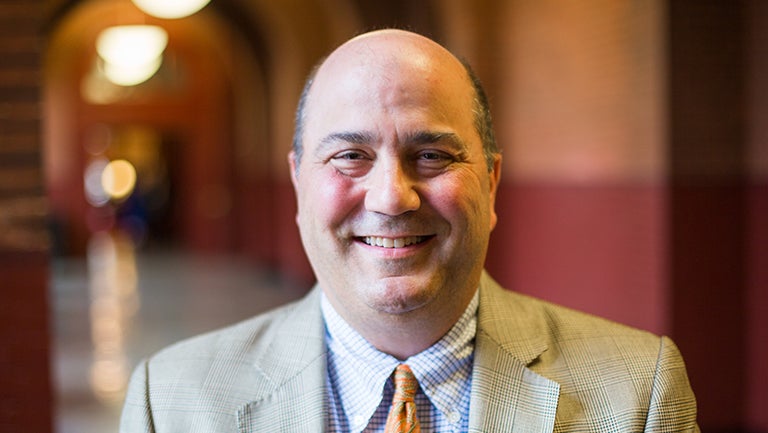 He began at Georgetown as a business major, but after a semester realized that he "really, really loved history."
"I took Professor Olesko's Introduction to European History course and I loved it," recalls Chatas, who served as senior vice president and chief financial officer at The Ohio State University before coming to Georgetown last month. "She was my most influential professor because it led me to go on to graduate school in history at Oxford."
At Georgetown, Chatas provides executive leadership for the university's major operational functions, including budget and finance, planning and facilities management, human resources, information services, investment and internal audit.
"I'm as happy as I've ever been coming back," he says. "Just to be here and be part of the community. I can't tell you how it makes my heart sing when I walk onto Healy lawn. I just pinch myself."
Love of Higher Ed
A history and economics major at Georgetown, the Ann Arbor, Michigan, native married the two fields at Oxford, studying the history of how newfound wealth helped develop the British city of Bristol and earning an M.Phil in the process.
Chatas went on to earn an MBA at the prestigious graduate business school INSEAD in France, after which he held positions at such eminent financial institutions as J.P. Morgan, Citibank, N.A., and Banc One Capital Corporation.
Yet while serving as a financial leader, he always kept one foot in higher education.
He began teaching in the business school at Ohio State while working at J.P. Morgan in 2007, continued to teach after being appointed to his former position in 2010, and became a doctoral candidate in history at that university. He also has taught in the business schools of University of North Carolina and Ohio Dominican.
Sensitive to Immigration
"I grew up in this house that valued education," says Chatas, whose grandparents were Greek immigrants who came to America in the late 1800s and early 1900s. "They came to U.S. penniless, with no education past the 8th grade, settled in Michigan and did what all Greeks do, opened diners and candy shops," he explains, "and achieved the American dream."
His father is a doctor, and his mother is one of five girls sent by her own father to the University of Michigan to earn advanced degrees at a time when many women never got beyond high school.
The new COO's mother was a kindergarten teacher for 30 years.
One of Chatas' aunts, Georgia Shambes, is a prominent neurophysiologist who made important discoveries about the function of the cerebellum.
"I'm very sensitive to immigration and its impact on this country," Chatas says.
"You pick the field and look across the spectrum of contribution and you find great contributors to all facets of society."
Once in a Lifetime
His path back to his alma mater began after he met Georgetown President John J. DeGioia at a national higher education conference.
"I'd been in the public side of higher education for about eight years," Chatas recalls, "and I'd always thought if I ever had a chance to go back to a private institution that I would very seriously consider it, and when it was my alma mater it just kind of sang to my heart."
"If I can give back by helping Georgetown and this leadership team chart the path for the future, that would be a once-in-a-lifetime opportunity," he says. "Without Georgetown, I wouldn't be here. I'm always grounded in keeping an eye on what makes the place special. You never want to harm that."
Lifelong Friendships
Like many Georgetown graduates, he formed lifelong friendships as an undergraduate, including his roommate David Radacio, who traveled with him to London when Chatas did his junior year abroad at the London School of Economics.
Radacio stayed behind at the University of Sussex after falling in love with a Welsh girl he later married.
"He became my best friend," Chatas says. "I was best man at his wedding, and he was best man at mine."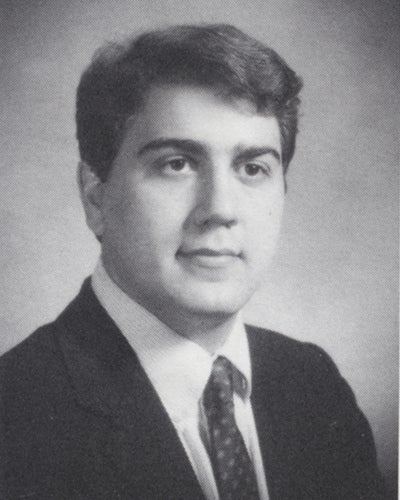 Olesko says she recalled teaching Chatas in the 1982-1983 academic year when the two-semester European Civilization course was required of all students.
"He took my section for the second semester of the course, which covered from the French Revolution to the present," she says. "He received an A+ on the final, and of course an A in the course overall. And I can tell you that in those days, there was no grade inflation, and very few students earned an A in courses. Geoff followed up with a request for summer reading, and the rest is history."
Puppy Love
He and his wife, Katie, are the parents of two children, Sophie, 23, a Williams College graduate now at Goucher College doing a post-baccalaureate program before going to medical school and Jack, a 21-year-old Japanese and political science major at Ohio State.
In their spare time, the couple raises puppies for Canine Companions for Independence. The last one they reared became a service dog for a little girl in a wheelchair.
"Once we get settled here we'll have a puppy in the office at least once a week so everyone can stop by when they need a little love," he says.