Georgetown announced the launch of a new $5 million energy prize for one community with a population between 5,000 and 250,000 to support sustainable energy-saving innovations.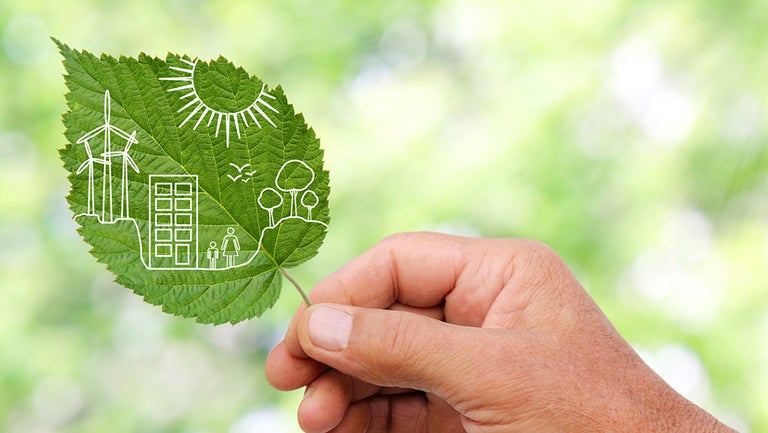 APRIL 23, 2014One lucky community witha population between 5,000 and 250,000 will receive $5 million in 2017 to support sustainable energy-saving innovations, thanks to the creation of the Georgetown University Energy Prize (GUEP).
The prize, which launched at Georgetown today, inviteseligible communitiesto compete with one another to develop and implement plans for replicable, scalable and continual reductions in the per capita energy consumed from local natural gas and electric utilities.
"Our goal is to transform the way America uses energy, and this is a novel way to do that," said Francis Slakey, a Georgetown physics professor who co-directs the university'sProgram on Science in the Public Interest(SPI). "Nothing's been tried at this scale before, but we have an enormous number of cities that are interested."
RIGOROUS COMPETITION
Each community (more than 50 already have expressed formal interest) accepted to the competition will be responsible for developing a long-term energy efficiency plan and then demonstrating both its initial effectiveness and its sustainability over a two-year period.
Communities that have signed letters of intent to compete for the GUEP include Bend, Ore., which hopes to reduce carbon emissions through increased generation of local energy from renewable resources; Fairbanks, Alaska, which has built wind farms for energy efficiency; and Oberlin, Ohio, which, in partnership with Oberlin College, is committed to reducing greenhouse gas emissions to the point of being carbon-neutral.
"Today right now in America, we are wasting half the energy that we use," Slakey said during the launch. "So we're sitting on this vast reservoir of wasted energy and we have to mine for efficiency as expertly as we mine for coal, petroleum or natural gas."
The competition begins in January 2015 and finalists will be announced in the summer of 2017.
NUMEROUS SPONSORS
Today's announcement included some of the communities that have signed letters of intent to participate in the competition as well as featured speakers, including Daniel Poneman,deputy secretary of the U.S. Department of Energy;Georgetown President John J. DeGioia; andEllen S. Alberding, president of theJoyce Foundation.
"We're excited by the ideas and actions that you will implement and the difference that you will make," DeGioia said to the competing communities. "We hope that this competition hosted here at Georgetown will help to provide a context for each of you to achieve the very best results and through your success will set an example for communities around the world to pursue their own energy solutions."
SPI is leading GUEP with support from theGeorgetown University Environment Initiativeand theMcDonough School of Business Global Social Enterprise Initiative.
Sponsorsand partners outside the university include the U.S. Department of Energy, the Joyce Foundation, the American Gas Foundation, the Natural Resources Defense Council, the National League of Cities, and Deloitte.
'OFFER A PRIZE'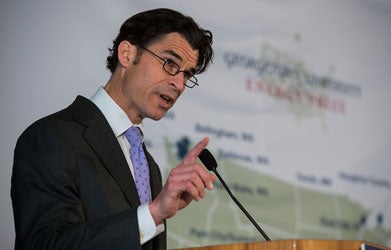 "Our goal is to transform the way America uses energy, and this is a novel way to do that," says Francis Slakey, physics professor in Georgetown College and co-director of the university's Program on Science in the Public Interest.
The idea for the competition began on campus with a brainstorming session about how to get more people engaged in energy efficiency, Slakey explained before the launch.
SPI invited mayors, state planners, sustainability managers, representatives of utilities, U.S. Department of Energy officials and others to the session.
"The group could have come up with anything," the physics professor said, "but what popped out of it all was, 'hold a competition, offer a prize.' "
Each proposal will be judged on its use of best practices, educating the public and engaging students in energy efficiency issues.
TRANSFORMING THE ENERGY LANDSCAPE
The prize is designed for smaller communities for a good reason, Slakey explained.
"Washington, D.C., Chicago, Los Angeles, New York, San Francisco, Boston –all of these cities have active sustainability programs and people assigned to manage them," he said. "We decided to focus the competition on smaller communities; many of them are using GUEP to get started on energy efficiency.
He also notes that about 67 percent of the U.S. population lives in communities between 5,000 and 250,000 and that this also describes nearly 40 state capitals.