Reporting from the Front Lines in Russia and Ukraine: A Conversation with CNN's Jill Dougherty and Alex Marquardt (SFS'04)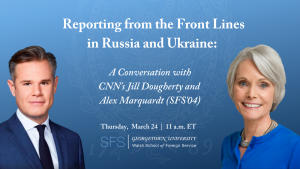 Join the Center for Eurasian, Russian, and East European Studies (CERES), Georgetown's Walsh School of Foreign Service (SFS), and the Carnegie Corporation of New York for a conversation with Jill Dougherty, adjunct professor at CERES and former CNN Moscow bureau chief, and Alex Marquardt (SFS'04), CNN senior national security correspondent.
Since Russia's invasion of Ukraine, Dougherty and Marquardt have both been covering the conflict on the ground in Russia and Ukraine for CNN, providing audiences with critical insights into how the crisis is impacting ordinary citizens and international relations alike. At this event, both journalists will discuss their experience working on the frontlines of this conflict and reflect upon the role played by the media in the Russia-Ukraine war.
Join them for this conversation moderated by Dr. Angela Stent, senior advisor to CERES and SFS professor emerita of government and foreign service, with opening remarks by SFS Dean Joel Hellman and Professor Michael David-Fox, director of CERES. The discussion will be followed by a Q&A session open to Georgetown University ID holders.
The organizers and presenters have requested that attendees wear masks at this event.