Looking Forward, Looking Back: Four Decades of Black SFS Alumni
In recent months, the Walsh School of Foreign Service—under the supervision of Dr. Scott Taylor, inaugural Vice Dean of Diversity, Equity, and Inclusion—has begun developing a robust agenda to make SFS more inclusive and center the principle of antiracism. As the school begins to look forward, however, Dr. Taylor has also highlighted the need to look back at SFS history and draw on the experiences and insights of alumni.
Join prominent Black SFS alumni for an open discussion about the experience of being a person of color at SFS, and at Georgetown more broadly, across four different decades. Drawing both on their time at SFS and on their careers since graduation, the panelists will share stories and reflections on the distance SFS has—or has not—traveled in confronting race and racism in the community.
Registration through Zoom is required for this event. For requests for accommodations such as closed captioning due to a disability or medical condition, contact sfsevents@georgetown.edu no later than Friday, October 16. A good faith effort will be made to fulfill all accommodation requests.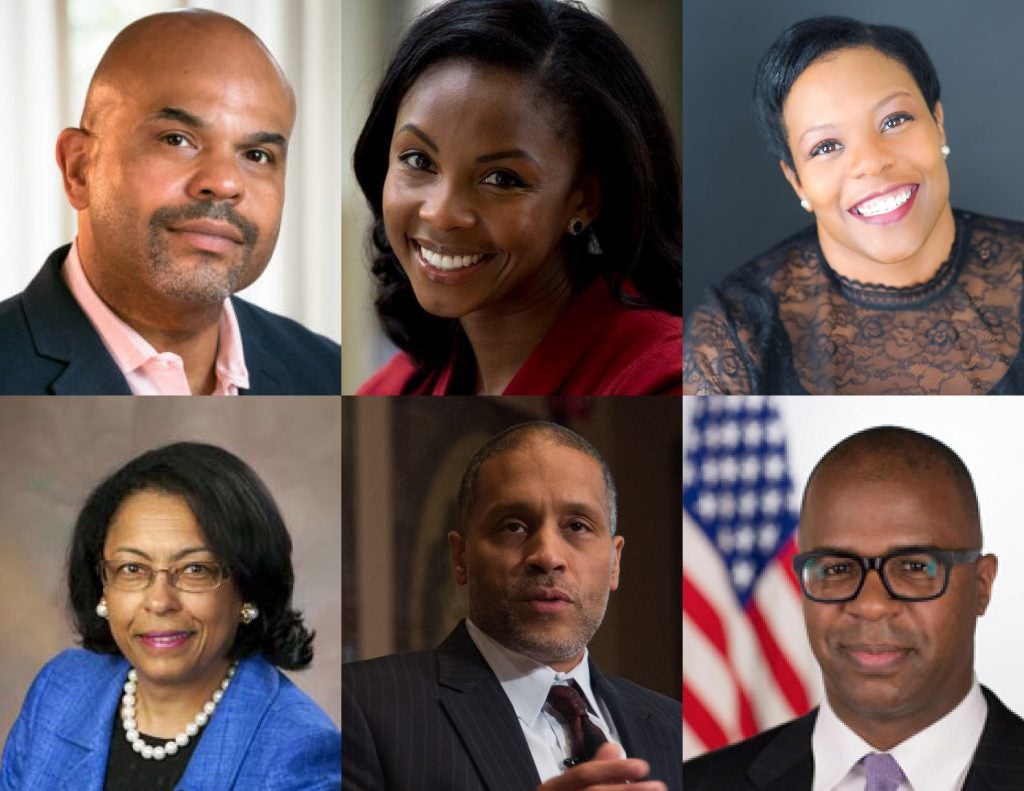 About the Speakers
Saladin Ambar (SFS '90) is an associate professor of political science and Senior Scholar at the Center on the American Governor at the Eagleton Institute of Politics at Rutgers University-New Brunswick. Dr. Ambar is the author of four books, including American Cicero: Mario Cuomo and the Defense of American Liberalism (Oxford University Press, 2017). His forthcoming book, Stars and Shadows: The Politics of Interracial Friendship from Jefferson to Obama, is due out in 2021.
Brionne Dawson (SFS '02) is the Senior Director of East and Southern Africa at the U.S. Chamber of Commerce, where she is responsible for advising multinational companies operating in East and Southern Africa on navigating regulatory and political risks in emerging and frontier markets. Ms. Dawson previously served in federal government at the U.S. Agency for International Development, and in leadership capacities at the National Democratic Institute in Washington, DC and South Africa. Other professional assignments include the United Nations Development Programme, the Center for International Policy, and consulting. Brionne is a founding board member of Grassroots Reconciliation Group and former Principal at Full Circle, a social enterprise dedicated to expanding markets for women's cooperatives in Rwanda.
Kaya Henderson (SFS '92) is the CEO of Reconstruction, a technology company delivering a K-12 supplemental curriculum that situates Black people, culture, and contributions in an authentic, identity-affirming way, so that students of all backgrounds benefit from a more complete understanding of our shared history and society. She is also the co-host of Pod Save the People, and leads Kaya Henderson Consulting. Ms. Henderson is perhaps best known for serving as Chancellor of DC Public Schools from 2010 to 2016. She most recently led the Global Learning Lab for Community Impact at Teach For All, supporting educators in more than 50 countries. Her board memberships include The Aspen Institute, Curriculum Associates, Robin Hood NYC, and Teach For America, and she is the co-founder of Education Leaders of Color.
Cheryl M. Long (SFS '71) is a retired judge of the Superior Court of the District of Columbia, nominated by President Ronald Reagan in 1987 and serving from May 26, 1988 until her retirement in December, 2009. Judge Long tried cases in every division of the Court: Criminal, Civil, Family, Probate, and Tax. She also has sat by designation several times on panels of the District of Columbia Court of Appeals. Judge Long continues to assist the Superior Court as a Senior Judge, appointed in this role by the Chief Judge in 2009. In 2009, Georgetown University Law Center honored Judge Long with the Paul R. Dean Award, for professional excellence in her public service career. In addition, she is a Member Emerita of the Board of Visitors of the Law Center.
Zaid Zaid (SFS '97) is on the Public Policy Strategic Response team at Facebook, where he deals with high-profile incidents that affect the business and reputational risk of the platform. Zaid served in the Obama White House as Special Assistant to the President and Associate White House Counsel; before that, he was senior attorney-advisor to the general counsel at USAID. Prior to earning his law degree at Columbia Law School, he was a political officer in the foreign service and served at the United Nations in Baghdad, Cairo, and Tunis.
Scott Taylor (moderator) is the Vice Dean for Diversity, Equity and Inclusion at the School of Foreign Service and former Director of the African Studies Program. His research and teaching interests lie in the areas of African politics and political economy, with a particular emphasis on business-state relations, private sector development, governance, and political and economic reform. His articles have appeared in a number of political science and area studies journals  and he is the author of four books, most recently Globalization and the Cultures of Business in Africa: From Patrimonialism to Profit (2012). Dr. Taylor has served as consultant for numerous organizations, including USAID, the African Development Bank, the World Bank, and the Carter Center.