Faith, Latinos, and the 2020 Campaign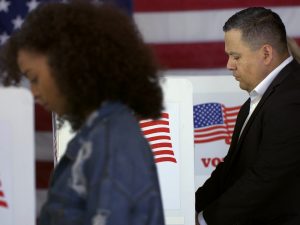 On the day of the discussion, all who have RSVP'd will receive an email with a link and step-by-step instructions on how to join the online conversation. Latino voters could be decisive in the November elections. As the United States faces an ongoing pandemic, an economic crisis, and calls for racial justice, both campaigns are reaching out to Latino voters, one of the largest voting blocs in the country. This Latino Leader Gathering for young Latino Catholics brings together leading Latino Catholic journalists to explore what issues matter to Latino voters; how Latinos are responding to the efforts of the campaigns; and how young Latinos can bring their faith and Catholic teachings to issues central to this election, including racial justice, COVID-19, human life and dignity, care for creation, and more. Three Latino leaders will explore questions such as:
Could Latino voters make the difference in the election outcome? Can we think of Latino voters as a unified group, or are there important differences driven by age, geography, economic status, and the like?
What are the Biden and Trump campaigns doing to reach Latino voters? What should they be doing?
What issues matter most to Latino voters? To young Latino voters in particular?
How do faith and Catholic teaching affect Latinos' approach to the election? Do young Latinos approach issues of life and dignity, immigration, and racial and economic justice through the lens of the Catholic faith? How are Latino Catholics working to encourage faithful participation in the election?
Kim Daniels, associate director of the Initiative, will moderate the discussion. This Latino Leader Gathering is for young Latino Catholics to explore key issues and personal stories involving faith and public life with distinguished Latinos and other leaders.
Participants
Rhina Guidos is a reporter and editor at Catholic News Service. She covers national and international events, including the 2015 apostolic visit of Pope Francis to Cuba and the United States and the beatification of Archbishop Oscar Romero in El Salvador.
Milton Javier Bravo is an adjunct professor of theology at St. John's University, the director of audience development at Commonweal, and a doctoral candidate at Fordham University's Center for Catholic Leadership.
JD Long-García is a senior editor at America, where he oversees coverage of Latino Catholics in the United States. He is the former editor-in-chief of Angelus News, Vida Nueva, and the Los Angeles Catholic Directory.