Community, Social Justice
2021 Janet Reno Forum: A Better Path Forward – Restructuring Systems to Support Crossover Youth
About this event
The Center for Juvenile Justice Reform, in partnership with Casey Family Programs, is delighted to invite you to the 2021 Janet Reno Forum. The Forum will explore the paths systems can take to support crossover youth—young people who are involved in the child welfare and juvenile justice systems.

From July 26 to July 29, we will center the experiences of youth and families impacted by the juvenile justice and child welfare systems through a virtual conference that allows for national participation.
How can we restructure our systems to better support crossover youth?
​​​​​​​Alongside a host of high-profile keynote speakers and expert presentations, we will spotlight opportunities for change in a series of topical sessions.
Addressing the Needs of Youth sessions, we will focus on the needs of commercially sexually exploited youth, youth of color, and LGBTQ+ youth.
Building New Roads Between Systems sessions, we will concentrate on the value of data, case practice, and leveraging the Family First Prevention Services Act.
Using Experiences to Shape Systems sessions, we will hear directly from staff, families, and young people about their experiences within juvenile justice and child welfare systems.
For more than a decade, the Center for Juvenile Justice Reform has collaborated with partners in 23 states and more than 120 jurisdictions to implement the Crossover Youth Practice Model.
The Forum will leverage this wealth of practical knowledge—and the voices of diverse practitioners and constituents across the country—to engage in a robust conversation on how to improve our youth- and family-serving systems. At the conclusion of the Forum, participants can expect to be prepared to take immediate steps toward helping our most vulnerable youth.

The forum will be held virtually from 1:00 pm to 4:15 pm EDT on Monday, July 26th to Thursday, July 29th.
Accommodation requests related to a disability should be sent to jjreform@georgetown.edu by June 4, 2021. A good-faith effort will be made to fulfill requests.

In the run-up to the Forum this July, we will be releasing spotlight materials focused on the topics that will be discussed at the four-day virtual conference. ​​​​​​​In the weeks and months to come, we'll dive deeper into sub-topics in the field, such as addressing the needs of LGBTQ+ youth, youth of color, and commercially sexually exploited children. We will also be rolling out our lineup of speakers, so visit this page often!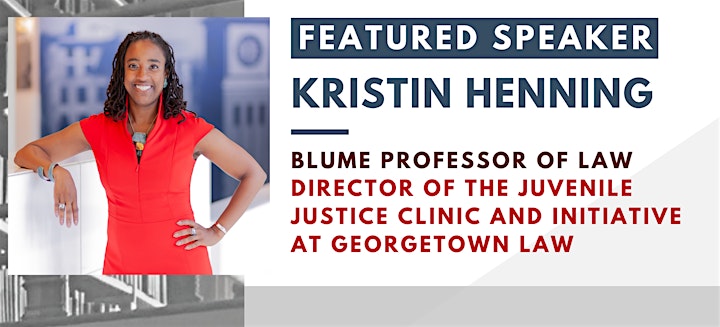 This week, we continue our series of releases regarding our line-up of speakers and panelists for the Forum. We could not be more proud or excited to announce that Kristin Henning will be joining us in July as a featured speaker!
Kristin Henning is the Blume Professor of Law and the Director of the Juvenile Justice Clinic at Georgetown Law, where she and her law students represent youth accused of delinquency in Washington, DC. Kris was previously the Lead Attorney for the Juvenile Unit of the D.C. Public Defender Service and is currently the Director of the Mid-Atlantic Juvenile Defender Center.
Kris has trained state actors across the country on the impact of racial bias in the juvenile and criminal legal systems. Her workshops help stakeholders recognize their own biases and develop strategies to counter it. Kris also worked closely with the McArthur Foundation's Juvenile Indigent Defense Action Network to develop a 41-volume Juvenile Training Immersion Program (JTIP), a national training curriculum for juvenile defenders. She now co-hosts, with the National Juvenile Defender Center (NJDC), an annual week-long JTIP summer academy for defenders. In 2019, Kris partnered with NJDC to launch a Racial Justice Toolkit for youth advocates, and again in 2020, to launch the Ambassadors for Racial Justice program, a year-long program for juvenile defenders committed to challenging racial injustice in the juvenile legal system through litigation and systemic reform.
Kris writes extensively about race, adolescence, and policing. Her new book, The Rage of Innocence: How America Criminalizes Black Youth, is forthcoming with Penguin Random House in 2021. Henning serves on the Board of Directors for the Center for Children's Law and Policy, the ABA's Juvenile Justice Standards Task Force, and ALI's Restatement on Children and the Law project.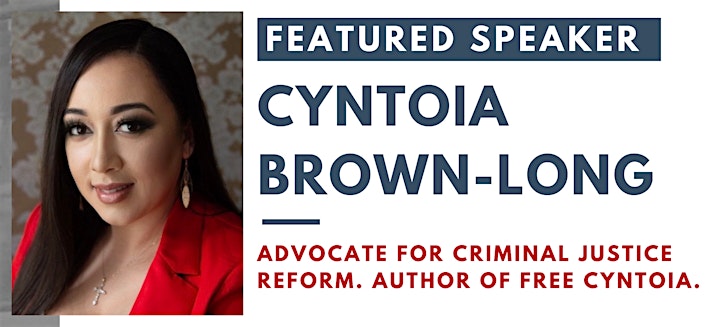 This week, we kick off a series of releases regarding our line-up of speakers and panelists for the Forum. We could not be more proud or excited to announce that Cyntoia Brown-Long will be joining us in July as a featured speaker!
Cyntoia Brown-Long is an author, speaker, and advocate for criminal justice reform and victims of trafficking.
BIOGRAPHY
Cyntoia had a difficult start in life. She was born to an alcoholic, teenage mother who was a victim of sex trafficking. Cyntoia experienced a sense of isolation, low self-esteem, and alienation that drove her straight into the hands of a predator. Cyntoia was trafficked during her early teenage years and, at the age of 16, was arrested for killing a man who solicited her for sex. She was tried as an adult and was sentenced to life in prison without the chance of parole for 51 years. Her trafficker was never arrested. In prison, Cyntoia's life took a dramatic turn when the prison education principal took her under her wing and introduced her to a spiritual path. She encouraged her to build a positive life in prison and to resist the negative influences that lead to despair.
Cyntoia's journey was a roller coaster ride that included a documentary about her life, a profound encounter with God, an unlikely romance, and, eventually, a commuted sentence by Tennessee Governor Bill Haslam. She received unprecedented national and international support from social media advocates, pastors, and celebrities and was released from prison in Nashville, TN, on August 7, 2019.
Her memoir, Free Cyntoia: My Search for Redemption in the American Prison System (Atria Books), written while in prison, documents her early years and the 15 years she was incarcerated and takes readers on a coming-of-age spiritual journey. Set against the shocking backdrop of a life behind bars and the injustice of sentencing sex-trafficked juveniles as adults, Cyntoia struggled to overcome a legacy of birth-family addiction and a lifetime of being ostracized and abandoned by society. Of her time in prison, Cyntoia says, "I was just a teenager when I was sent to live behind a razor-wire fence. My entire coming of age was within the walls of the Tennessee Prison for Women." She is a 2020 Nominee for the NCAAP Literary Image Award and has been featured as a guest columnist for the Washington Post.
Cyntoia hopes her story will not only inspire others but also shine a light on the injustice that people still face on a daily basis, especially the injustice to women and children in American prisons. She, with her husband, Jaime, is the founder of the Foundation for Justice, Freedom, and Mercy.