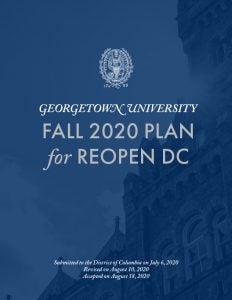 Founded in 1789 as the first Catholic and Jesuit university in the country and the first university in the District of Columbia, Georgetown University has contributed to the common good through our educational and research mission since the early days of our nation. Throughout each generation, the Georgetown community has come together to overcome the impacts of the greatest challenges our nation has faced. In this moment, our community is working together in extraordinary ways to navigate the course of a global pandemic and economic crisis while responding to urgent issues of racism in the United States.
As we prepare for the coming academic year, we have been focused on how to provide for the safe return to our campuses of as many community members as possible as we pursue our academic mission during a time of serious risk and uncertainty posed by COVID-19. We are animated by moral commitments that have shaped our community since our founding—including cura personalis, a deep sense of care for each person—and our commitment to the three foundational aspects of our mission—the formation of our students, the inquiry of our faculty, and our service to the common good.
Over these past few weeks, we have been carefully monitoring the trajectory of the COVID-19 pandemic and its impact on our Fall 2020 plans. Based on current public health conditions, we have amended our plans for the Fall semester.
Courses for all students will begin in virtual mode. We plan to introduce in-person course elements as soon as health conditions permit.
In early July, we had announced our intention to bring approximately 2,000 undergraduate students, including the members of the first-year class, to our Main Campus. We have revised this approach based on current pandemic conditions. We will not be able to bring to campus the members of the entering undergraduate class, the class of 2024, at this time. We will limit the density of our undergraduate residence halls by housing only students who have been approved through the Housing Stability Application process, students who have been invited to return to campus because of academic requirements and members of the incoming first-year class who are F1 visa holders.
Select activities—such as biomedical, life, and physical sciences research—will continue to take place on-campus according to our established plans.
The health and safety of our community remains our highest priority and will continue to guide our steps as we seek to respond to the challenging conditions of this moment.